How To Create A Travel Themed Wedding
My latest article in Save The Date Magazine was all about how to create a travel inspired wedding. So if you're looking to create a travel theme then I may have some tips for you!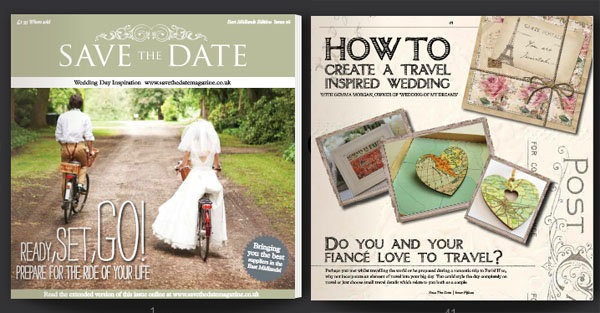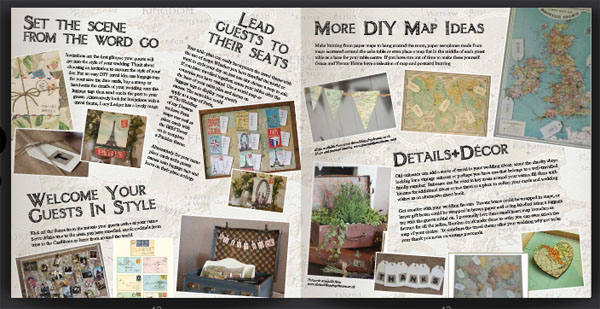 Do you and your fiancé love to travel? Perhaps you met whilst travelling the world or he proposed during a romantic trip to Paris! If so why not incorporate an element of travel into your big day. You could style the day completely on travel or just choose small travel details which relate to you both as a couple.
Set the scene from the word go
Invitations are the first glimpse your guests will get into the style of your wedding. Think about choosing an invitation to capture the style of your day. For an easy DIY travel idea use luggage tags for your save the date cards, buy a stamp or handwrite the details of your wedding onto the luggage tags then send out in the post to your guests. Alternatively look for invitations with a travel theme, Lucy Ledger has a lovely range.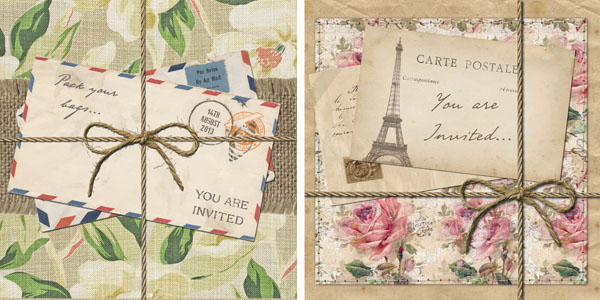 Welcome Your Guests In Style
Kick off the theme from the minute your guests arrive at your venue. Serve drinks true to the areas you have travelled, exotic cocktails from trips to the Caribbean or beers from around the world.
Lead guest to their seats
Your table plan can easily incorporate the travel theme with the use of maps. Whether you have travelled the world or want to style your day on just one city choose a map to suit. If you have travelled together, name your tables after the countries you have visited. Use a world map as the base of your table plan and fasten on luggage tags to display your guest's names. The same idea could apply to a map of Paris, at The Wedding of my Dreams we have Paris maps was well as place cards with the Eiffel Tower on to complete a Parisian theme.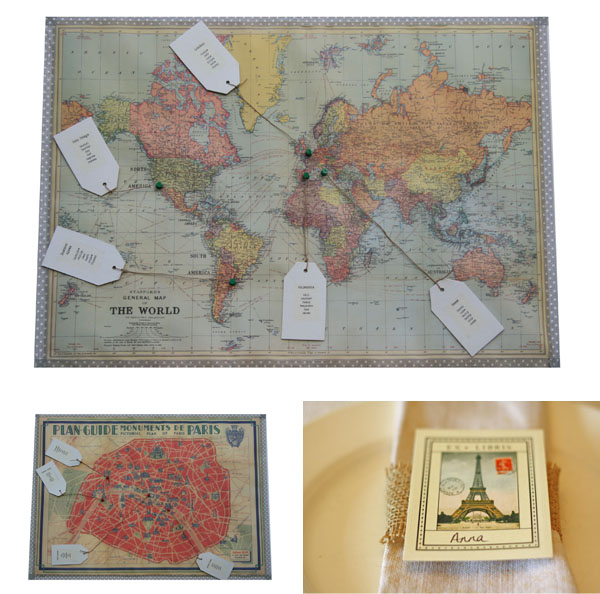 Alternatively for your name place cards write guests names onto luggage tags and leave on their place settings.
More DIY Map Ideas
Make bunting from paper maps to hang around the room, paper aeroplanes made from maps scattered around the cake table or even place a map flat in the middle of each guest table as a base for your table centre.  If you have run out of time to make these yourself grace and favour home have a selection of map and postcard bunting.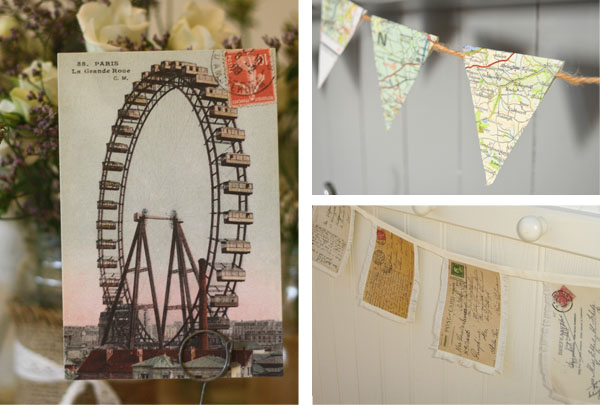 Details and Décor
Old suitcases can add a sense of travel to your wedding décor, scour the charity shops looking for a vintage suitcase or perhaps you have one that belongs to a well-travelled family member. Suitcases can be used in key areas around your venue, fill them with blooms for additional décor or use them as a place to collect your cards and wedding wishes as an alternative guest book.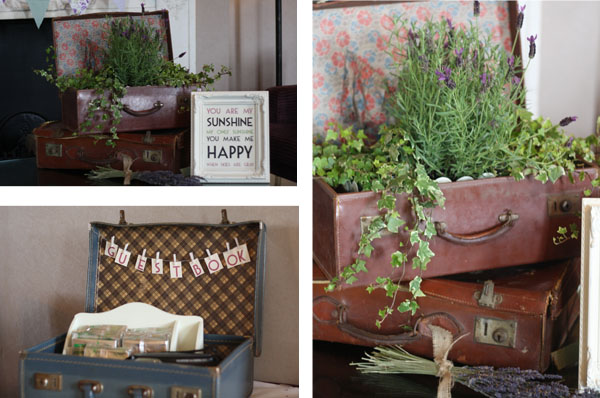 Get creative with your wedding favours. Favour boxes could be wrapped in maps, or larger gift boxes could be wrapped in brown paper and string labelled using a luggage tag with the guests initial on. I personally love these small heart map brooches  as favours for all the ladies, Bombus make these to order you can even select the map of your choice.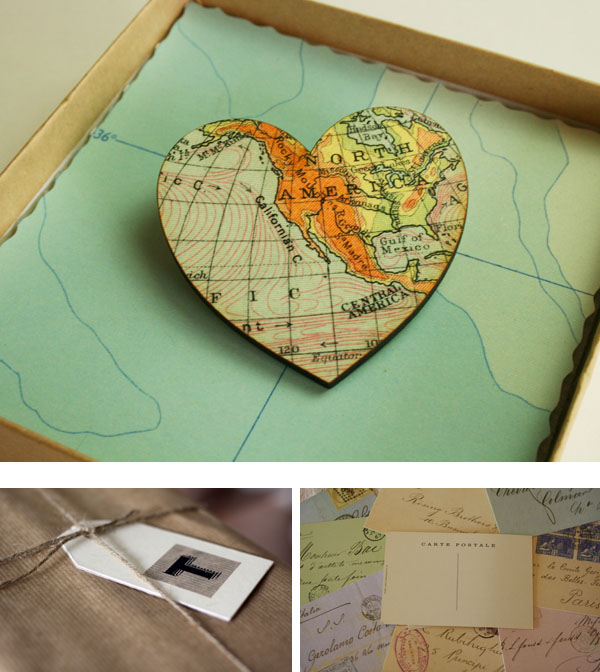 To continue the travel theme after your wedding why not write your thank you notes on vintage postcards
At The Wedding of my Dreams we have a whole selection of wedding decorations which can be incorporated into a travel wedding, there are a few listed below if you pop to our shop.