Illusion Roses | Get To Know Your Wedding Flowers
Get to know your wedding flowers ~ Illusion Roses
Credit: Flowerona
This week on get to know your wedding flowers we're talking about Illusion roses, luxury blousy pink frilly roses perfect for weddings. Interview with Karen Morgan, Passion for Flowers
What colours do Illusion roses come in?
Illusion roses are the only rose in the world that shows a unique colour change when they ripen on the plant. They vary from soft pink tones through to green with pink frilly edges. As a typical greenhouse variety it unfortunately can only be grown in greenhouses with a fully controlled climate. Illusion roses are only sold to exclusive flower shops and flower arrangers, there is a very small chance you'll see them on display in a flower shop. This is a luxury rose ordered for special occasions by exclusive florists from many different countries. Ask a quality florist for Illusion roses, they should be able to order them in for you.
1. Passion for Flowers 2. Floral Deco 3 & 4. Flowerona
 How can Illusion roses be used as wedding table centre pieces?
Illusion roses are so sensuous they look gorgeous in single stems on their own. The frilly petals are wonderful with crystal glass.  For an extravagant candelabra decoration as  your wedding centrepieces add illusion roses to the mix of flowers or for a lower domed arrangement use them in domed glass footed bowls.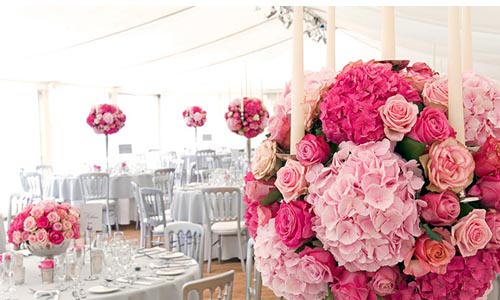 Would Illusion roses look good in a bridal bouquet?
For a really soft feminine bouquet illusion roses can be used en masse for a truly wonderful bridal bouquet.  They also look good as a contrast in a mixed bouquet . The colours and texture of illusion roses combine well with other flowers, we love using them with hydrangeas and other roses.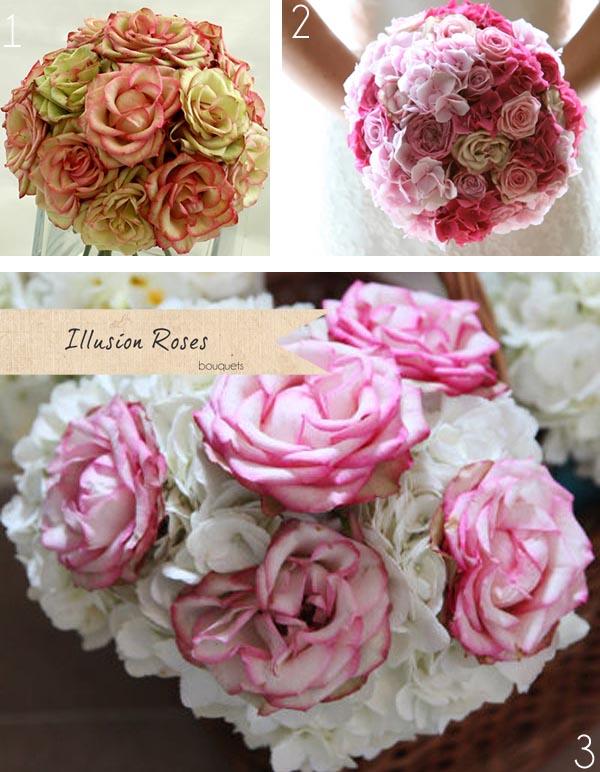 1. Unknown 2. Philippa Craddock 3. Passion for Flowers
Where else can I use Illusion roses at my wedding?
Blousy illusion roses make stunning hair flowers for brides and their bridesmaids. They also make lovely cake flowers, the heads are large and blousy so a few blooms set off the top of a cake beautifully or for a luxe look they work well in a cascading arrangement with a mix of other blooms. A posy of illusion roses would look pretty added to a table plan or a single bloom for a delicate place setting.

1. Philippa Craddock 2 – 8. Floral Design Passion for Flowers 3 – 5 Photography Rock My Wedding 6. Photography Ann Kathrin Koch
Do you have any conditioning tips for Illusion roses if a bride was to use them herself?
Illusion roses are generally bought when in full bloom; the stems should be re-cut at 45 degree angle, placed in clean water with flower food added. As with all flowers keep in a cool place out of direct sunlight.
Interview with Karen Morgan, Passion for Flowers