Planning A Wedding On Pinterest
Pinterest is a great way to plan your wedding, if you've not tried it yet think of it as a virtual pin board or wedding planning book. It allows you to pin all your favourite wedding ideas and pictures you see on various websites and blogs and keep them all in one safe place.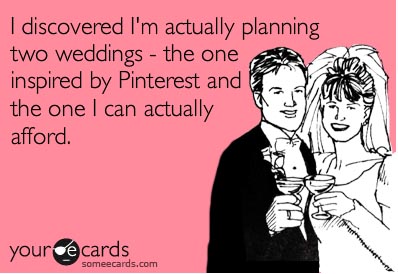 "I discovered I'm actually planning two weddings – the one inspired by Pinterest and the one I can actually afford"
Don't worry if it looks like you're getting carried away, pin all you favourite ideas, you don't want to forget them. No-one says at the end of it you have to incorporate everything you've pinned into your wedding, just use it as a starting point. You may even find the things you really like you end up pinning twice without realising!
Use your various pinterest boards to shape your wedding, for example when you visit your florist show her your wedding flowers pinterest board, she will easily get a feel for the sort of look you are going for and will help guide you to create something that fits with your style and budget. This is the same for all aspects of your wedding, use your boards as a guide.
So what are you waiting for, get pinning!
Follow us on pinterest to keep up with our wedding inspiration.