How To Make Hessian Table Runners
For rustic wedding themes and country wedding themes many of our brides get in touch asking how to make hessian table runners. Recently the lovely girls at Save The Date Magazine put up a blog post showing how to make hessian place mats and I thought it would be useful for you as the same principles apply. Thanks to Love Me Sew and Emily Carlill for putting together the step by step images.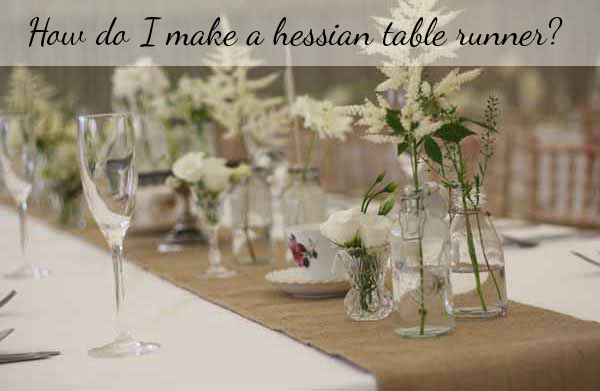 Hessian table runners look fab running along long guest tables or round guest tables, laying the runner over a standard linen table cloth will immediately transform the look of the table adding a rustic or more natural and laid back feel. This step by step guide shows you how to make hessian runners (place mats) lined with lace, for a more rustic look you may choose not to add the lace and may even prefer just to cut the hessian into strips leaving the edges frayed.
How To Make Hessian Table Runners
Supplies Needed
White thread
Scissors
Pins
Sewing machine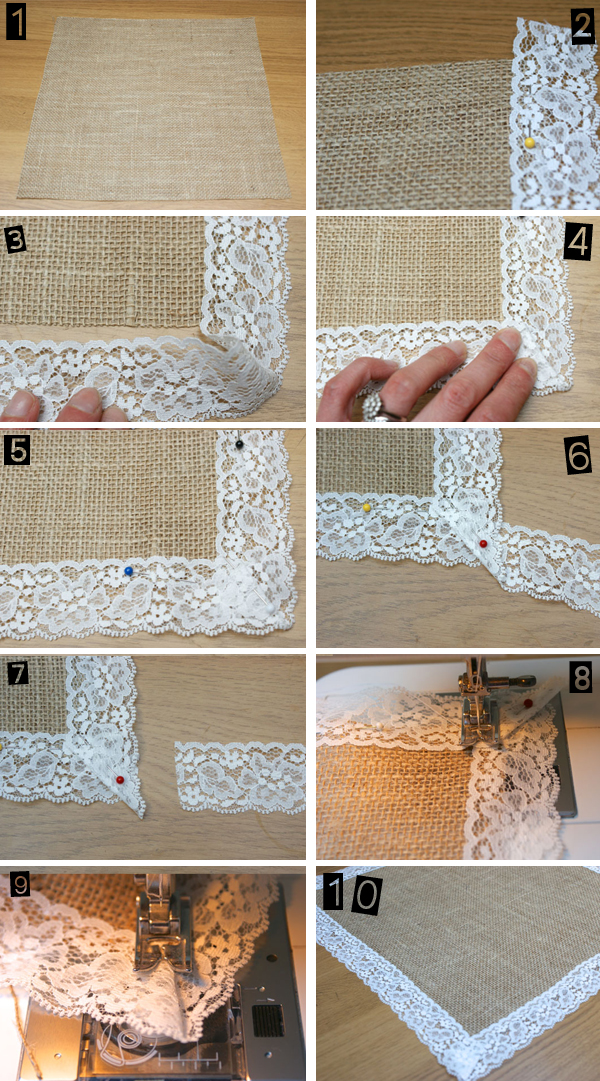 Cut out the hessian fabric to the correct size. For a runner we recommend 30 cm width. If you are using the lace as a place mat or square of hessian to go in the centre of your table choose an appropriate size.

Pin the lace ribbon along one straight edge of your hessian fabric, over lapping the hessian fabric slightly.
At the corner of the fabric turn 90 degrees and continue along the straight edge.
In the corner the lace ribbon will bulge, pinch it togther and lie flat diagonally against itself pinning it into place.
When you get back to where you started cut off the excess lace.
With your sewing machine sew the lace ribbon to the hessian fabric where they meet, secure the lace in the corners by sewing along the diagonal fold you created.
To neaten up your hessian runner iron the fabric, use a cool iron on the lace* If you don't want to line your runner with lace ribbon just fold the hessian back on itself to make a hem and sew along the edge – alternatively just cut the fabric leaving a frayed edge.
If you are thinking of making a hessian table runner we supply hessian fabric by the meter as well as lace ribbon. We also supply ready made hessian table runners if you have run out of time to make one yourself. You may also like our other rustic wedding decorations and woodland wedding decorations.