Dahlias Wedding Flowers ~ Get To Know Your Wedding Flowers
We have taken a little break from our flower posts recently as Karen over at Passion for Flowers has been super busy with the summer weddings. This week we are back with everything you need to know about having dahlias as wedding flowers. Dahlias work well for summer weddings and come in different shapes, sizes and colours so can suit many styles of weddings.
Over to Karen of Passion for Flowers to tell us more.
Dahlias Wedding Flowers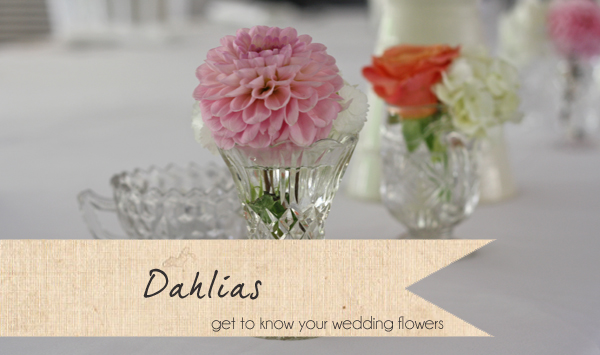 Source: Passion for Flowers
What season are dahlias available in?
Dahlias are available from July to November. British grown dahlias are great for brides wanting to use home grown flowers.
What style of wedding do dahlias work with?
Dahlias are an old fashioned garden flower which is now very much in vogue, great for a country garden wedding, rustic or just picked natural look. I first fell in love with dahlias when enjoying The Cutting Garden courses at Perch Hill with Sarah Raven.
Would dahlias look good in a bridal bouquet?
At Passion for Flowers we love using dahlias in bridal bouquets, the soft blush shades of Wizard of Oz Dahlia are perfect in mixed bouquets for a country garden look with soft roses, lisianthus, astrantia and hypericum berries. For a just picked or hedgerow style bouquet then opt for large cream dahlia with a mix of grasses, veronica, campanula and foliage.  Wizard of Ox Dahlias also combine well with blousy illusion roses, eupatorium, and veronica hand tied with twine.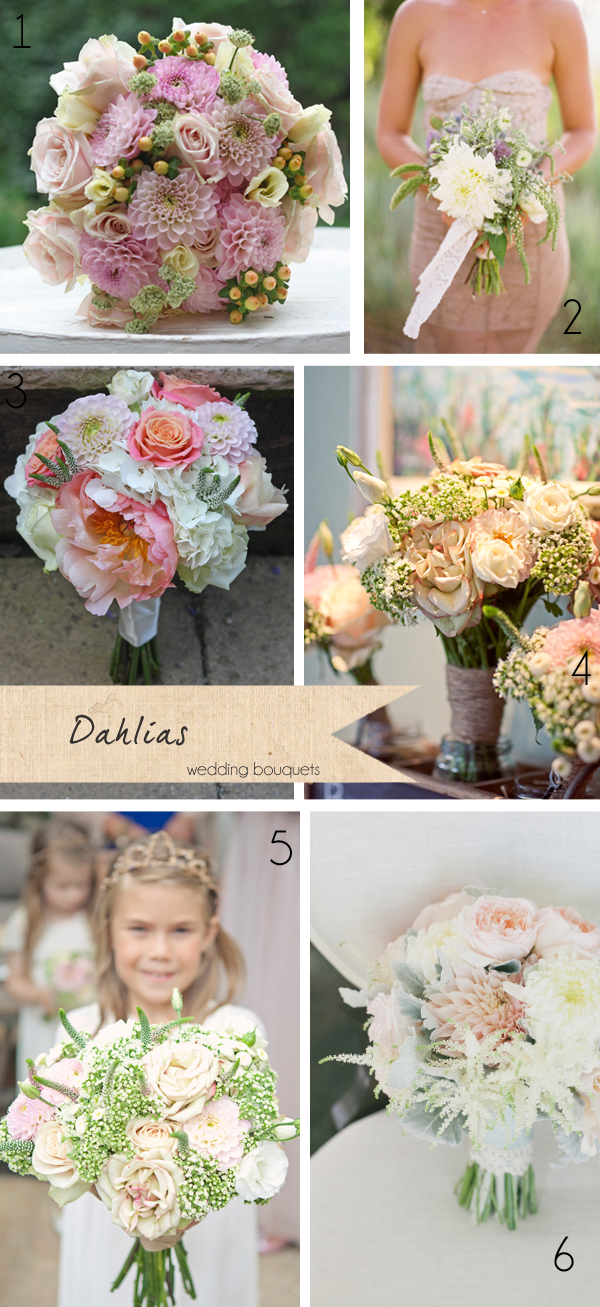 Source: 1 Mixed Pink Bouquet of Wizard Of Oz Dahlias,  2 Natural Wedding Bouquet Large White Dahlia 3 Mixed Bouquet Of Pink Dahlias, Hydrangea, Pink Roses and Hot Pink Peonies 4 & 5 Soft Natural Wedding Bouquet 6 Muted Pink, Soft Grey & White Wedding Bouquet
How can dahlias be used as table centre pieces?
Dahlias are wonderful flowers for table centrepieces in wooden vessels or troughs for a rustic look, display in china or metal jugs with a mix of other garden flowers for a country garden wedding. They are just perfect for last minute touches adding to bottles using any spare flowers around to create a relaxed grouping.

Source: 1 Pink Dahlias In Crystal Vase 2 Pink Dahlias In Tiny Pot 3 Large Dahlias In Wooden Box 4 Large Dahlias In Glass Vase 5 Pink & Peach Dahlias, Roses, Hydrangeas In Jug 6 Candelabra Table Centre With highlight Of Dahlias 7 Mix of Flowers In Wooden Box 8 Crystal Vases Along Front Of Top Table
 What colours do dahlias come in?
Dahlias come in a wonderful array of colours ranging from white and cream through to very dark burgundy. Oranges are gorgeous to create a warm autumn feeling and a mix of shades of pink perfect for high summer weddings. Dahlia 'Chat Noir' is a wonderful deep tone.
Where else can I use dahlias at my wedding?
Dahlias are very versatile and look great added to pots in a country garden table plan, they make great informal posies or jam jar pew ends. Try using a large dahlia as a simple but effective cake topper.
If you are having escort cards then add a few large dahlia heads as a splash of colour as they are available in such an array of colours there is sure to be one to suit your wedding.
We love using dahlias as single stems; they are one of our favourite flowers for adding to hanging bottles in the garden outside a marquee or country house hotel particularly if dahlias are growing in the garden!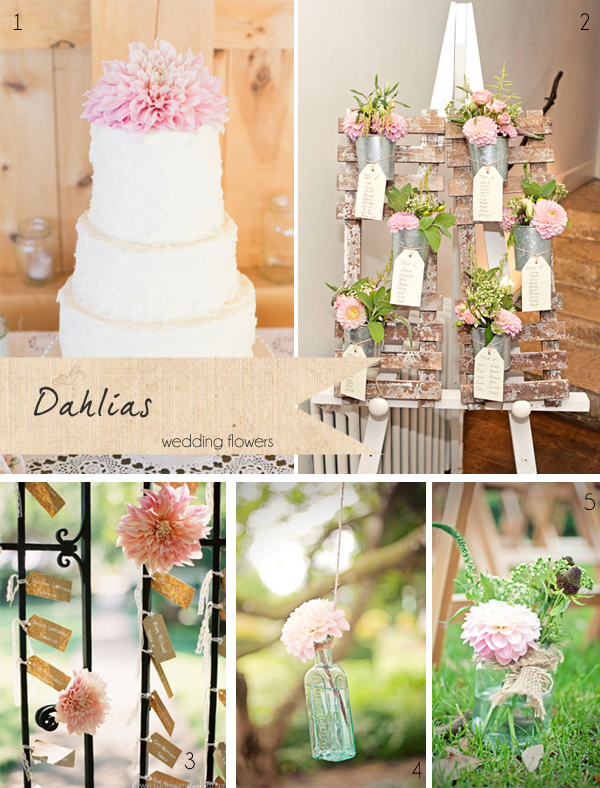 Source: 1 Pink Dahlias Wedding Cake Flowers 3 Dahlias In Rustic Table Plan With Flower Pots 4 Dahlias Used With Escort Cards 5 Hanging Bottles With Wizard Of Oz Dahlias 5 Mix Of Flowers In Jam Jar Pew Ends
Do you have any conditioning tips for using dahlias.
Dahlias should have all foliage in contact with water removed; as the heads can shatter easily they should be handled with care and benefit from occasional misting with water. They need flower food and should have the water changed daily, ideally with the stems re-cut each time to prolong vase life.
As dahlias can be attractive to insects do remember to shake out the flower gently just in case one is hiding.