15 Wedding Centrepieces For £15 or Less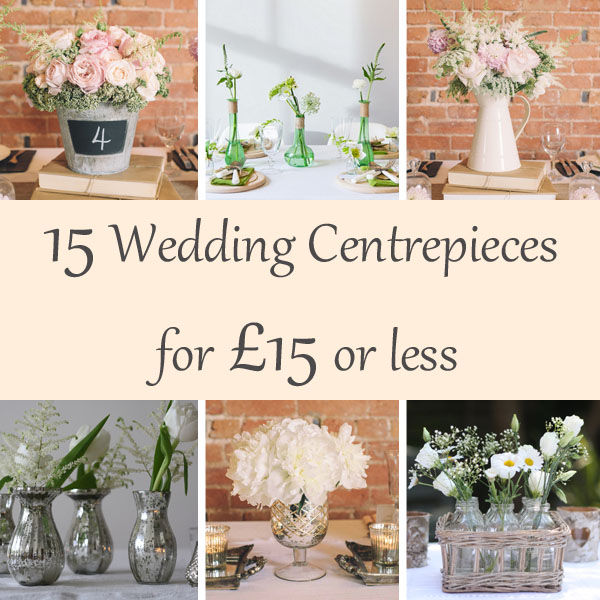 Are you still undecided on what to choose for your wedding centrepieces? There are so many ideas out there it can often be difficult to narrow it down to just one centrepiece idea. The great thing is you don't have to pick just one style for your wedding centrepieces, you could choose a selection. Many couples pick between 3 – 4 different centrepieces using them on different tables, it is important to have some repetition on the tables and make sure you use similar flowers in all of them to tie the look together.
Here are a few of our best selling budget friendly wedding centrepieces. All these centrepiece vases and containers are under £15 and some of them only need a small bunch of flowers, choosing seasonal flowers and foliage is the most budget friendly option.
Birch bark wedding table centre (medium)
This bark covered vase is ideal for rustic weddings or woodland weddings, add florals with texture to continue the rustic look.
View in shop, bark centrepieces are currently £10 each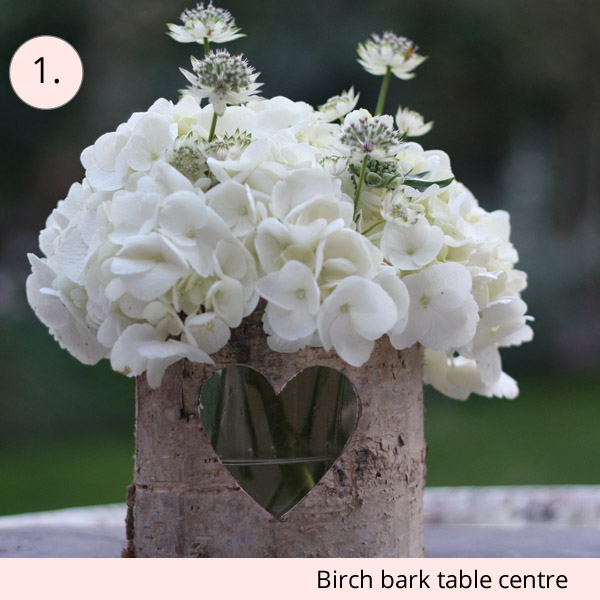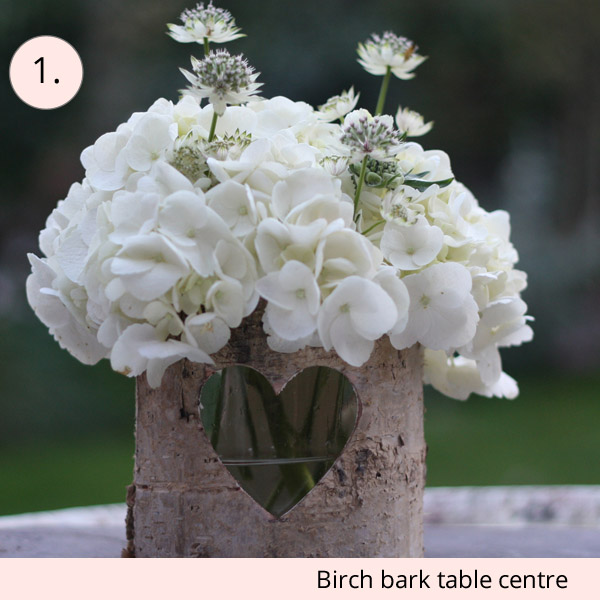 Mercury silver dainty vases
Place 3 or 4 of these dainty silver bud vases in the centre of your wedding tables, we love them with classic white flowers for a simple elegant wedding centrepiece.
View in shop, dainty mercury silver vases currently £7 each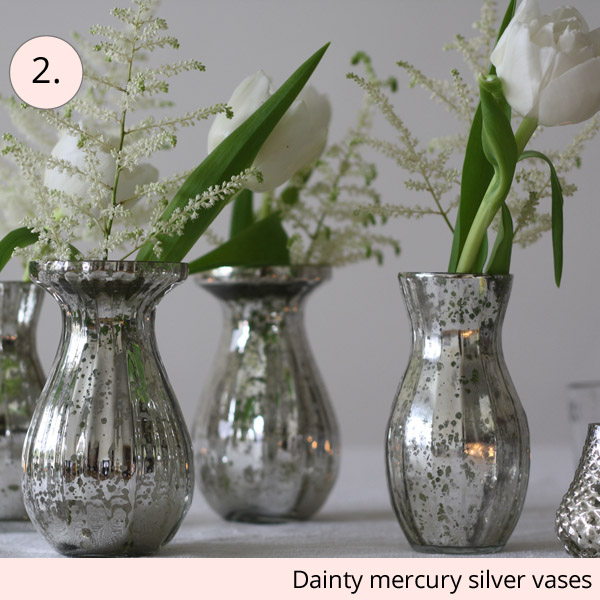 Milk churn wedding centrepieces
These milk churns make great centrepieces, add wild flowers to the churn and they will look fab sitting on your tables. They are best suited to rustic style or country garden style weddings.
View in shop, milk churns are currently £10 each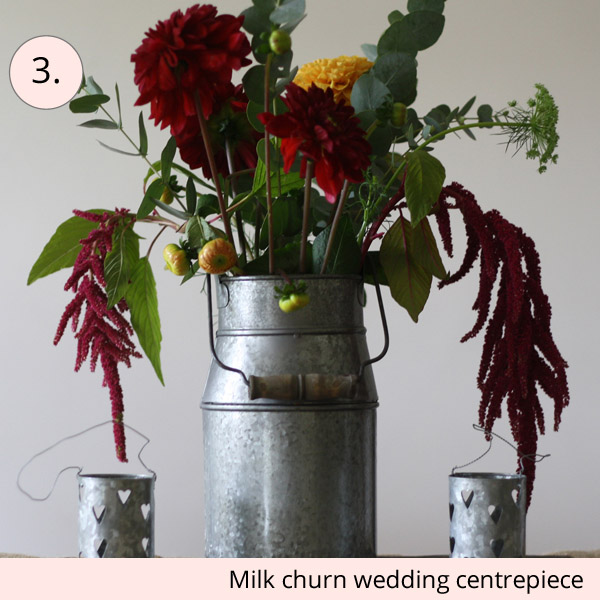 Cream Jugs for wedding centrepieces
Our shabby chic cream jugs look simply stunning in the centre of wedding tables, raise them up on a stack of vintage books or sit them on a hessian table runner. These jugs are perfect for summer weddings.
View in shop, shabby chic cream jugs currently £10.95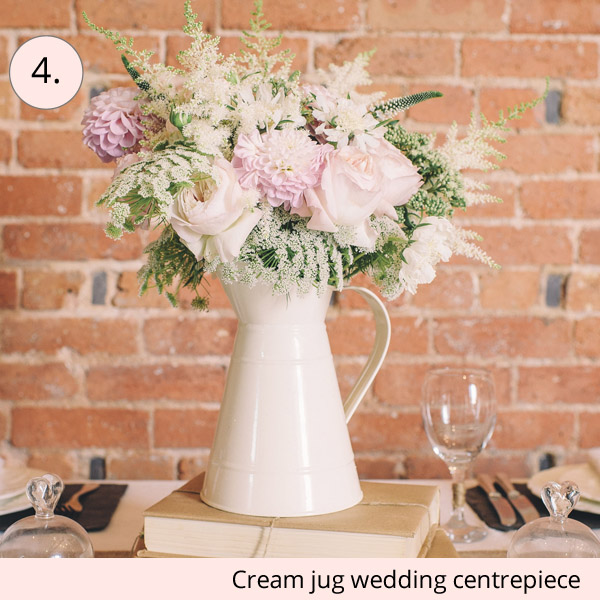 Mercury pink vase or votive
For a small vase or votive these blush pink metalic containers are stunning. Add roses or candles and place them in the centre of round wedding tables or running down the length of long guest tables.
View in shop, mercury pink vase currently £7 each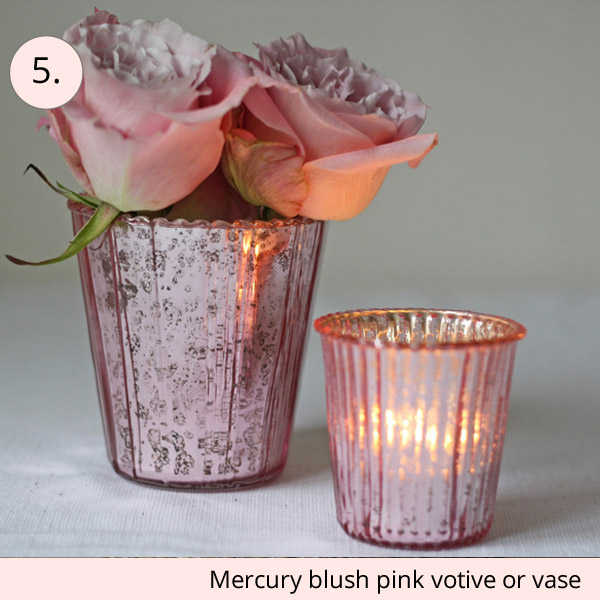 Blackboard bucket wedding centrepiece
These chalkboard buckets make really unusual wedding centrepieces, fill the metal buckets with beautiful blooms and write your table numbers or names on the chalkboard panel.
View in shop, blackboard bucket centrepieces are currently £6.95 each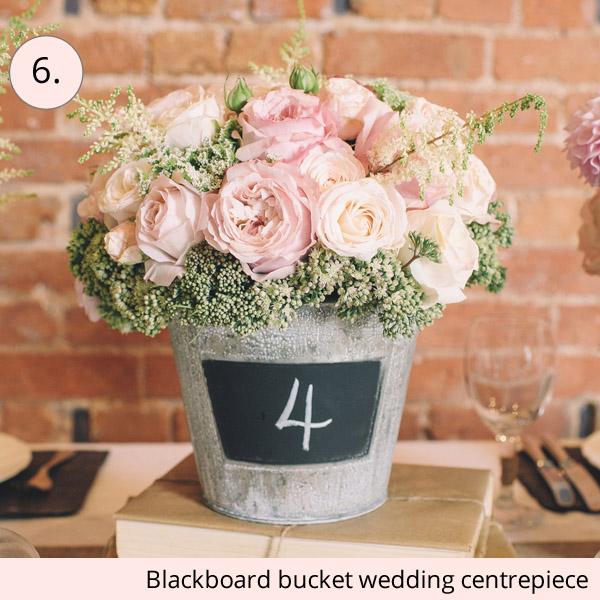 Slate grey jugs for wedding tables
For a more natural / rustic take on a jug centrepiece these slate coloured jugs are lovely centrepieces.
View in shop, slate grey jugs are currently £11 each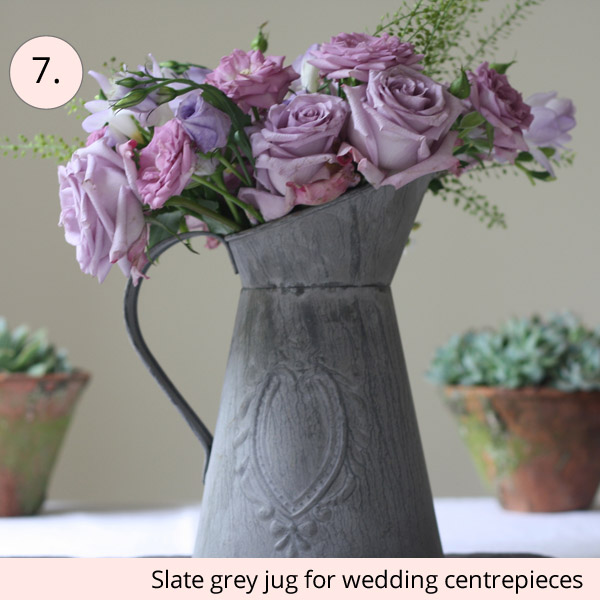 Basket of mini milk bottles for a summer centrepiece
These baskets come with 9 mini glass bottles inside, add small bunches of flowers to each bottle and place in the centre of your wedding tables. These baskets are the ideal centrepiece for a relaxed summer wedding.
View in shop, mini basket of glass bottles currently £15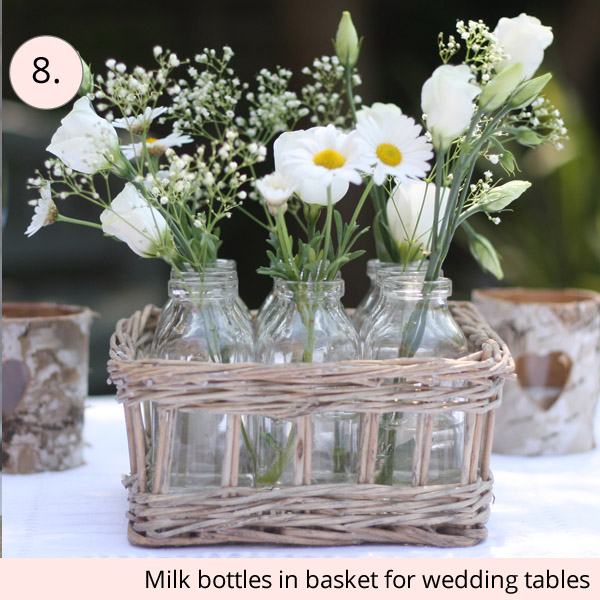 Mercury silver footed vase
For an elegant or timeless wedding our mercury silver vases look stunning filled with white peonies. Mix these with silver tea light holders to complete your wedding tables.
View in shop, footed mercury silver vase currently £14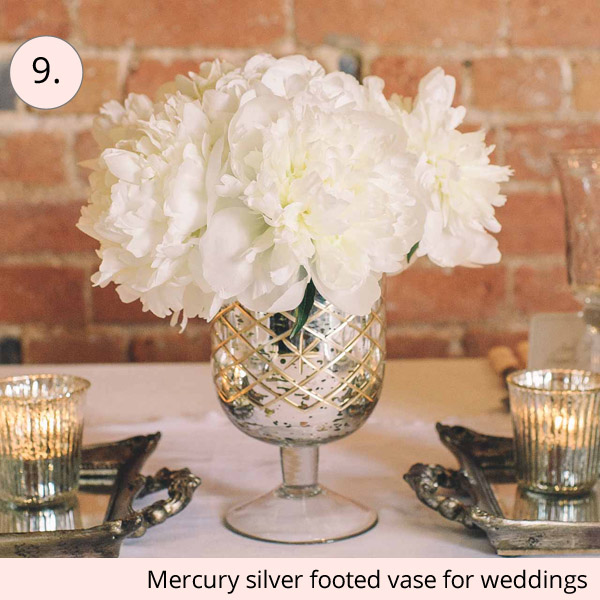 White bud vases
For a small grouping these white bud vases are very cute. We love them here with peach David Austin roses for a summer garden look.
View in shop, white bud vases are currently only £2.50 each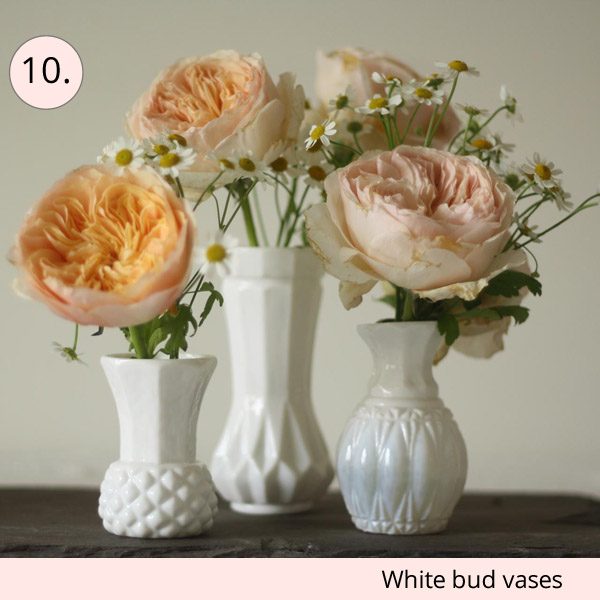 Wooden tree stump / tree slice
These wooden tree stumps or tree slices make a really rustic base for your wedding centrepieces. These slices have been cut from trees using a sustainable wood source. Add a tree slice to each guest table and place a mixture or vases, vessels and tea light holders to complete the rustic look.
View in shop, tree slices for centrepieces currently £12 each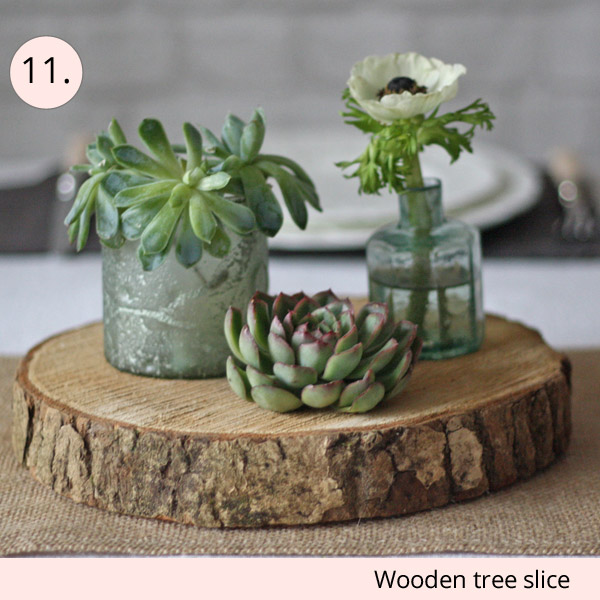 Luxe bronze vase
For a glitter filled day our bronze vases make lovely centrepieces. The bronze metallic vases have a bumpy surface to give a glitter / shimmer look.
View in shop, bronze vases currently £8.50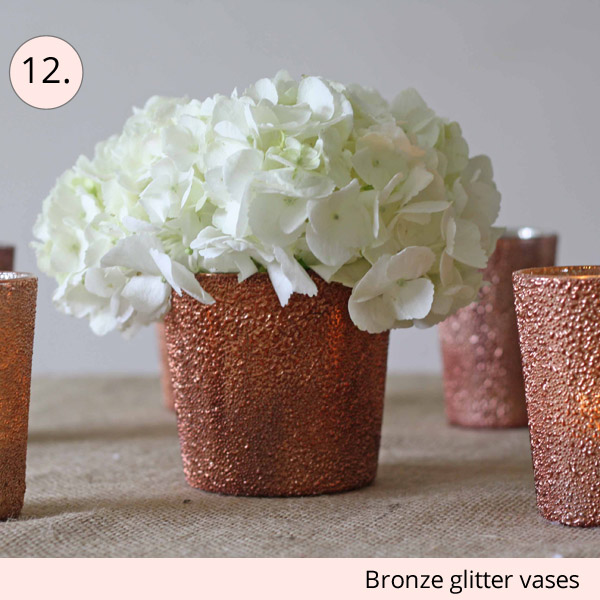 Galvanised metal bucket
Add flowers or herbs to these galvanised buckets for a vintage wedding centrepiece. The buckets have a weathered look so tie in well with a vintage, outdoors or rustic style wedding.
View in shop, galvanised bucket currently £14.50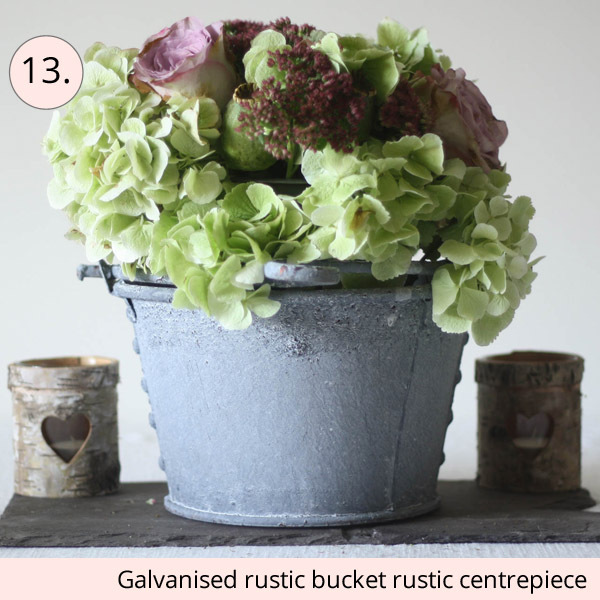 Mercury silver bottles for flowers
For a rustic glamour or rough luxe wedding theme these mercury silver bottles with wire mesh are perfect. Add simple flowers and foliage to the bottles for a pretty centrepiece.
View in shop, mercury silver bottles currently £10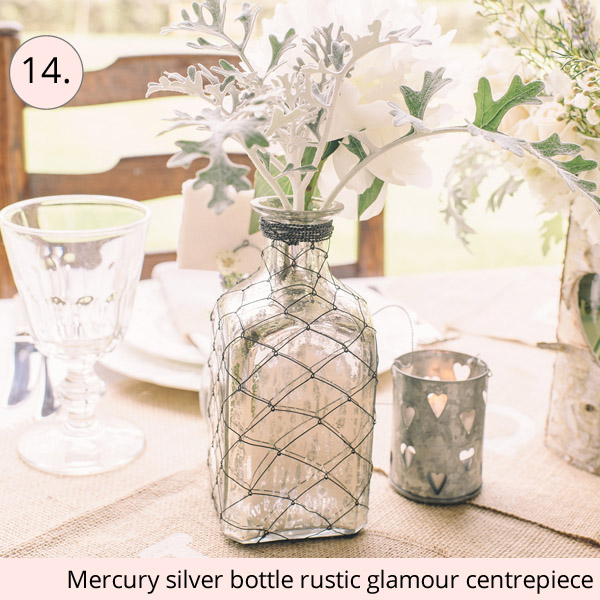 Green glass vase bottles
These bottles have been hand blown, the green colour makes them such a pretty centrepiece vase. These are perfect for spring and summer weddings and only need a small bunch of lowers inside. The bottles come in 3 different shapes and sizes.
View in shop, green glass bottle vases currently £8 each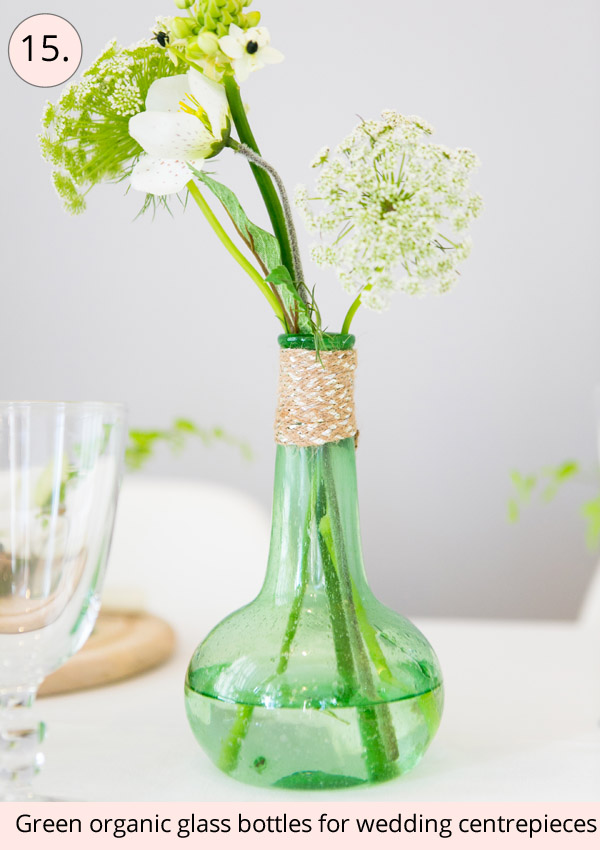 Photography credits 4,6,9,14 Daffodil Waves // 15 Styling: b.loved, Photography: Anneli Marinovich