London Tube Map Wedding Table Plan
Are you getting married in London or perhaps you met you fiancée in London and want to have an element of London in your wedding décor? Our London Tube map wedding table plan can look great at your wedding. Name the tables after various tube stops in London, perhaps choose areas you have lived, been on dates, attended parties… perhaps he even proposed in London? The choice is yours.
London tube map wedding table plan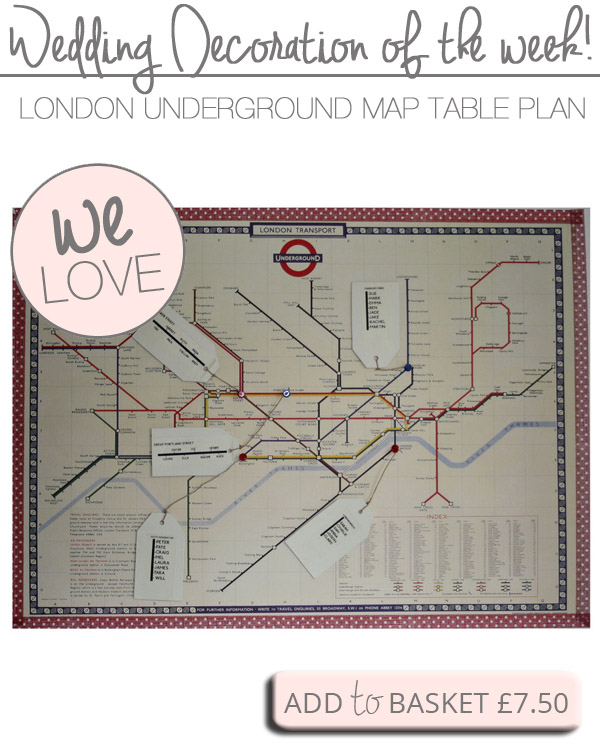 View our london tube map wedding table plan for sale in our shop
Product Details
Our London underground map print could make the basis of a wonderfully unique wedding table plan.
This vintage London underground map print measures 28″ x 20″ and is printed on archival quality Italian laid paper stock.
Please note this is a vintage London underground map and does not have all the current underground stations.
See below the steps to follow to make a table plan from our print.
Price: £7.50
How to make a London Underground map into a wedding table plan
1. Find a frame or stick the London underground map print onto foam board with our decorative tape
2. Choose places in London which mean something special to you as a couple – these will be your table names
3. Stick a pin in the places you have chosen
4. Write your table name followed by guests names on luggage tags and attach to each pin
5. Keep in your home as a reminder of your wedding day
*Read our step by step tutorial showing how to make this London table plan here.