Hanging Bud Vases – Hanging Wedding Decorations
This week our wedding decorations of the week are our hanging bud vases. Hanging decorations around your venue or from trees outside can look stunning. Whether you use these bud vases for hanging flowers or choose to add a tea light for hanging candles or use some other sort of hanging decorations such as ribbons, paper lanterns or hearts it will look lovely.
If your venue has an outdoor area you are hoping to use at your wedding we suggest choosing one feature tree to decorate. Hang all your vases and hearts from this tree, it will create a lovely photo feature as well as looking pretty in the outdoor setting. Hang the vases and hearts at different heights to create a natural look.
Hanging Bud Vases – Hanging Wedding Decorations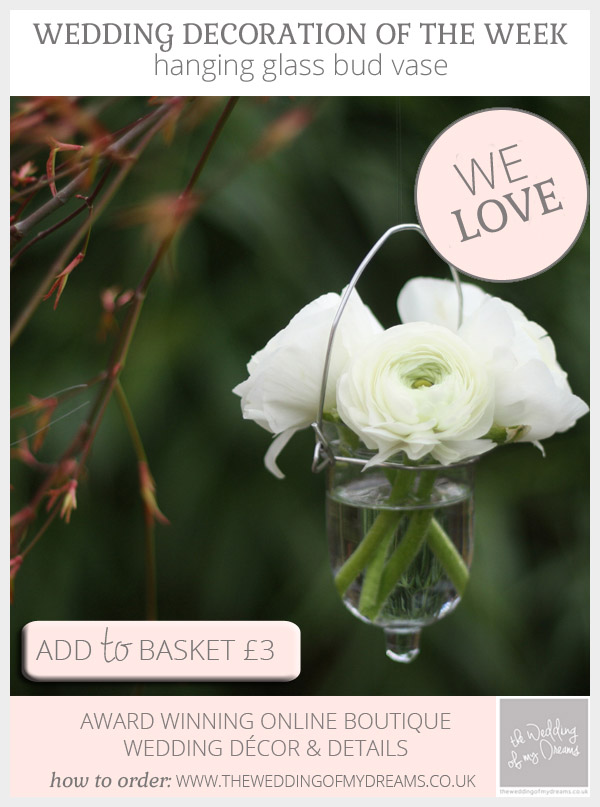 See these hanging bud vases for sale in our shop
Product Details
These tiny delicate glass bud vases look amazing hung from branches of trees. Add a single rose head or bunch of small seasonal flowers for a floral look or use as a candle holder, they fit a standard tea light.
The bud vases are made from clear glass with a silver metal handle.
Each vase measures 5cm x 8cm.
Price: £3 each