Wedding Jugs Ways To Use Jugs At Weddings
Sometimes keeping it simple is best. There is nothing more lovely than a bunch of beautifully scented blooms in a pretty jug. Jugs of flowers can be used at weddings, whether you opt for them as your centrepieces or give jugs of flowers as gifts we are sure they would be wonderfully received. Today we look at the different ways jugs can be used at weddings.
Wedding Jugs – Centrepieces
For a country garden, vintage or rustic wedding you could use jugs filled with flowers for your centrepieces. The flowers will look simply perfect in a jug sitting in the centre of your table. You could add some height to the centrepiece by placing it on a tree slice or stack of vintage books if you fancy. Here this jug has a mix of white hydrangeas and blush pink Sweet Avalanche roses, by Passion for Flowers.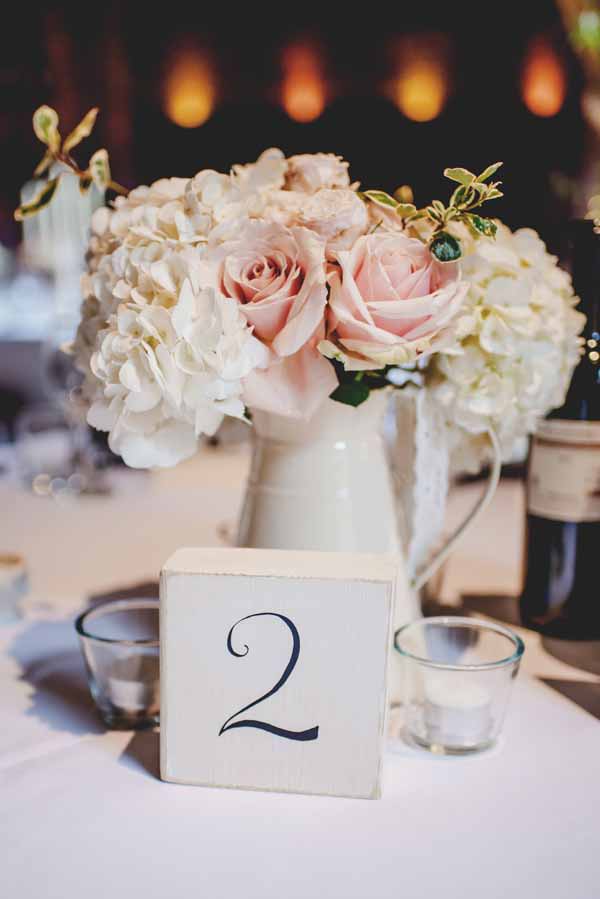 Photo credit: Ross Harvey Photography
Wedding Jugs – To Hold Bouquets
When you and your bridesmaids are not holding you bouquets it is useful to have a container of water they can be placed in. This not only keeps the flowers fresh, helping them last longer but these can also be used as additional floral decorations around the venue. Cream jugs make a lovely container for bouquets, Passion for Flowers have used distressed cream jugs here for these bouquets.
Photo credit: Boo Weddings
Wedding Jugs – On Church Window Sills
For inside the church jugs of flowers can look lovely placed on window sills or in alcoves.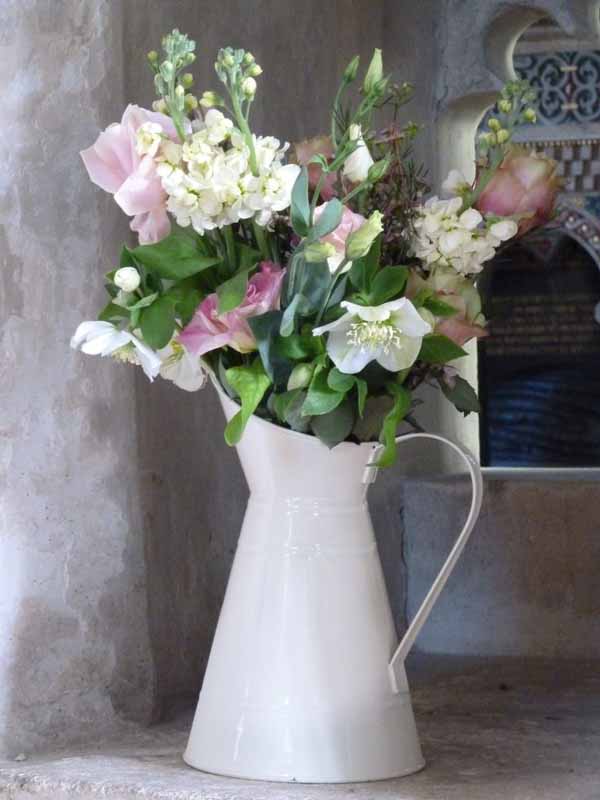 Wedding Jugs – Extra Venue Decorations
For extra venue decorations or outdoor spaces a stack of wooden crates can make a lovely feature. Jugs of flowers can be placed within the crates.
Image source: Rosie Parsons
Wedding Jugs – Thank You Gifts
Surprise your special guests with floral gifts as a thank you for their help throughout the wedding planning process.  Giving flowers in jugs not only looks lovely as a gift but the jugs can be kept by the recipient and re used again and again.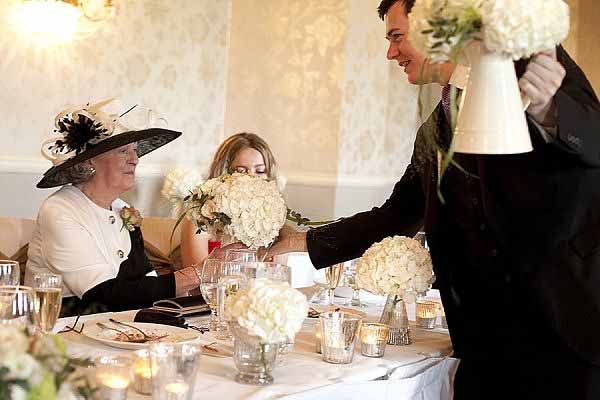 Image source: Passion for Flowers