This week our wedding decoration of the week is perfect if you are having a rustic or woodland inspired wedding. Our rustic tree slices for wedding decorations are oh so popular at The Wedding of my Dreams. Our tree slices with bark still on them have a really natural / rustic look.
The most popular use for these tree slices is as part of your centrepiece, place the wooden tree slice in the centre of your guest table and add a vase jug, milk churn or grouping of smaller bottles filled with flowers. Alternatively our tree slices can be used as cake stands, charger plates, or various crafts. The largest size tree slice coule be used as an alternative guest book, ask guests to write their wishes on the tree slice and keep it in your home as a memory of your wedding.
The slices are cut from trees in the UK from a variety of mixed wood, as a natural product the colour and shape does vary but we think this adds to their charm as each one is unique.
Rustic Tree Slices For Wedding Decorations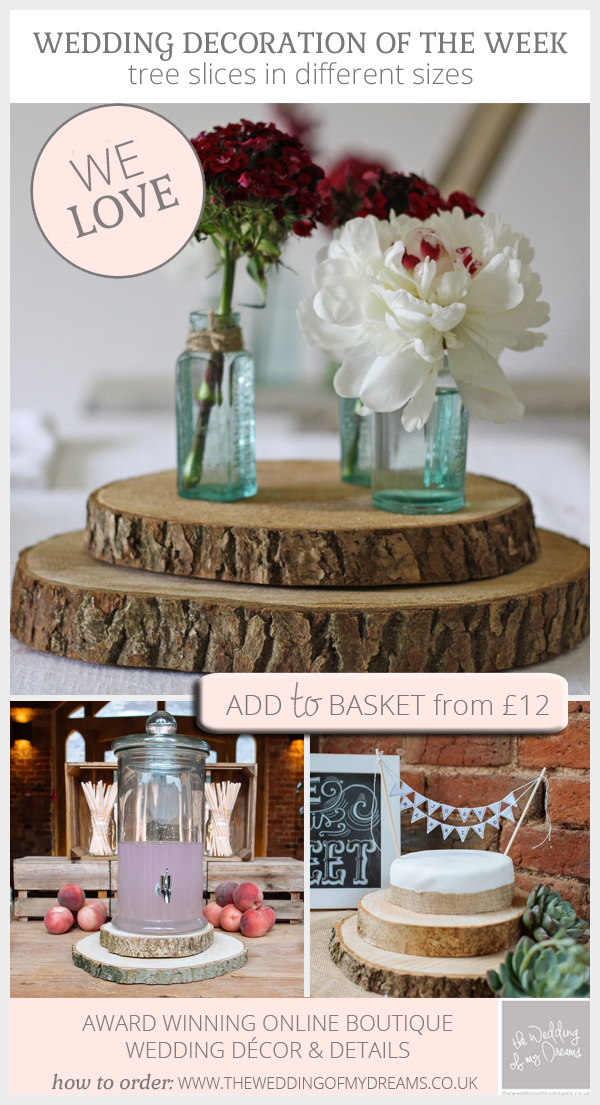 View our tree slices for sale in our shop
Product Details
The tree slices are sourced from the UK from a variety of mixed wood, as they are natural products the size, colour and shape may vary from slice to slice.
All slices have bark edging, if this comes loose in transit it can easily be stuck back on with wood glue (this rarely happens).
Each tree slice is approx. 3.5cm thick.
These tree slices are sourced from the UK using a sustainable source of wood.
Three sizes available
20 – 24cm at widest point, perfect size for a centrepiece or small grouping of jars and bottles. £12 each
30 – 34cm at widest point, larger centrepiece or cupcakes. £17 each
35 – 40cm at widest point, perfect for a wedding cake, 10″ or less. £23 each
Wood Care Information
We are natural products and as such may contain some residual moisture and occasionally we like to produce some small cracks. This is normal and part of who we are! To help keep us in good condition for as long as possible it is important that you follow the guidelines below thus helping us to have a long lifetime and giving you years of pleasure!

As soon as we arrive, unpack us. Store us in a dry, open condition.
DO NOT put us in damp conditions
DO NOT put us in a plastic sealed contained – we can't breathe in there!
DO NOT put us in a boiling hot room – it stresses us and may cause us to crack!
Look after us and we will give you years of enjoyment.