We Announce The Winner Of Our Pin To Win Competition
We want to say a huge thank you to everyone who entered our pin to win competition, we loved browsing through your dream wedding boards. We hope you enjoyed creating your boards as much as we liked looking through them, we have taken inspiration from some of your favourite wedding ideas and will look to include aspects of them in our new collections.
In case you missed it we asked you to follow us on Pinterest and pin your favourite wedding ideas including one from our website.
There were so many lovely entries picking a winner was extremely difficulty, we ended up narrowing it down to our 5 favourite boards and picked the winner out of a hat. While browsing your pinterest boards we pinned some of your ideas onto a new board – see if any of you pins were selected for it.
The Winner
The winner was: Francesca Iorizzo
Francesca has won £150 to spend at The Wedding of my Dreams.
Congratulations Francesca!!
You can see a few pins from her pretty board below.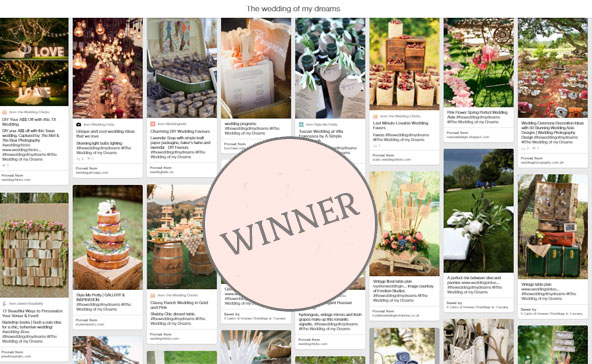 Keep checking back on our website for future competitions.