Dainty Frosted Gold Vases For Weddings
This week our wedding decoration of the week is our frosted gold vase. Our dainty frosted gold vases are perfect for weddings. These gold vases could be used in a grouping in the centre of your guest tables, mixed with other vases, candle holders and candlesticks to create a lovely centrepiece. The frosted gold vases are only around 12 – 13cm tall so very easy to have a go at doing your own flowers yourself. For a classic look you can't go wrong with all white flowers in these gold vases.
If you like these gold vases we suggest you check out our entire collection of gold wedding decorations here.
Dainty Frosted Gold Vases For Weddings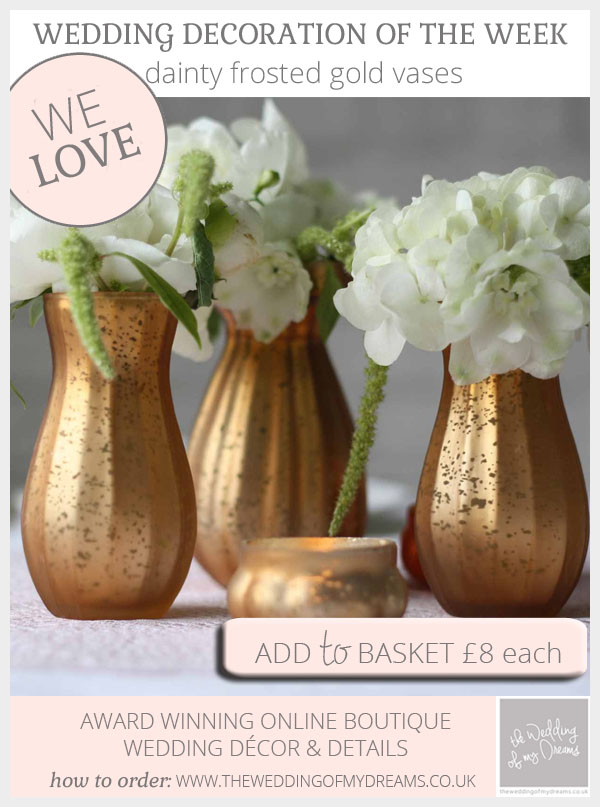 View our frosted gold vases for sale in our shop
Product Details
Our dainty gold vases come in 2 designs, choose between:
Classic dainty silver vase measures 12cm x 6.5cm
Flared rim dainty silver vase measures 13cm x 8cm
These glass vases are handmade, slight variations may occur.
For a simple, elegant look place 4 to 6 of these gold vases in the centre of your wedding tables and add flowers of your choice, or mix these small, dainty vases with larger gold vases to add a variety of heights to your grouping creating an elegant gold look.
The small gold vases can also be used with our tree slices, bark vases or crates for a rustic glamour style. The small vases look fab set on our hessian table runners or muslin cloths depending on your overall style.
For the best results team up these frosted vases with shiny and frosted gold tea light holders as the vases look stunning when reflected in candle light.
Price: £8 each
Please note: Do not wash the vase with detergent or use flower food as this may erode the colouring.