Fab DIY Idea – Gin Bottles As Vases 
Wedding season is now in full swing, which means we've got tons of fab and fun décor ideas running through our heads. We couldn't resist sharing one of our favourite ideas with you today; using gin bottles as vases for your wedding day. This is a unique idea that is simple yet effective, and your wedding venue is bound to look wonderful.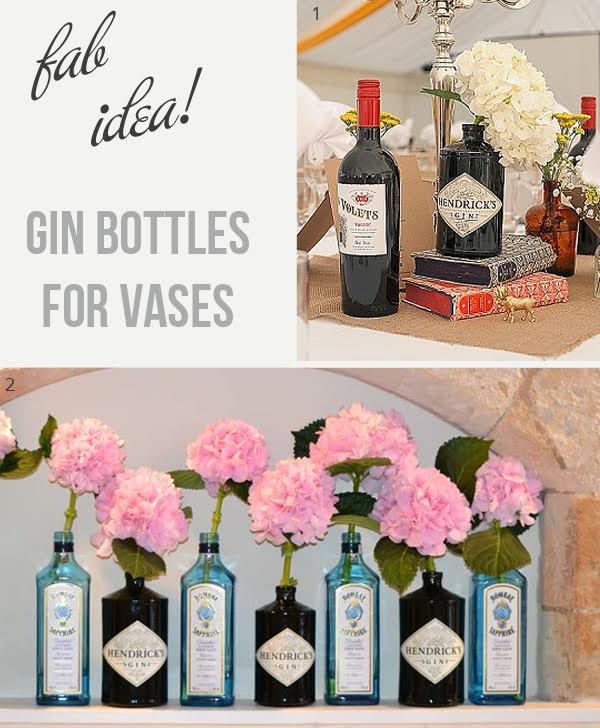 Image 1 – Source, Image 2 – Source
Gin bottles may not be the first thing that come into your head when you think of vases, but there are so many ways of using them as part of your venue décor. You can also be super clever with your gin bottles, by matching them to your colour scheme. For instance, Gordon's Gin will be perfect for a green wedding whereas Bombay Sapphire gin bottles will fit in fantastically with a blue theme. Gin bottles as vases work perfectly for table centrepieces to hold pretty flowers and candles, or you could simply dot them around your wedding venue or along your bar for a pop of colour.
Gin Bottles As Vases – Table Centrepieces
If you've opted for long banquet tables, I would recommend lining gin bottles along the middle of your tables – possibly every two places or so. They look fab standing tall on their own, but will also look great stood on a hessian table runner.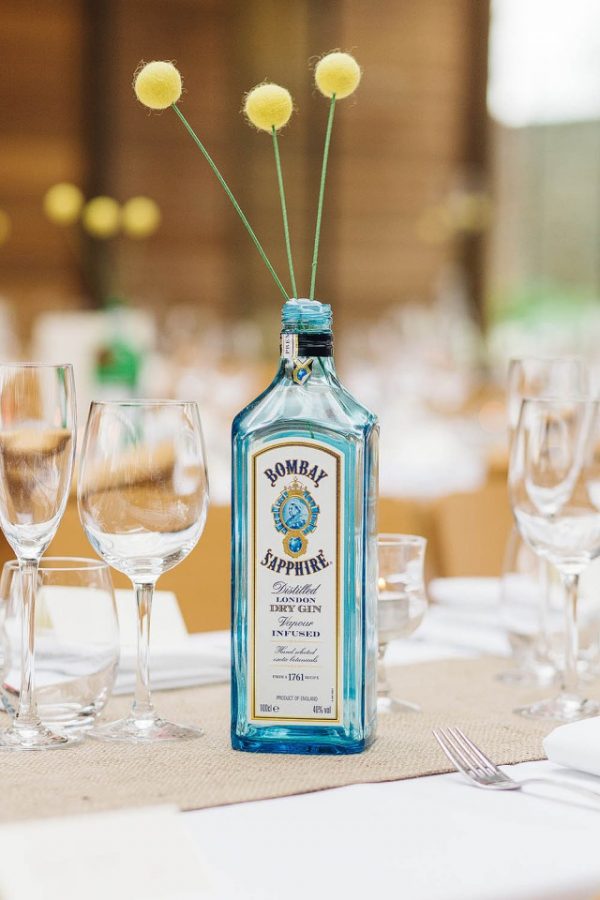 There are a number of different ways you can use gin bottles as vases for round wedding tables. They'll look fab placed on wooden tree slices for a rustic, outdoorsy wedding. Alternatively, if you're planning a vintage affair, why not place gin bottles on antique books and suitcases? You're guaranteed to transport your guests to a bygone era!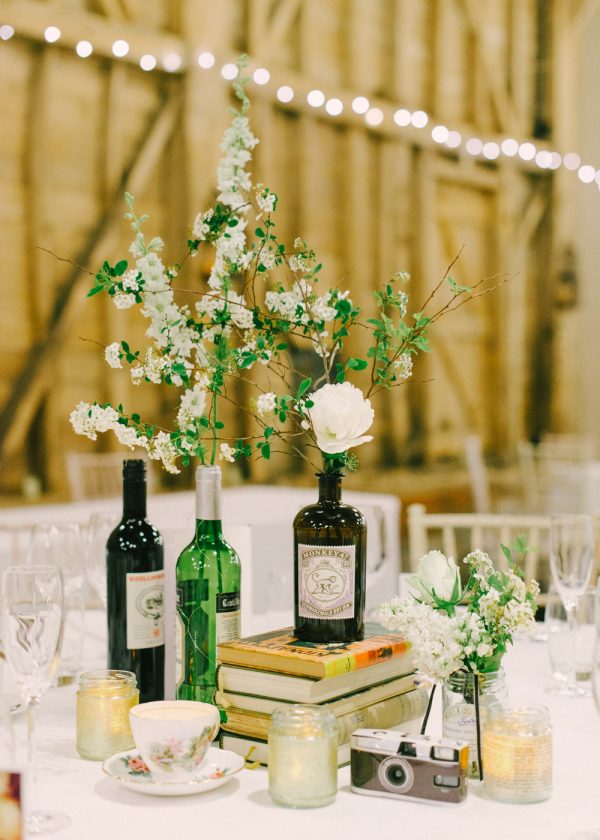 Gin Bottles As Vases – Wedding Décor
You can also use gin bottles as vases for your wedding venue décor. A gin bottle full of beautiful blooms will look fab surrounded by tea lights – place in a small wooden crate for extra impact.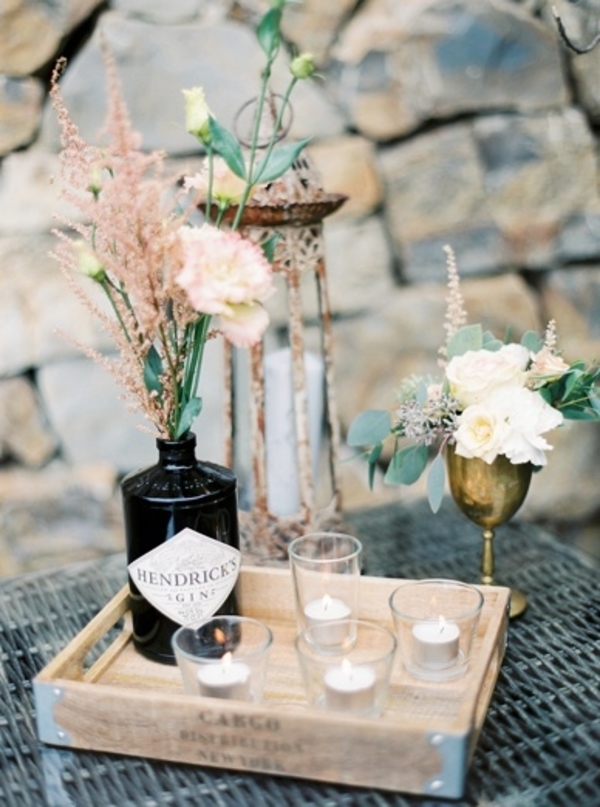 They would also look wonderful dotted around your wedding venue entrance – you could include a mixture of different brands to create interest. It's easy to create a fabulous wedding day based around this theme. You could offer your guests mini gin bottles as wedding favours. I love the thought of using the different brands of gin as table names, or you could stick numbers in each bottle to indicate the seating plan. There are tons of ways to get creative!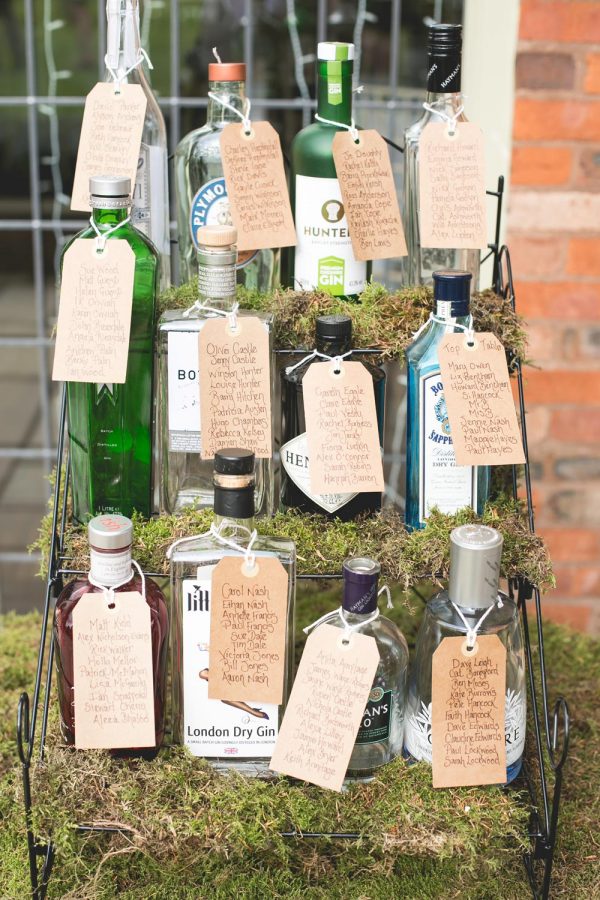 Other Bottle Ideas
But you don't just have to use gin bottles as vases; you could use perfume bottles or wine bottles – all empty, of course! Bottles are a great DIY idea and they always look fab filled with flowers or candles.