Terracotta Pots With Candles – Rustic Wedding Ideas
This week our wedding decorations of the week are our terracotta pots with candles. These terracotta pots come with beautifully scented candles within them, the pots come in three different size too and look best when all used together. The scented candles are an invigorating blend of herbal rosemary and cool bay leaf, it really is heavenly.
Perfect for a rustic wedding – these rustic earthenware pots could be placed on your guest tables, along a fireplace, on windowsills, on your present table. Team them up with hessian or sit on a slate tile to add to the rustic styling.
Give as gifts – These stunning candles could be given as gifts to your special guests, perhaps someone who has done a reading or helped throughout the wedding planning.
Terracotta Pots With Candles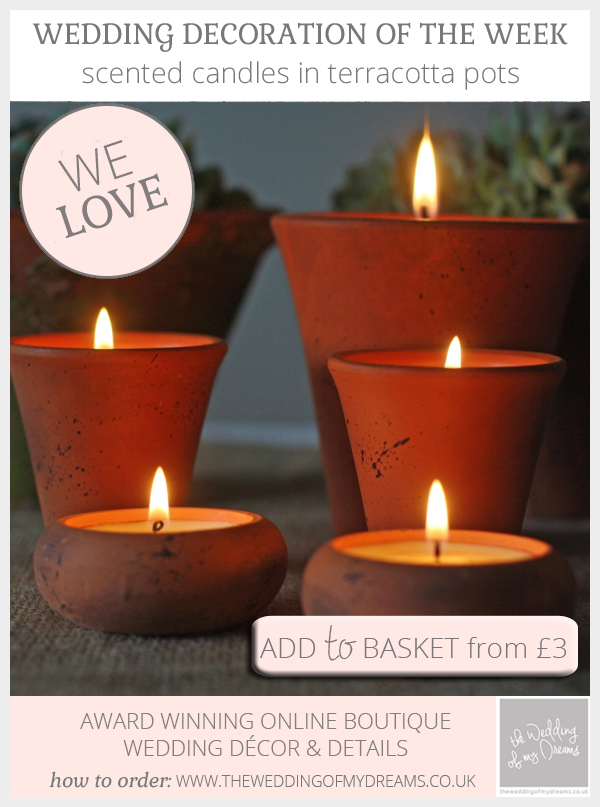 View these terracotta pots with candles for sale in our shop
Product Details
The scented candles in terracotta pots are available in 3 sizes
Small: 5cm in diameter and have a burning time of 8 hours.
Medium: 6cm in height and have a burning time of 12 hours.
Large: 11cm in height and have a burning time of 28 hours.
Scent, an invigorating blend of herbal rosemary and cool bay leaf.
View in shop Small / Medium & Large
Price: S £3, M £4.50, L £8