Cute Signs For Flower Girls And Page Boys
Flower girls and page boys are often one of the sweetest parts of a wedding ceremony – but we've got an idea to make their role even cuter! Ask your flower girls and page boys to hold personalised signs as they make their way down the aisle. Not only will your little helpers love holding the signs, your guests will certainly smile at the idea. From rustic hessian banners to pretty chalkboard signs, there are so many lovely designs out there. Take a look at a few of our favourite signs for flower girls and page boys…
Cute Signs Flower Girls and Page Boys
These two signs are a wonderful combination of humour and romance. Your guests will chuckle as they see the 'I Am Only Here For The Cake' sign, but you can guarantee to see smiles when the 'Here Comes Your Bride' sign quickly follows behind.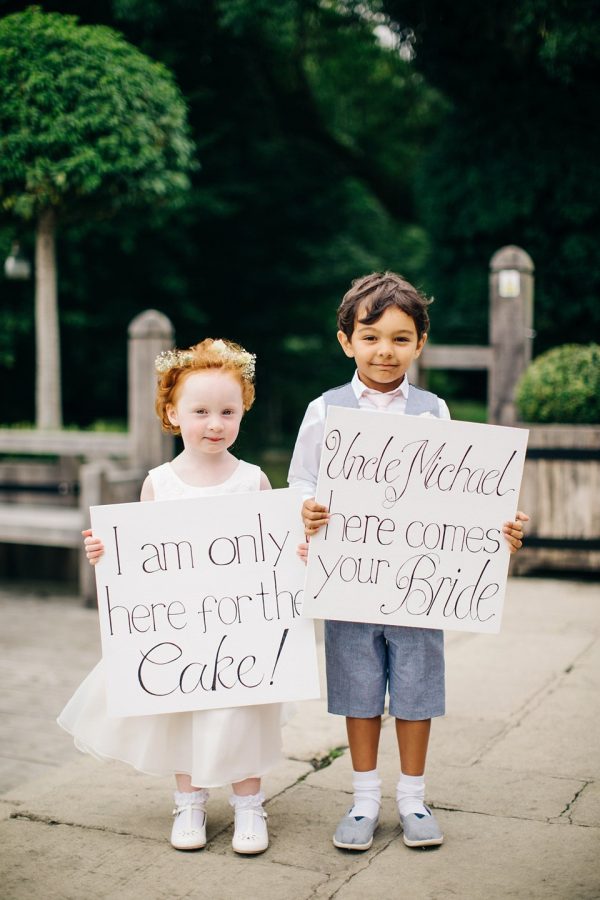 Planning a Valentine's day wedding? Then a heart-shaped sign is the perfect match for your ceremony! Your flower girl will simply adore carrying a pretty pink or lilac heart sign with a personalised message on it.
If you still want your flower girl to throw rose petals down the aisle, why not write 'Here Comes The Bride' on a metal bucket? Alternatively, you could hang a DIY sign onto a wicker basket. A basket brimming with confetti and petals will only add to the sweetness of having a flower girl.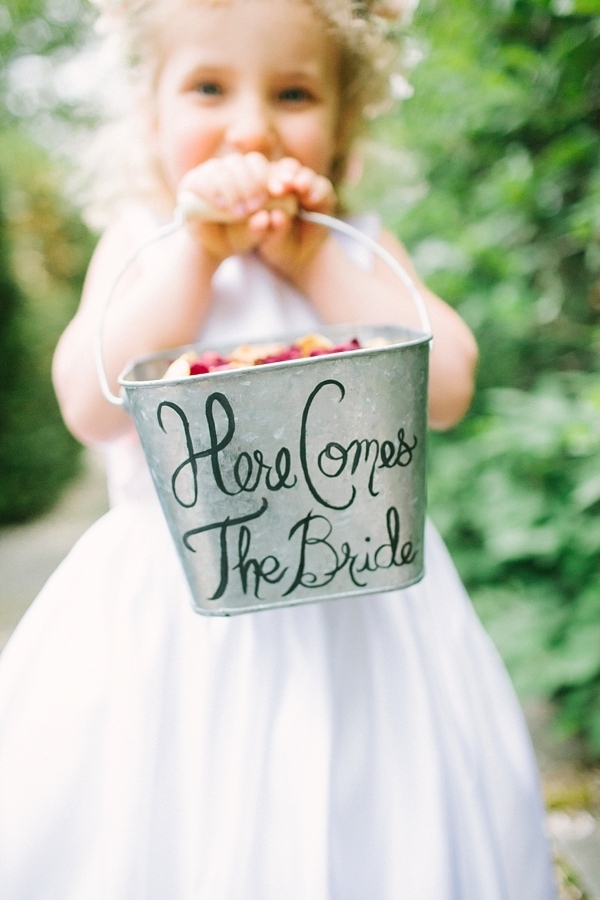 Our chalkboard signs are incredibly popular. Ask one of your flower girls or page boys to carry the 'Here Comes The Bride' sign for the procession, and turn the sign over so it shows 'Just Married' as you make your way out of the ceremony. The twine ribbon means they're easy to carry, and can be hung up at your reception after the ceremony.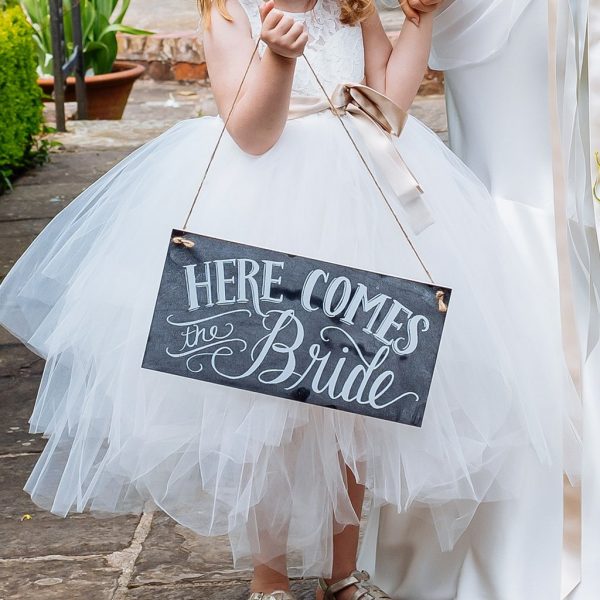 It's super easy to personalise the signs too! If one of your children is carrying the sign you could write 'Daddy, Here Comes Your Bride'. The personal touch will be beautiful and it'll make for some beautiful wedding photographs.
Looking for something a little different to the traditional sign? Why not ask your flower girls or page boys to carry a miniature flag instead? This can be a simple DIY job and you can write anything you want on it!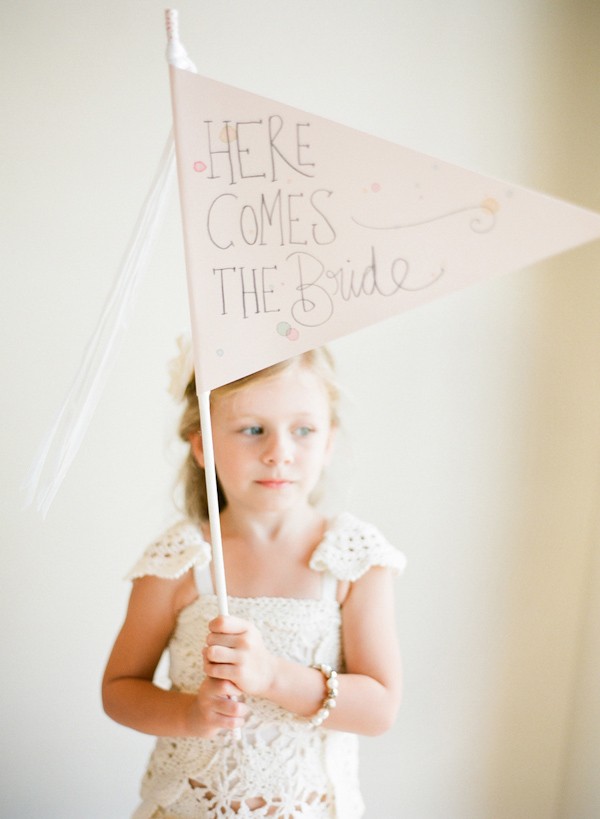 Planning a country barn wedding theme? I love the thought of pulling your flower girls and page boys along in a small trailer and tying a sign on the back. You could make it a like a mini version of a wedding getaway car by adding streamers and balloons to the back of the trailer.
If you're dreaming of a rustic celebration, consider using hessian or burlap as your sign material. A banner held by two wooden poles will look fab carried by flower girls or page boys. Use hessian elements throughout the rest of your wedding day so that everything looks beautifully coordinated.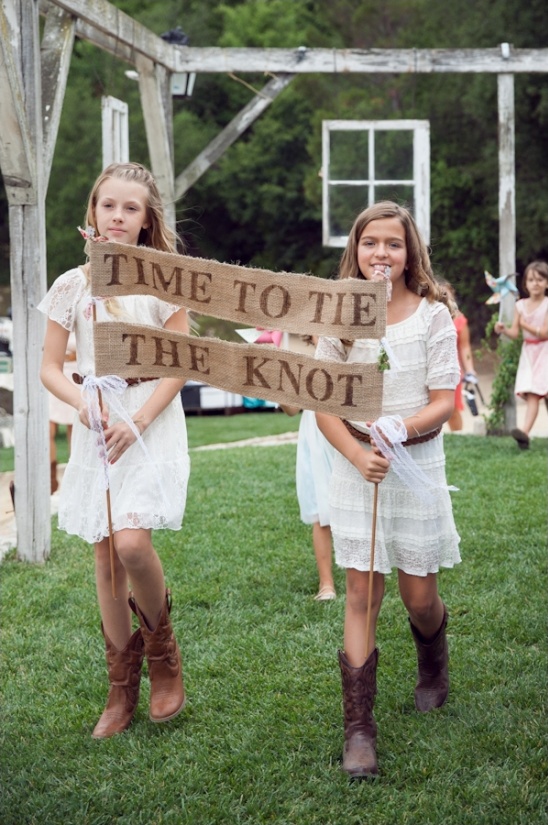 If you have a number of flower girls and page boys, why not make a series of signs? This is a really fun idea that will get your guests chuckling.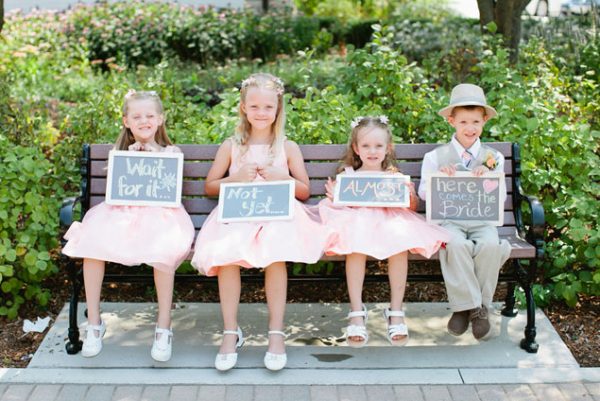 There are so many adorable signs for flower girls and page boys, and it'll be a lovely surprise for your wedding guests.