Dried Carpet Moss For Weddings
This week our wedding decoration of the week is perfect for rustic woodland wedding styling. Our boxes of dried carpet moss for weddings are fab for adding that rustic touch to your table and venue styling.
Moss can be used to add a woodland touch to wooden tree slices, place small pieces of moss over your wooden slices in between vases and tea light holders. For long tables lay a carpet of moss down the length of the table which can look lovely with roses and other blooms laid over it with a mix of candle holders. If doing your own flowers and using one of our wooden crate centrepieces add moss as a lining so it pokes through the gaps in the wood for a more rustic look. Use moss to create your own woodland initials, or a rustic wreath.
Dried Carpet Moss For Weddings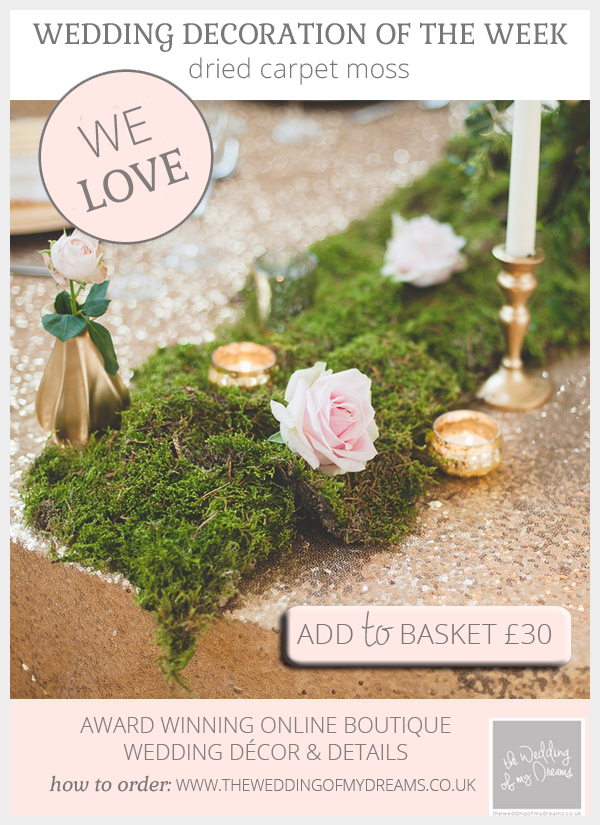 Photo credit: Florist and Styling – Fleur Couture / Photography – SDS Photography
View our boxes of moss for weddings for sale in our shop
Product Details
Each box of moss weighs approx. 1.9 kg
The box measures  60cm x 30cm x 20cm
Price: £30
You Might Also Like