The Best Aisle Decorations For Outdoor Ceremonies
Outdoor ceremonies are becoming an increasingly popular choice for Spring and Summer weddings. They can suit any style of wedding – from a rustic, boho or country wedding theme! With that in mind, take a look at our favourite aisle decorations for outdoor ceremonies.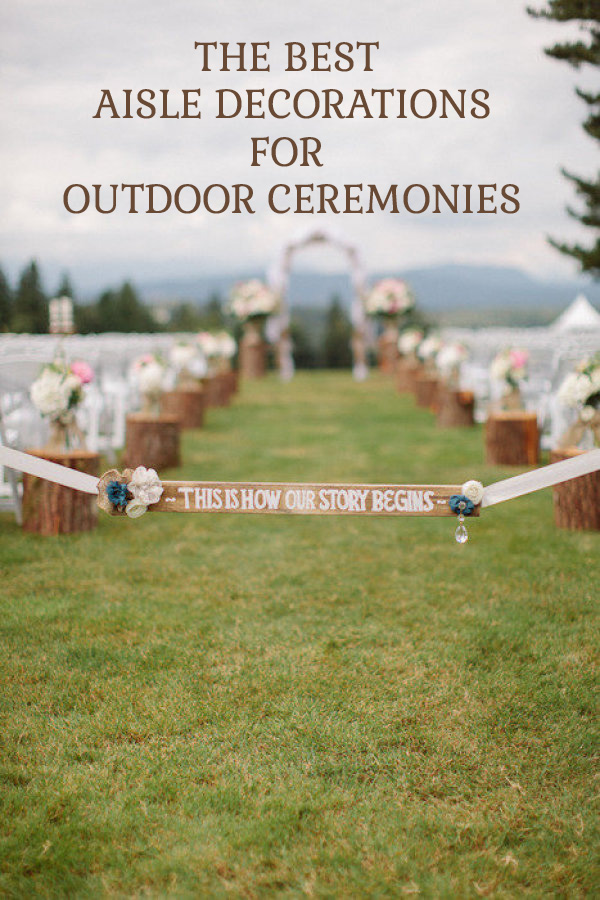 The Best Aisle Decorations For Outdoor Ceremonies
Outdoor wedding ceremonies offer so many different options – from rustic woodlands, wild forests or even your own back garden! Add a gorgeous twinkle to your outdoor ceremony by hanging fairy lights across the trees! This will look particularly magical if you're tying the knot in the evening.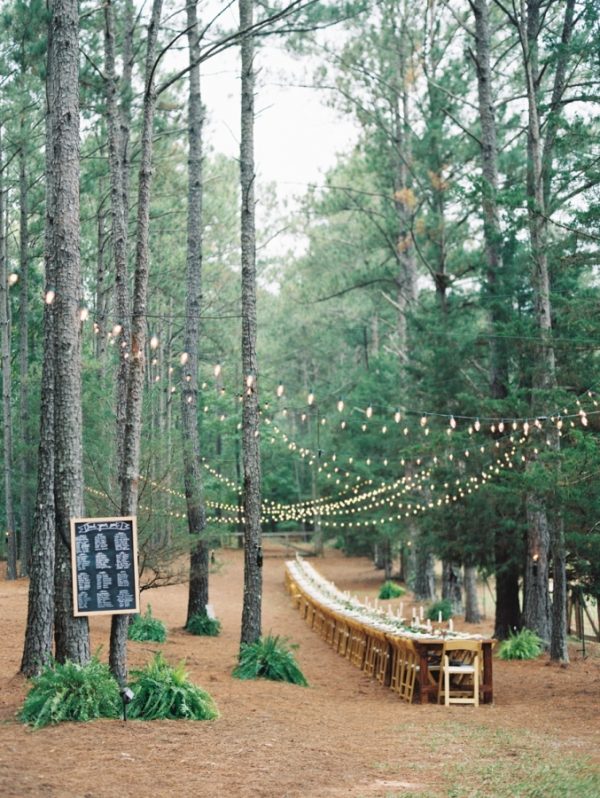 Add a dash of prettiness to your pew ends or chairs by adorning them with ribbons and blooms. Take a peek at our blog post about how you can decorate your pew ends using flowers, linen runners and lanterns.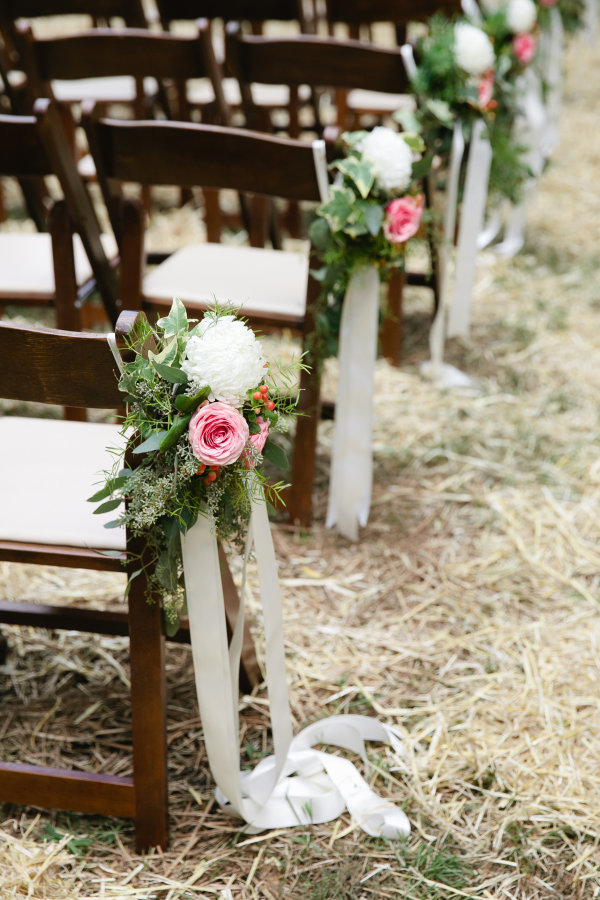 Planning a country barn celebration? Then we love the idea of hanging jars full of pretty posies from a shepherd's hook. Opt for flowers that look as if they could have been hand-picked from the garden. The wild rambling look will give your ceremony a beautiful feel. Place a shepherd's hook at the end of each pew end or chair. You could even use hay bales as part of your ceremony seating.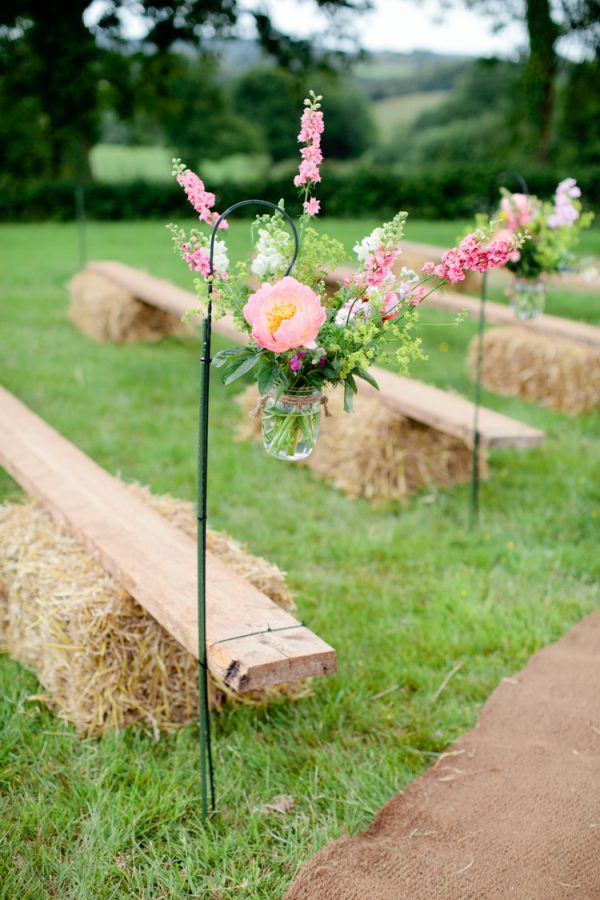 Wooden tree slices and tree stumps can come in seriously useful throughout your wedding day. They're a must-have addition to your decor if you're dreaming of a rustic or woodland affair. Place a tree stump or tree slice at the end of each pew at your outdoor ceremony. You could place a lantern on each of them, or a jar full of your favourite flowers. We recommend keeping the same style throughout your venue decor by using them as part of your table centrepieces too.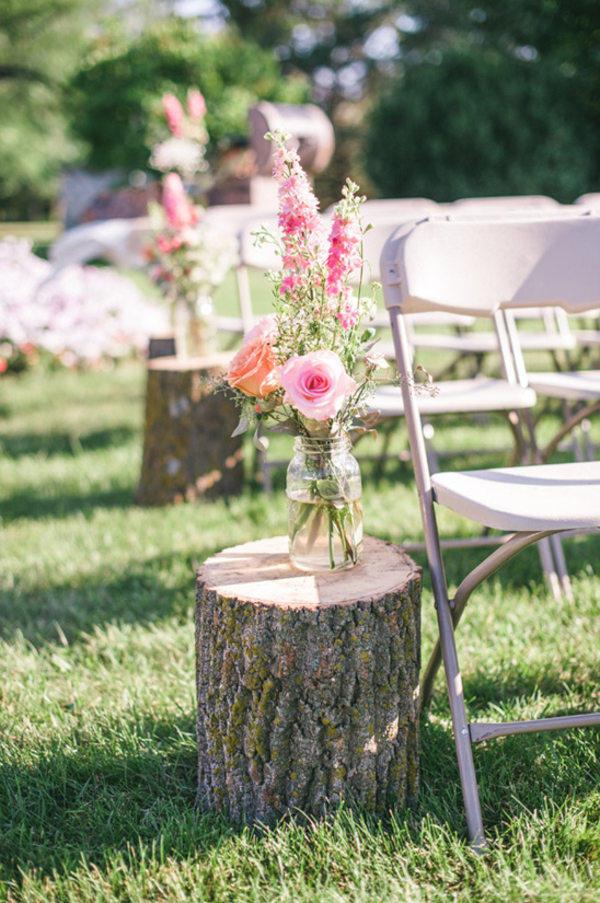 For a chic and minimalist look, decorate your outdoor wedding ceremony with simple lanterns. Add a large pillar candle or a single tea-light, and they'll glow as you walk down the aisle. You can also use lanterns as part of your table centrepieces or to decorate your card and gift table.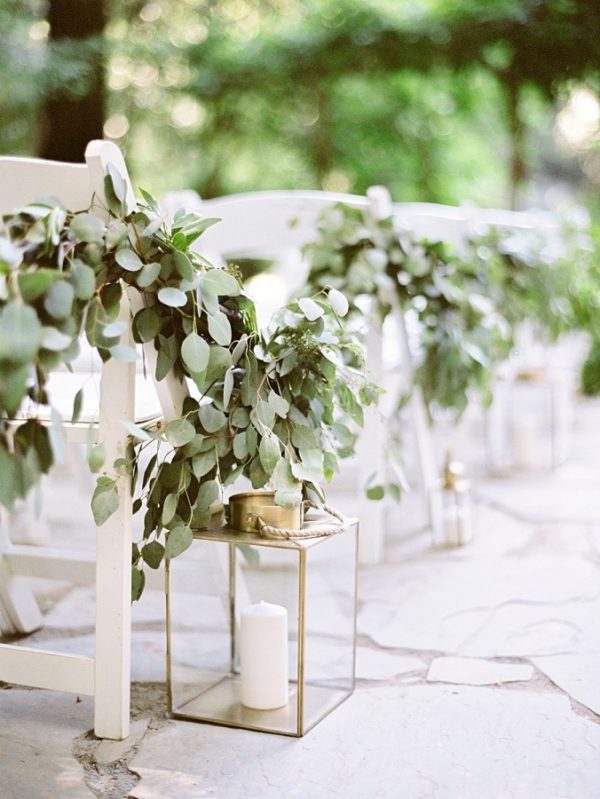 Large cider barrels are a wonderful option for couples who are planning a country style wedding day. You could place them at the entrance to your wedding ceremony and adorn them with foliage, vases or lanterns. This is a great choice if you're having your ceremony on a farm or in the gorgeous countryside.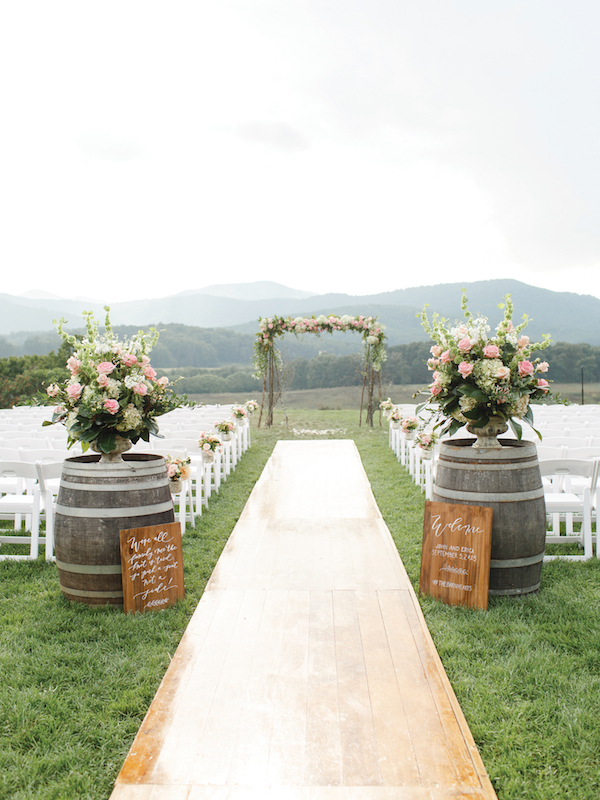 Personalised signs will give your wedding day a unique touch and they're a wonderful way of decorating an outdoor ceremony. Place one at the entrance of your aisle – you could display information about where you'd like your guests to sit, or simply write your names and wedding date. Simple, stylish and very romantic.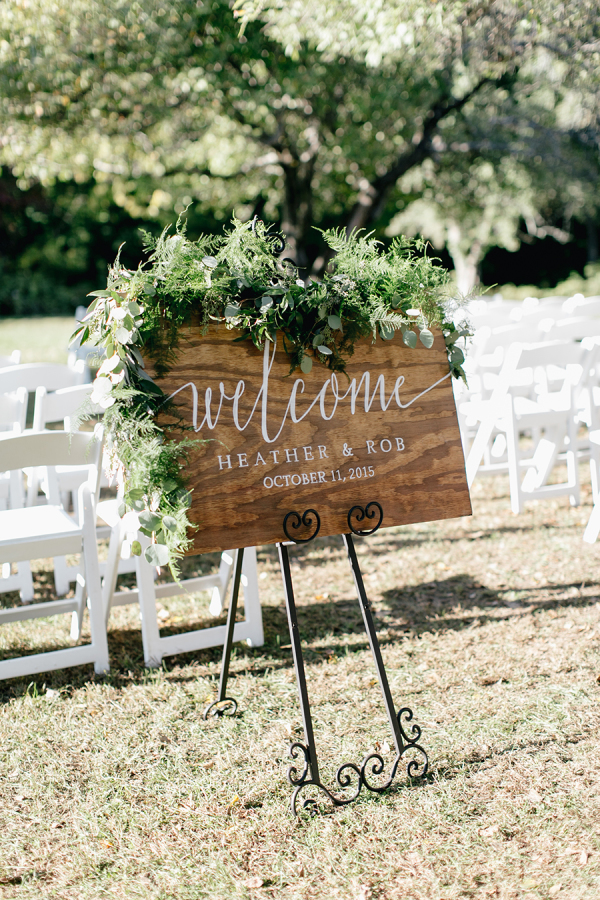 Outdoor wedding ceremonies aren't just made for a rustic or country wedding theme – they can be ultra-elegant too. Extravagant gold vases brimming with pillow-soft blooms and greenery will look truly beautiful placed along the aisle. You could even sprinkle a few petals along the aisle beforehand for an extra floral touch.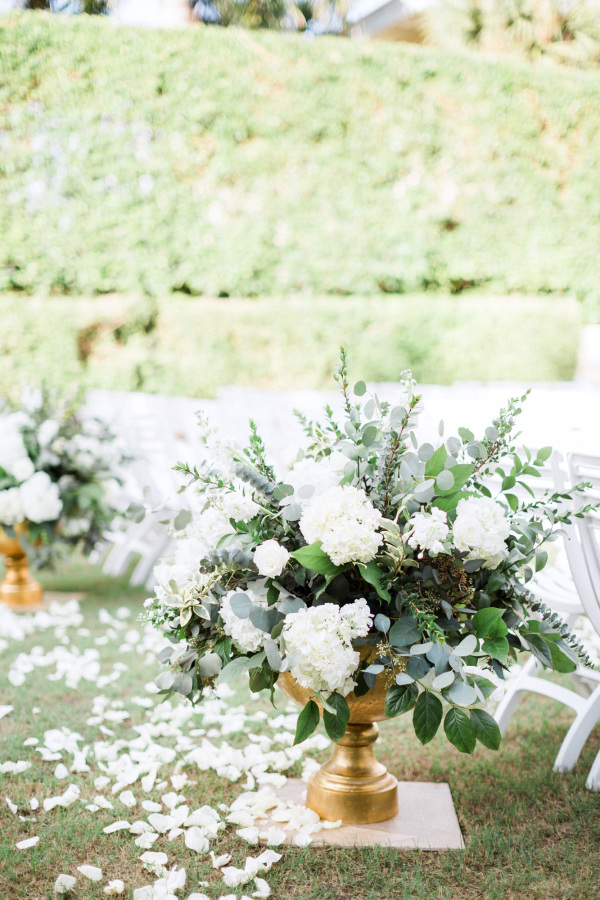 Are you getting married in the woodlands, surrounded by forest greenery and a canopy of trees? Then we adore the idea of making a couple of the trees stand out with floral decorations. You could decorate the trees that surround your aisle using the same style of blooms in your bouquet. It'll look super pretty and completely unique.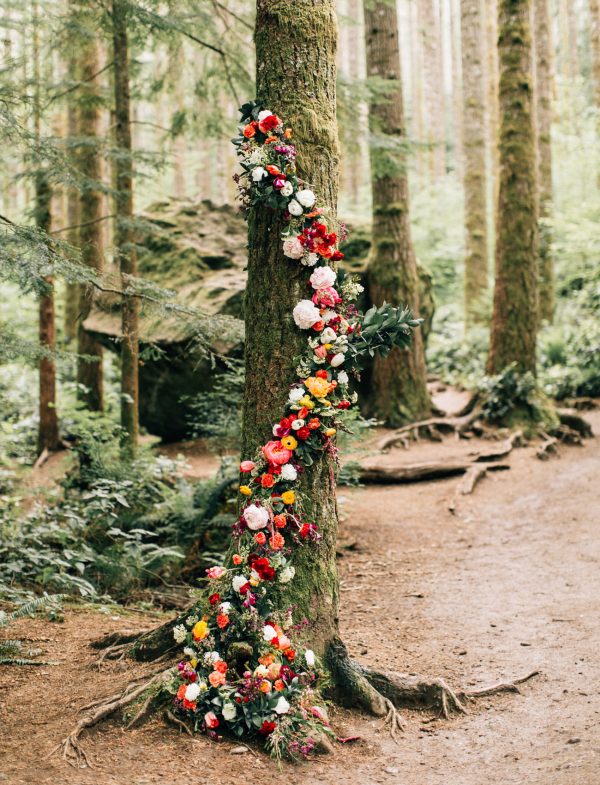 Wooden crates are an incredibly versatile piece of decor to use throughout your wedding day. Dot a few crates along the aisle and fill them with wild flowers, potted plants or even place a few lanterns on top of each crate. They are the perfect aisle decorations for outdoor ceremonies.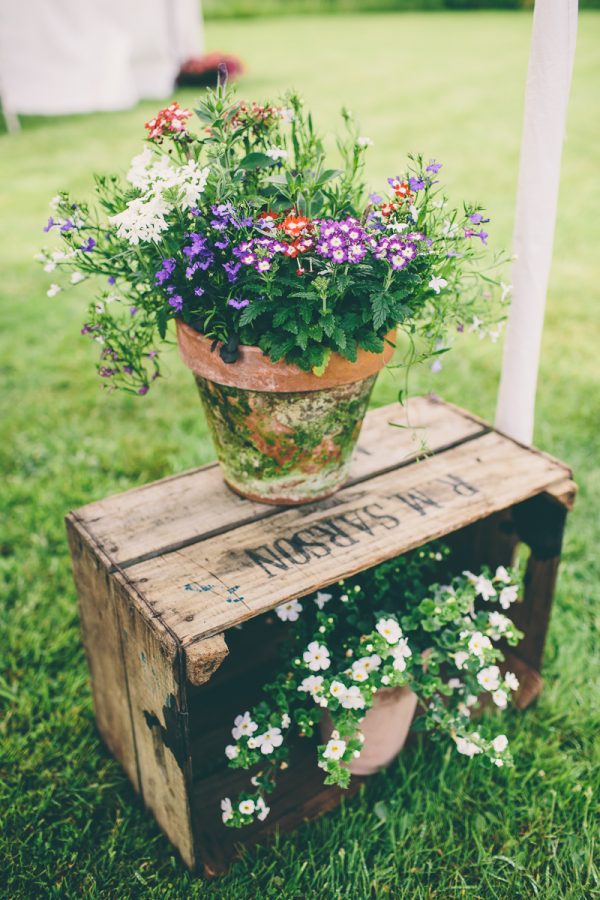 There are so many gorgeous aisle decorations for outdoor ceremonies, so you really will be spoilt for choice. How will you be decorating your outdoor wedding ceremony?