Children's Wedding Activity Books
This week our wedding decoration of the week is something for the children. If you are planning on inviting children to your wedding it's a lovely idea to give them a special gift for when they arrive at the table. Sitting at the table can be pretty boring for young children, not to mention sitting through the speeches so it's a nice touch to give them something to keep them entertained. Our children's wedding activity books do just that. Designed for 5 – 12 year olds these books are filled with puzzles, games and colouring pages.
Children's Wedding Activity Books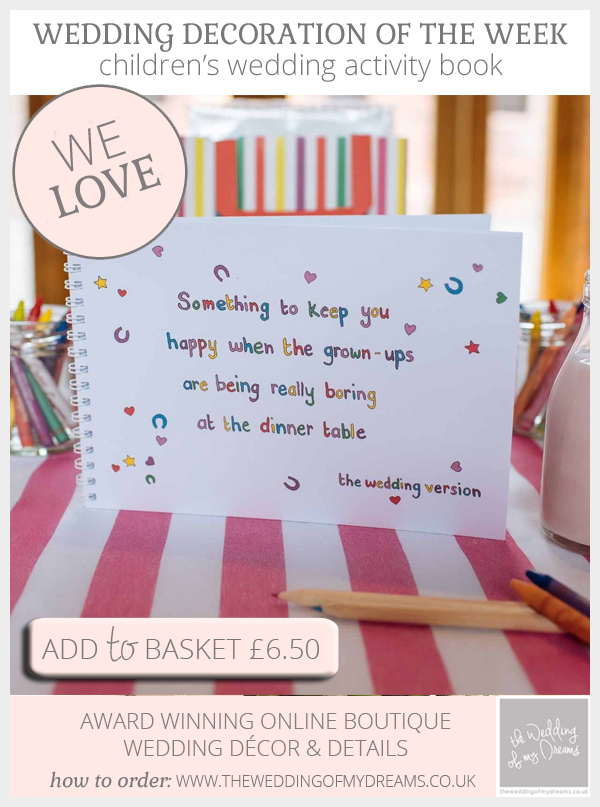 View these children's wedding activity books for sale in our shop
Product Details
This activity book  is called 'Something to keep you happy when the grown-ups are being really boring at the dinner table' and it is filled with fun and entertaining things to do.
With pages full of word games and puzzles to colouring and other great ideas such as wedding word bingo.
The book has 9 pages (18 sides plus inside covers) with 20 different activities.
Suitable for wide range of ages, children 5 – 12 years old
The activity book was highly commended at the gift of the year awards.
Size of book 21.5 x 15 cm – perfect for placing at their place setting at the table or adding into an activity pack.
Price: £6.50
If you are thinking of making an activity pack for children or young bridesmaids / pageboys why not browse our full range of children's activities including keepsake books, crayons, table games and gift bags. Browse our children's wedding activities here.