If you are looking to create an elegant wedding centrepiece display pressed glass makes a lovely choice. The delicate patterns on the glass reflect beautifully in candle light and look fresh and elegant filled with flowers in the centre of wedding tables. You may have already been collecting cut glass and pressed glass vases from charity shops which is fab, sometimes you need a few more bits to complete your set which is where we come in. We  have a growing collection of pressed glass vases and today we are looking at our tall pressed glass vases. We think they are oh so pretty.
Tall Pressed Glass Vase Centrepieces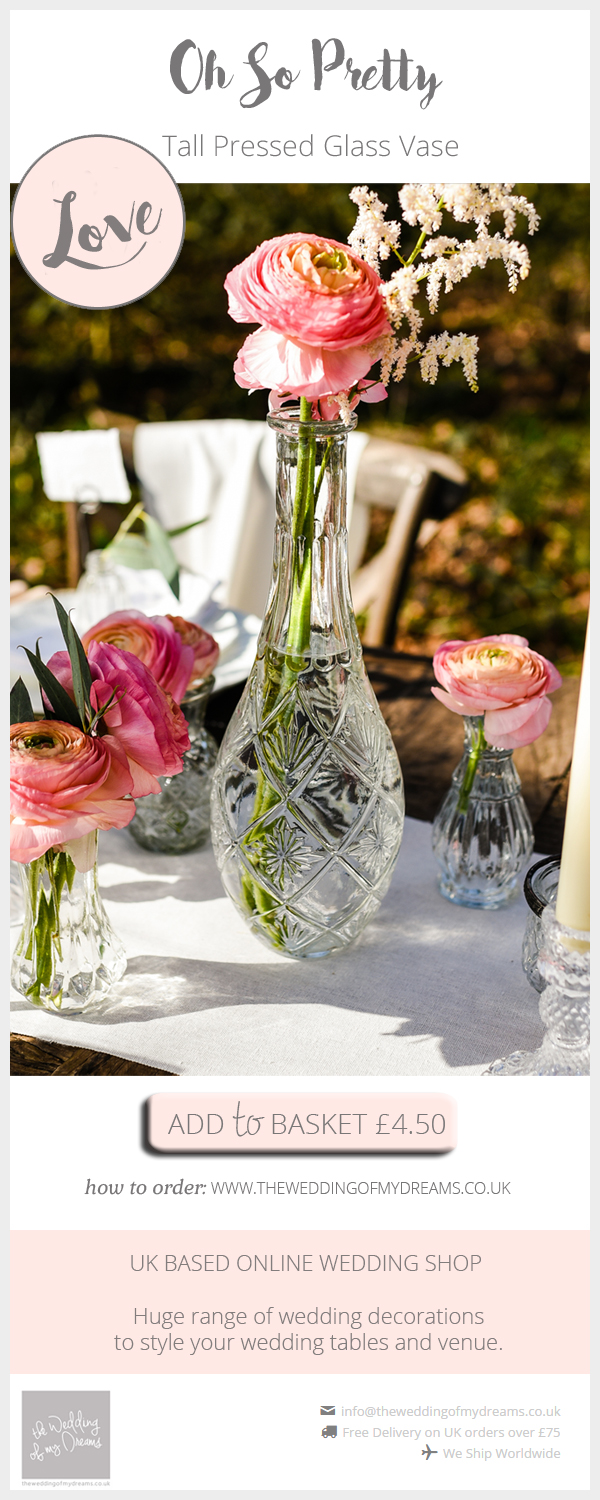 View our tall pressed glass vase centrepieces for sale in our shop
Product Details
These stunning vases and can be used on their own or mixed in with other pressed glass vases, decanters and smaller posy vases depending on the scale of centrepiece you are after.
The vases can be raised up on pressed glass cake plates to give them height with smaller vases below.
As well as centrepieces glass vases look lovely along mantle pieces, window sills, place a grouping of on your ceremony tables, near your guest book or on poseur tables in the bar area. If you are having a drink station, a handful of tall vases filled with pretty flowers can look fab here too, especially if your drinks are in decanters.
Each vase measures 30cm in height.
Price: £4.50 each
If you are thinking of using pressed glass vases and candle holders are part of your wedding decorations browse our complete collection here.