15 Creative Wedding Cake Table Backdrops
wedding cake sorted, what about the backdrop?
Do you want to make your wedding cake stand out? Then a show-stopping backdrop will effortlessly make it the focal point your wedding reception. From carnival-inspired garlands to industrial installations, take a look at our favourite ideas for wedding cake table backdrops.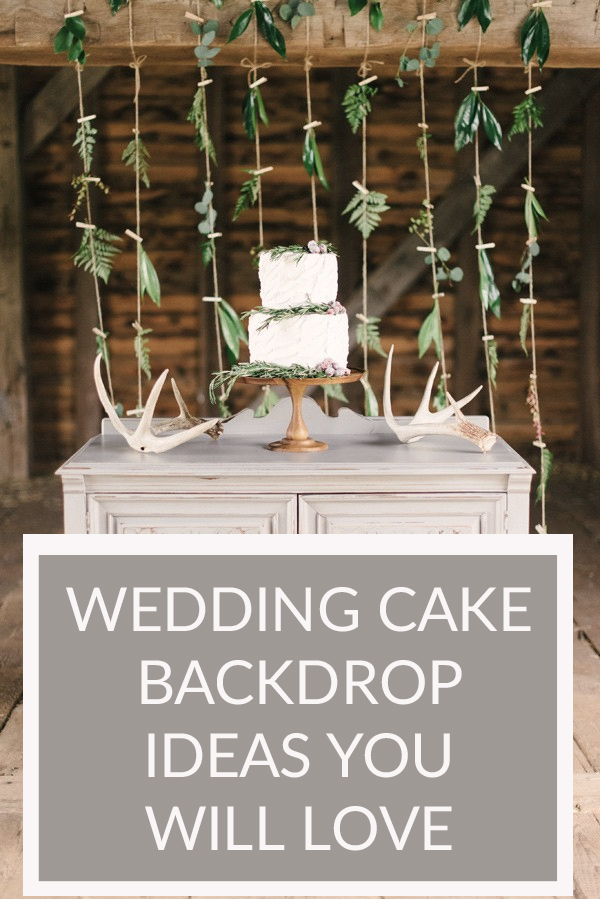 15 Creative Wedding Cake Table Backdrops
We thought we'd start by incorporating one of the most anticipated wedding trends of 2017 – greenery. Wreaths adorned with wild greenery and foliage look striking hung behind your wedding cake. They're also a wonderful choice if you love the thought of a botanical wedding theme. A job for your wedding florist, they can be hung from a wooden frame.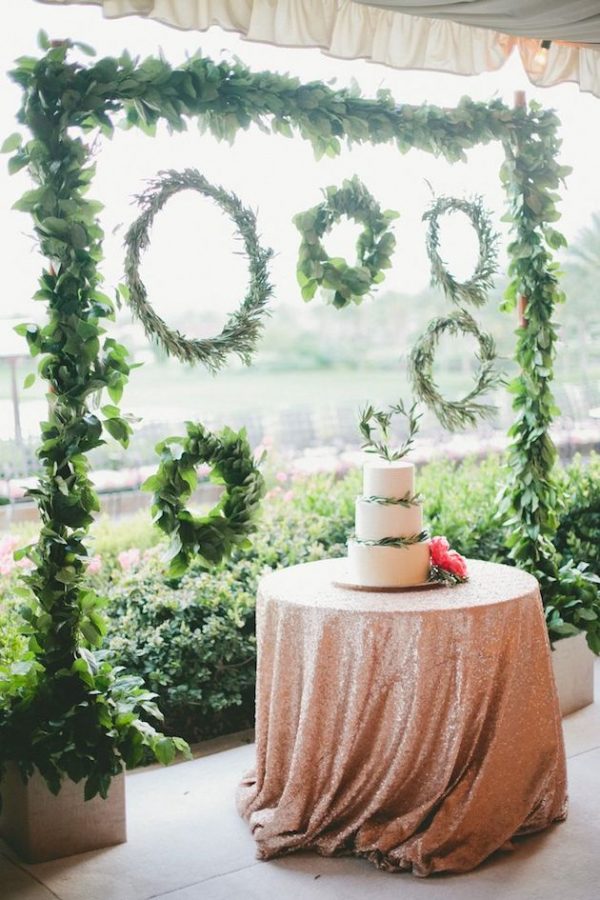 If you adore the thought of using greenery as part of your table backdrop, but want something a little more romantic, consider creating a cute heart-shaped garland instead. This will look super sweet behind your cake or dessert table, particularly if you're planning a Valentine's Day wedding. You could also create mini versions for your chair covers or favours.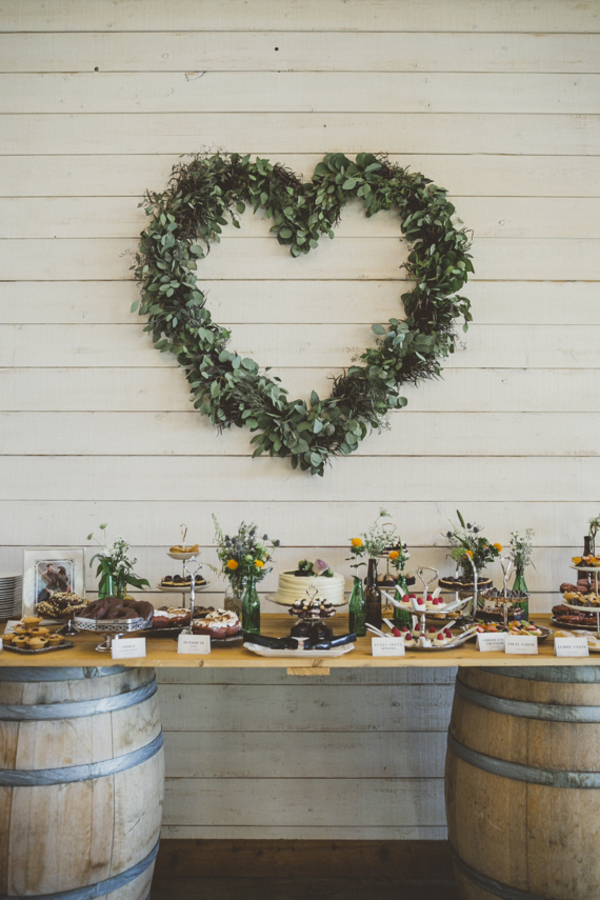 Or if foliage isn't your style our light up heart wreath can have a simailar effect. The LED lights are battery powered so no need to be near a power socket.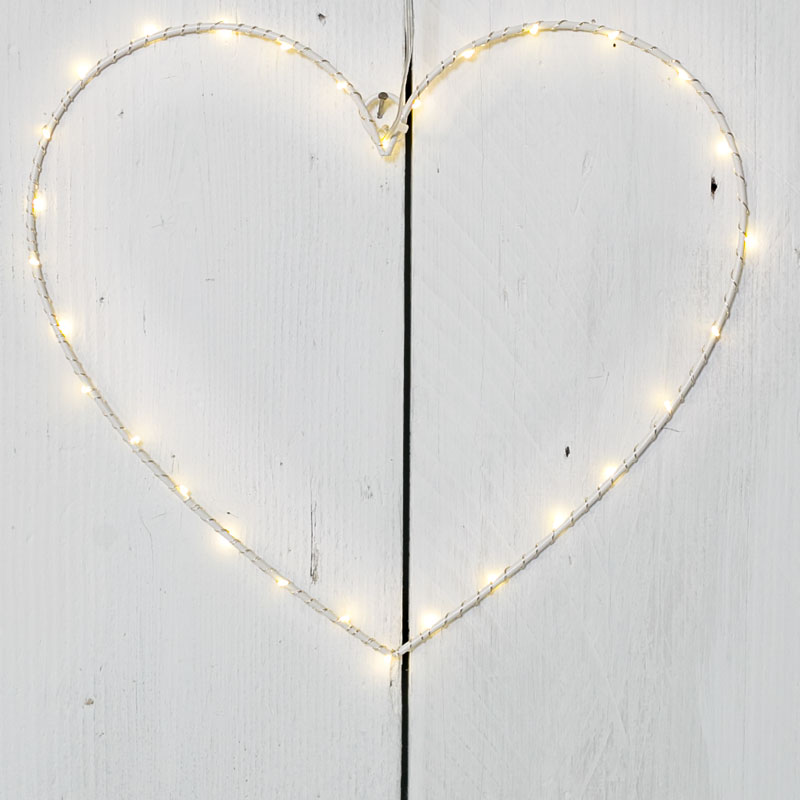 Buy this light up heart wreath backdrop here
For a rustic country backdrop this flower curtain is perfect, the delicate flowers hang on individual strings creating such a pretty look. If your cake is against a wall or door this can easily be attached with a couple of nails. You'll have hung it up in 5 minuted and created such a wow factor.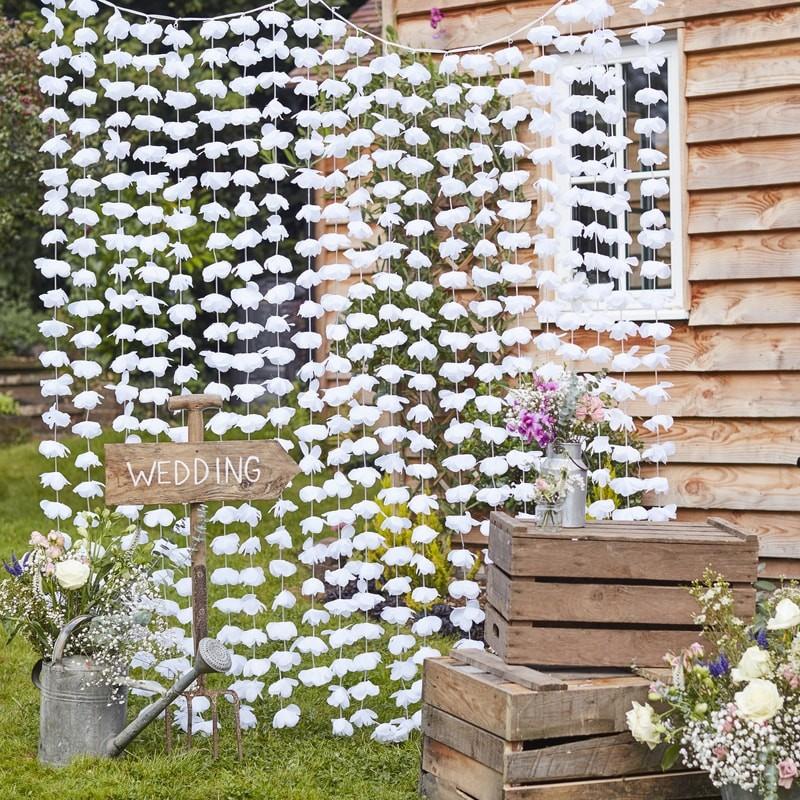 Buy this flower curtain backdrop here
We couldn't resist including this striking design as part of our favourite wedding cake table backdrops. The perfect frame to flaunt your cake, this backdrop will certainly make a statement at your reception. You could be really creative with your theme, and use this motif as part of your wedding stationery too.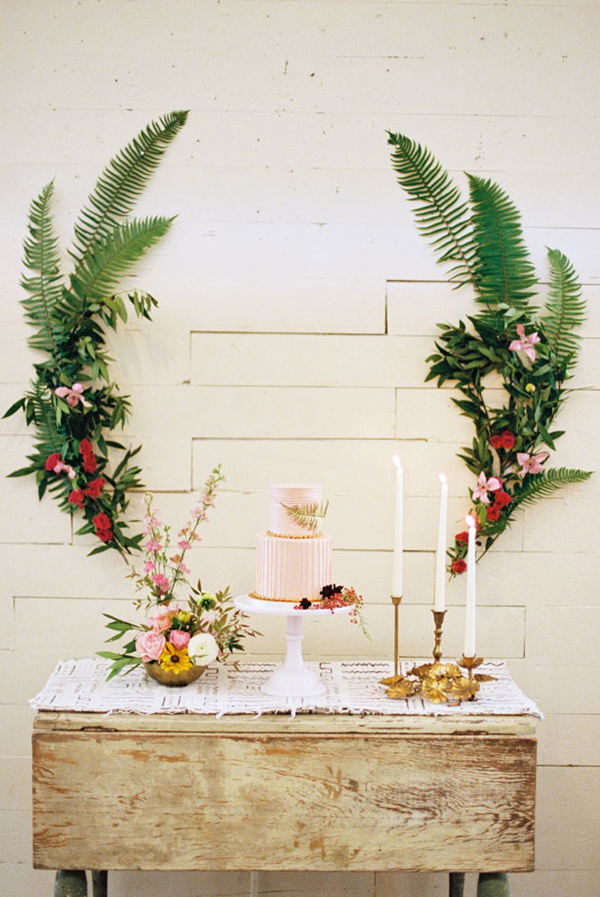 The stylish combination of the acrylic furniture and colourful geometric patterns looks incredible. Geometric wedding cake table backdrops are a fab fit for a city wedding in a vast loft or warehouse space. They'll add a pop of colour to even the humblest of venues, and who doesn't adore a colourful wedding?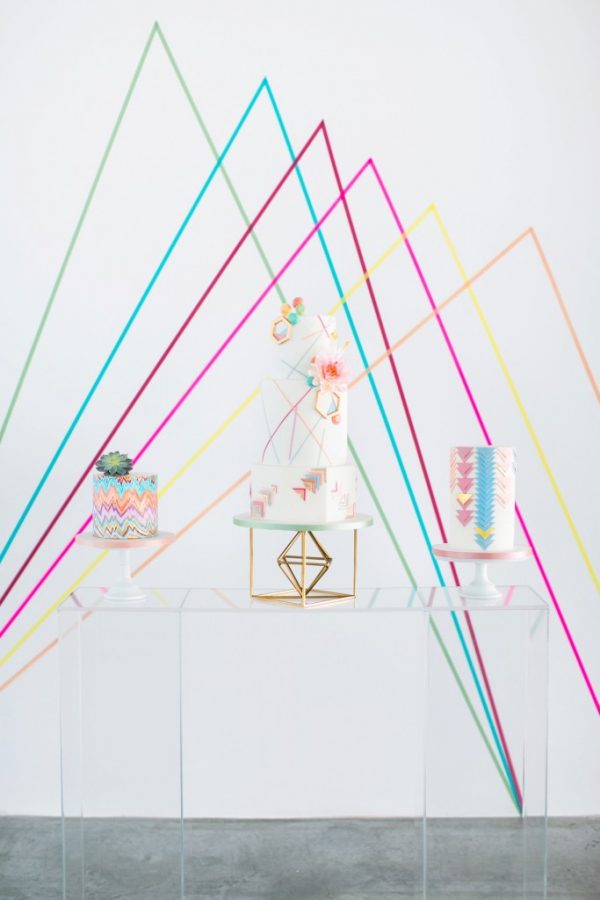 For a completely unique wedding cake table backdrop, consider using a black chalkboard. If you're particularly talented when it comes to drawing, you could design a personalised backdrop for your cake. You could write your initials, the date of your wedding or your favourite quote.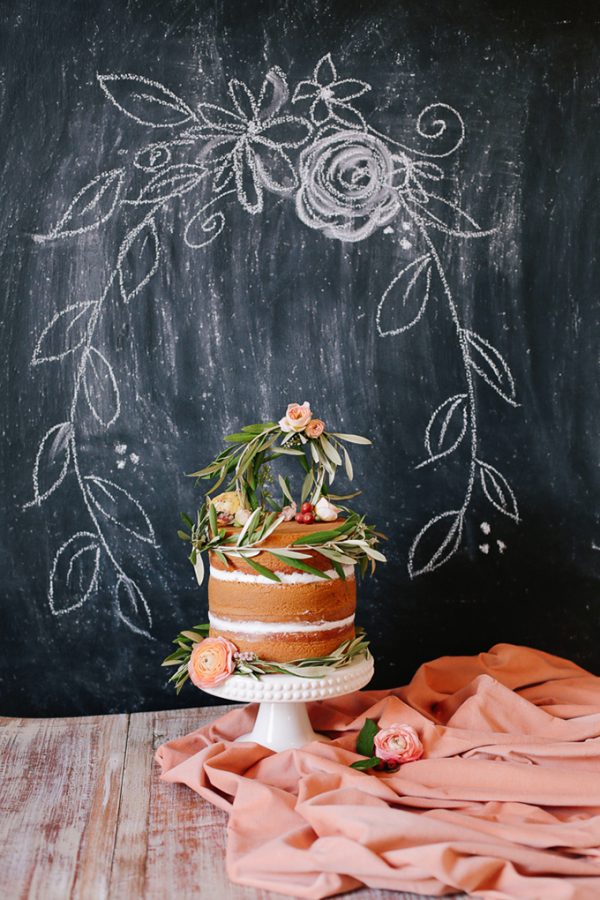 Hanging installations are becoming extremely popular when it comes to alternative table centrepieces, but why not use them as part of your table backdrop too? Metallic geometric vases hung behind your wedding cake will look modern and stylish. Team with a golden or copper wedding cake and a metallic sequin table runner.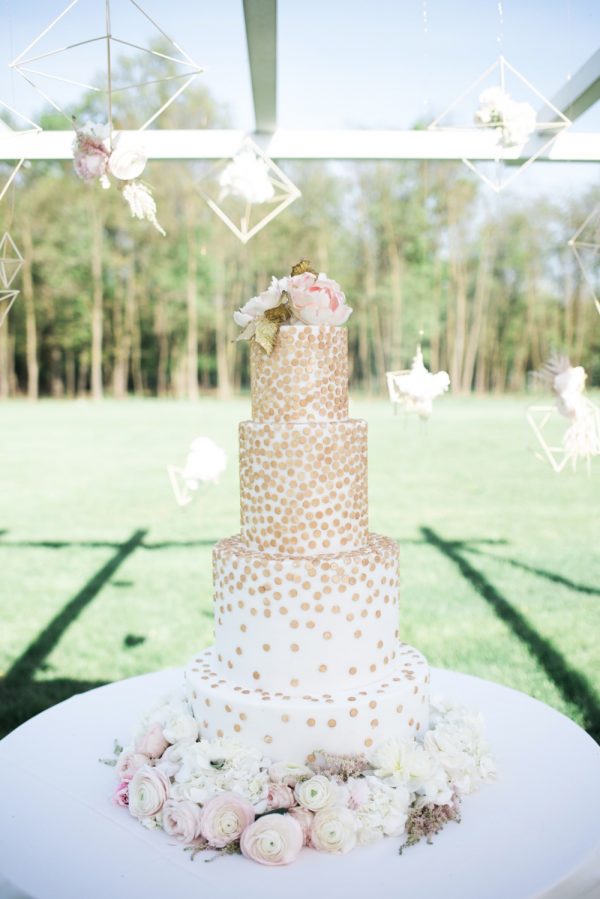 If you love the thought of creating a unique and unusual backdrop for your wedding cake, why not go for something completely different to the norm? You could display your cake on a vintage stool or an antique armchair. It's something your guests won't have seen before! Surround it with a variety of lanterns and little trinkets for an extra special touch.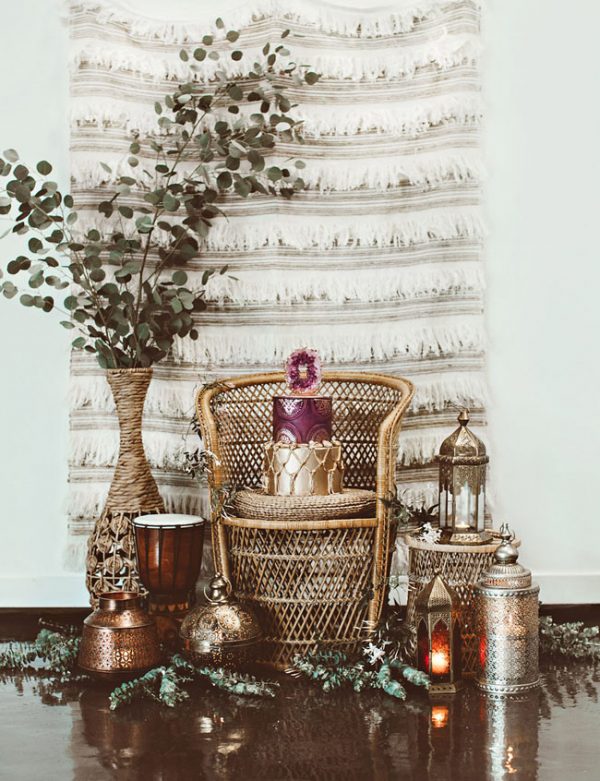 You may have seen our blog post about 10 ways you can incorporate moss into your wedding, but we love the thought of using it as inspiration for your backdrop. A board adorned with dried moss is a fabulous choice if you're dreaming of a woodland wedding. Coordinate the theme by using moss table runners throughout your reception tables.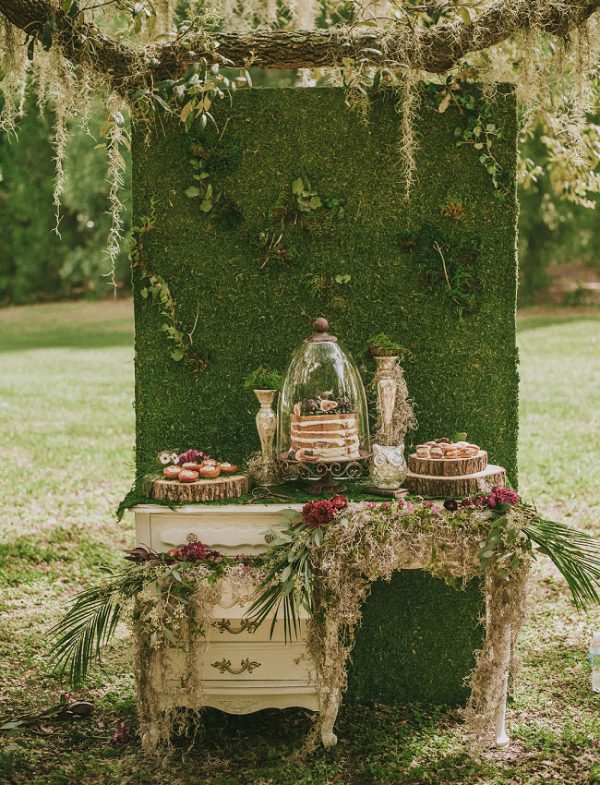 Shutters make gorgeous pieces of decor for your wedding venue, and they can easily be used as part of your cake table backdrop too. Pair them with a vintage dresser or desk to display your wedding cake. This style of table backdrop would lend itself beautifully to a country garden affair, what do you think?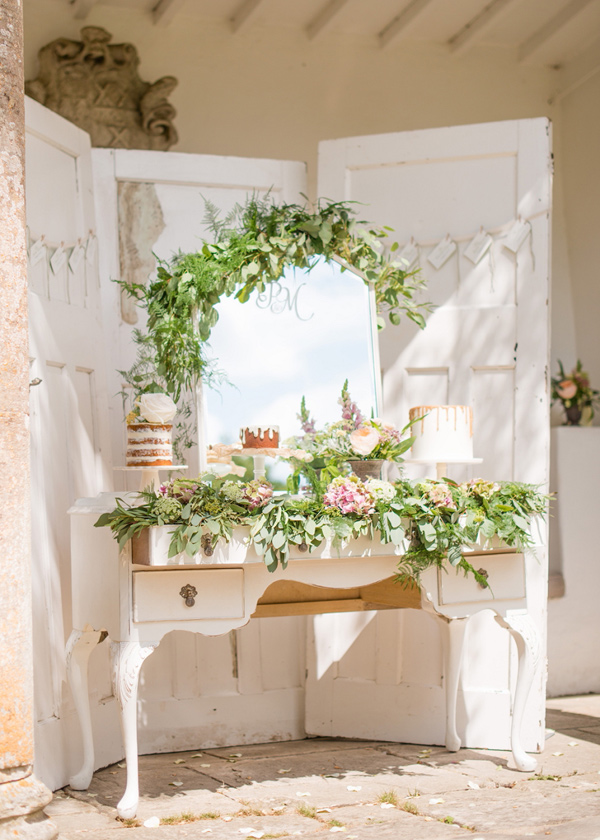 Hand-painted backdrops are often used throughout wedding ceremonies and they look incredibly effective. Take this trend to your reception, and use it as your cake table backdrop. A personalised backdrop using delicate watercolour paints will look stunning, and it can really set the scene for your special day.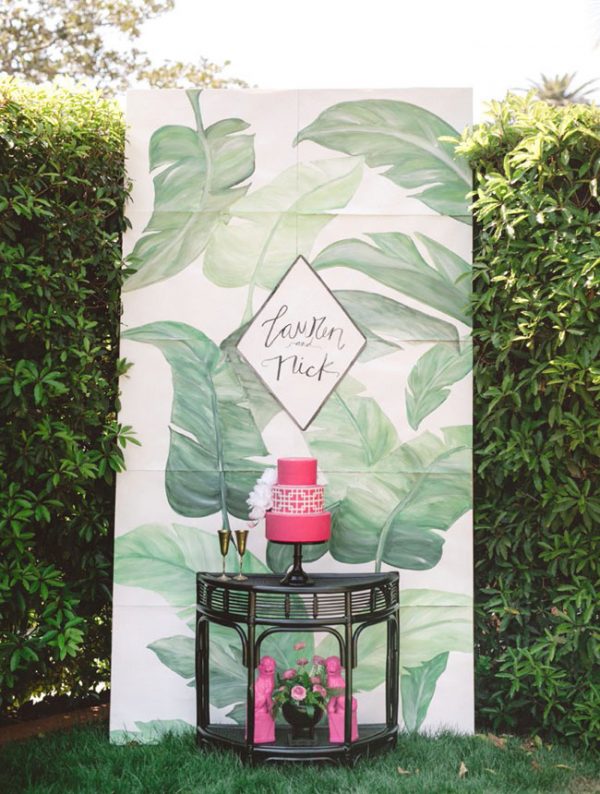 Dreaming of a beach wedding? We're seeing couples spending their wedding day celebrating with their toes in the sand and the fresh sea air – sounds like heaven! A driftwood-inspired table backdrop is the perfect fit for a seaside wedding theme.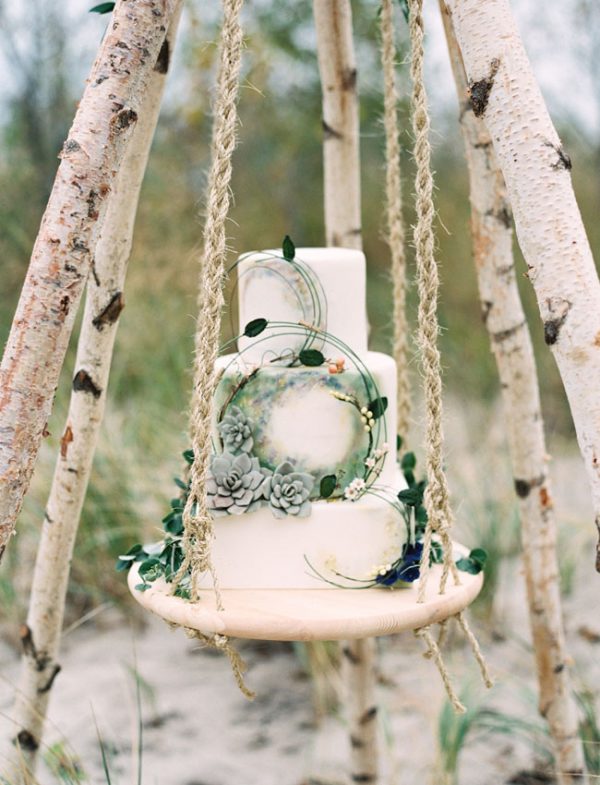 Backdrops made out of pretty flowers and forest leaves always look incredible, and they can be a simple DIY task for a creative bride and groom. You'll simply need some small wooden pegs, a roll of twine and a handful of gorgeous blooms.
If you have a romantic quote or saying that you're particularly fond of, why not use it as inspiration for your wedding cake table backdrop? Ask a calligrapher to write it onto a blank canvas adorned with your wedding flowers and it'll look beautiful.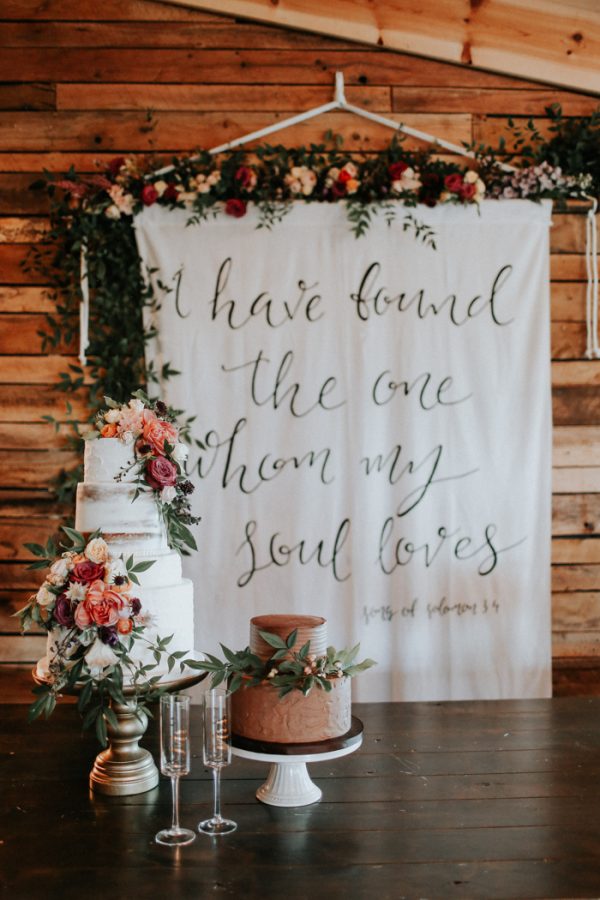 Our gold CAKE balloons are the perfect addition to any wedding venue, and they'll definitely make your wedding cake stand out at your reception. From a glamorous golden affair to a pretty blush colour scheme, they'll look divine as a wedding cake table backdrop.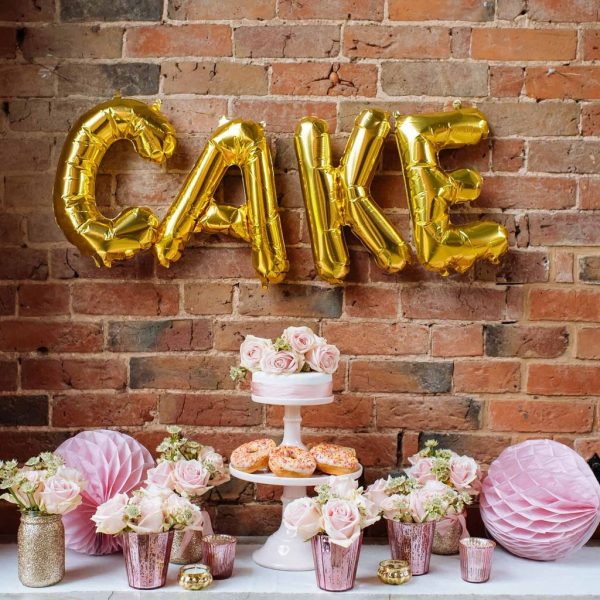 Less of a backdrop and more of a prop but we adore this rustic cart wheel used here next to this wedding cake and dessert table.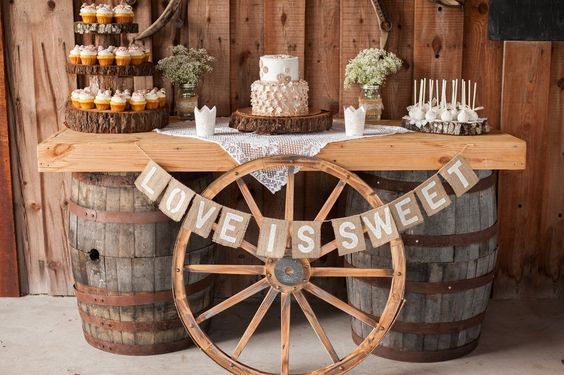 Buy our rustic cart wheel here
Couples often don't realise the impact their wedding cake table backdrops can have on their wedding reception. It's a chance for brides and grooms to get creative while reflecting their personality, theme and wedding style. How utterly gorgeous are these ideas for wedding cake table backdrops?