COPPER WEDDING STYLING – COPPER TEA LIGHT HOLDERS
How to use copper tea light holders in your wedding table decorations
Are you looking for ways to introduce copper into your wedding decorations? Copper is fast becoming a popular colour for wedding decorations. If you love the idea of adding a touch of copper into your wedding but not quite sure how this post should help you out. Sprig And Thistle are a lovely florist and wedding styling business based in Northumberland (follow them on instagram @sprigandthistle), they have been playing around with our copper tea light holders and have come up with some ways you can introduce them into your wedding decor. Browse through the ideas below.
COLOUR SCHEMES INCLUDING COPPER
Copper can be a lovely colour to add into your wedding colour scheme, it can be teamed up with lots of different colours for a different effect. Some of our favourites include:
copper & navy blue
copper, bronze & gold
copper and grey
copper & white
copper & green
copper & clear glass
COPPER WEDDING CENTREPIECES WITH TALL VASES
For your wedding centrepieces, we suggest adding copper elements low down on the table so guests can really appreciate it. For maximum impact as guests walk into the wedding breakfast opt for tall vases on the tables with full floral displays, peach tones mixed with whites and greens really complement the copper. Around the base of the vase place a grouping of copper tea light holders, 5 is a good number per table. For an extra copper touch on the tables try one of our copper table runners.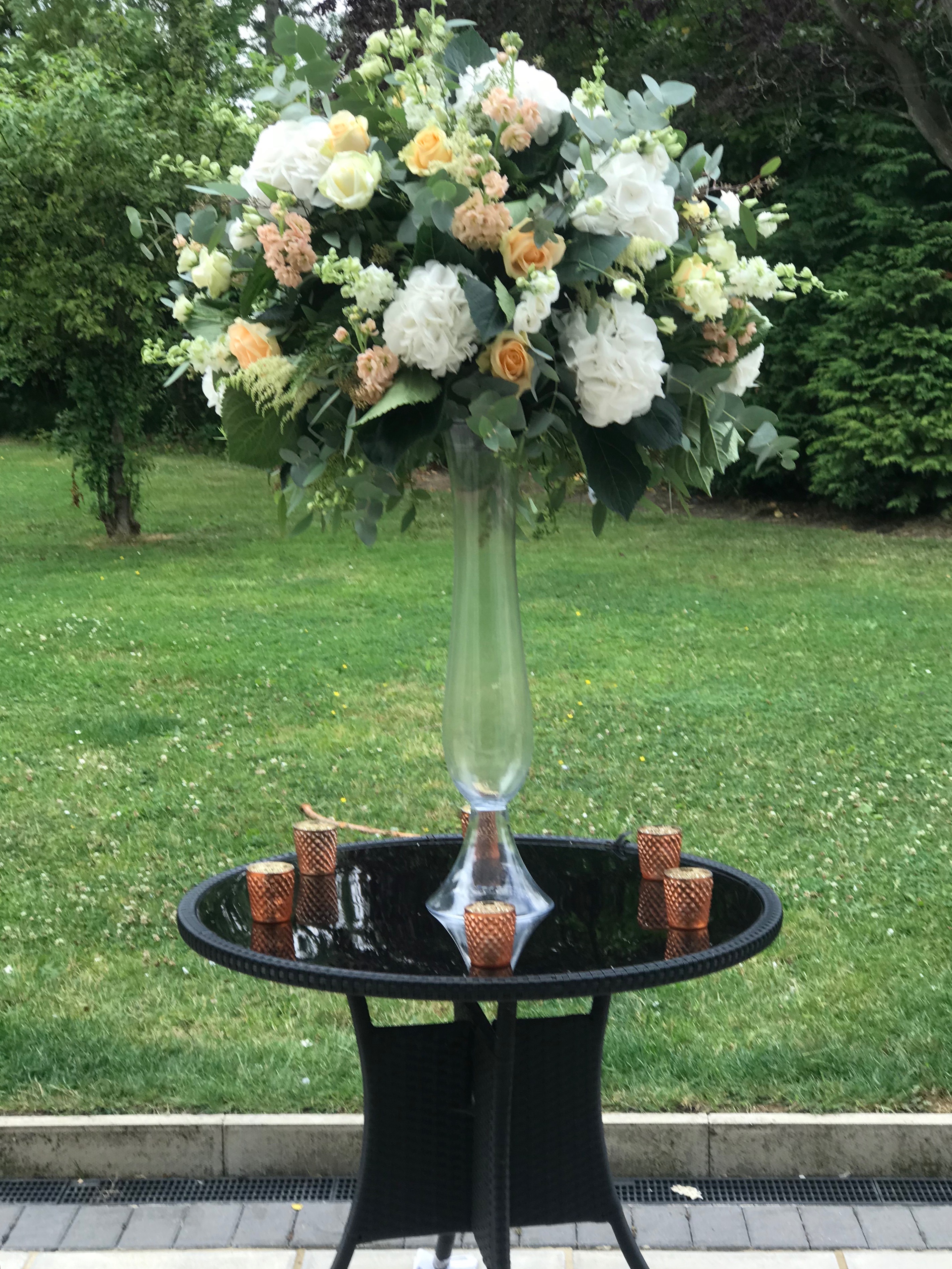 COPPER WEDDING CENTREPIECE – NON FLORAL CANDLES ONLY
Thinking of centrepieces with only a few flowers, or perhaps none at all? Then candles are the way to go. Clear glass cylinder vases filled with water and floating candles create height on the table, for colour add around 5 copper tea light holders into the mix. For a touch of flowers use a couple of the tea light holders as bud vases as shown in the photo below.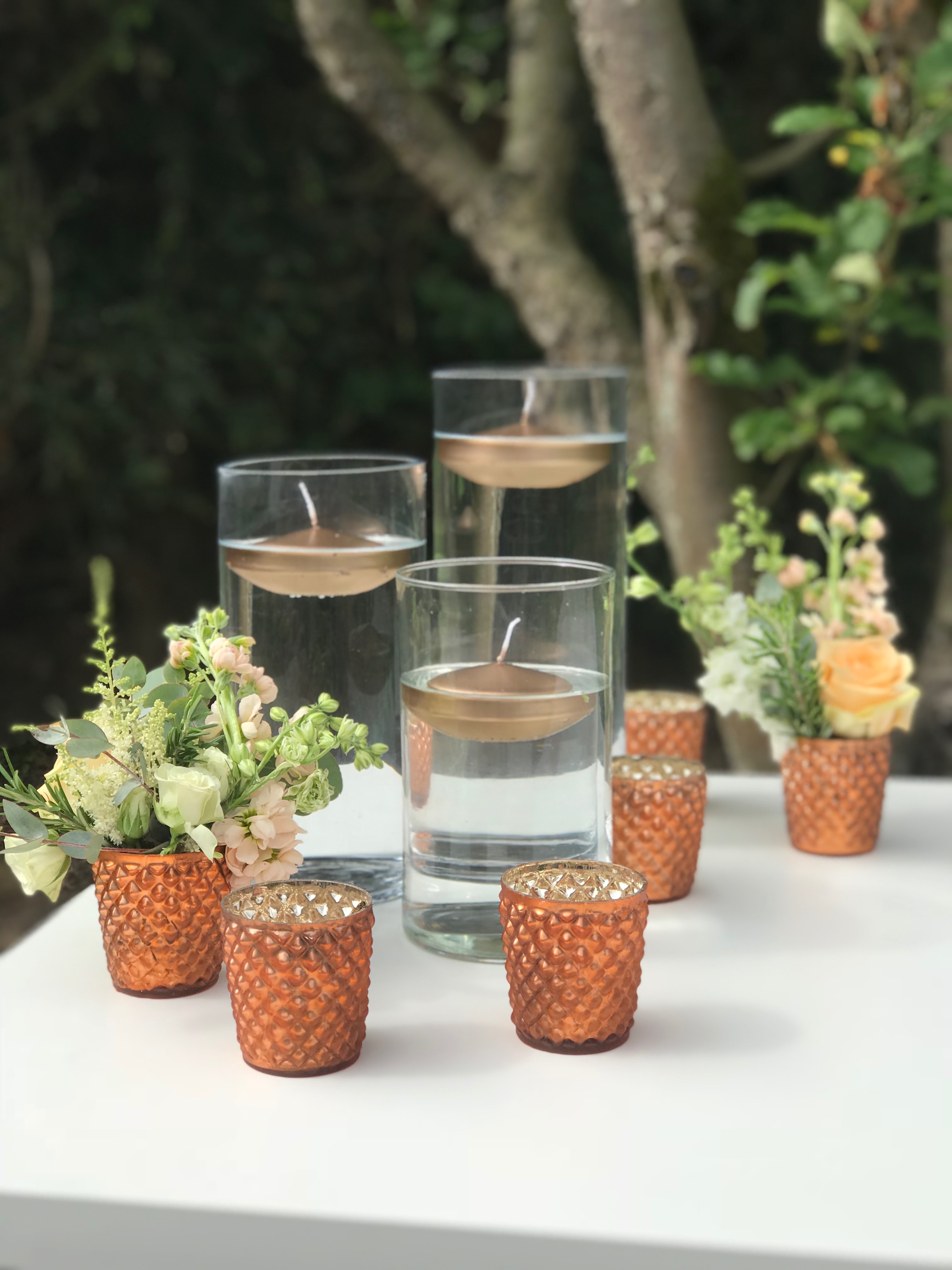 PILLAR CANDLES AND TEA LIGHT HOLDERS
This set up could be used on your wedding tables as a centrepiece or around the room as extra decoration. There will be areas of your venue that could do with some extra decoration, for example, the bar area, the space near your table plan, your guest book table and any other parts of your venue that look a bit bland.
Create this look by choosing a grouping of pillar candles in varying sizes (there are 8 pillar candles in this example, we think this looks gorgeous but you can probably scale it down to 5 if you need to). To add colour mix in 5 or 6 copper tea light holders, again use a couple of them as bud vases if you wish to add some flowers to the look.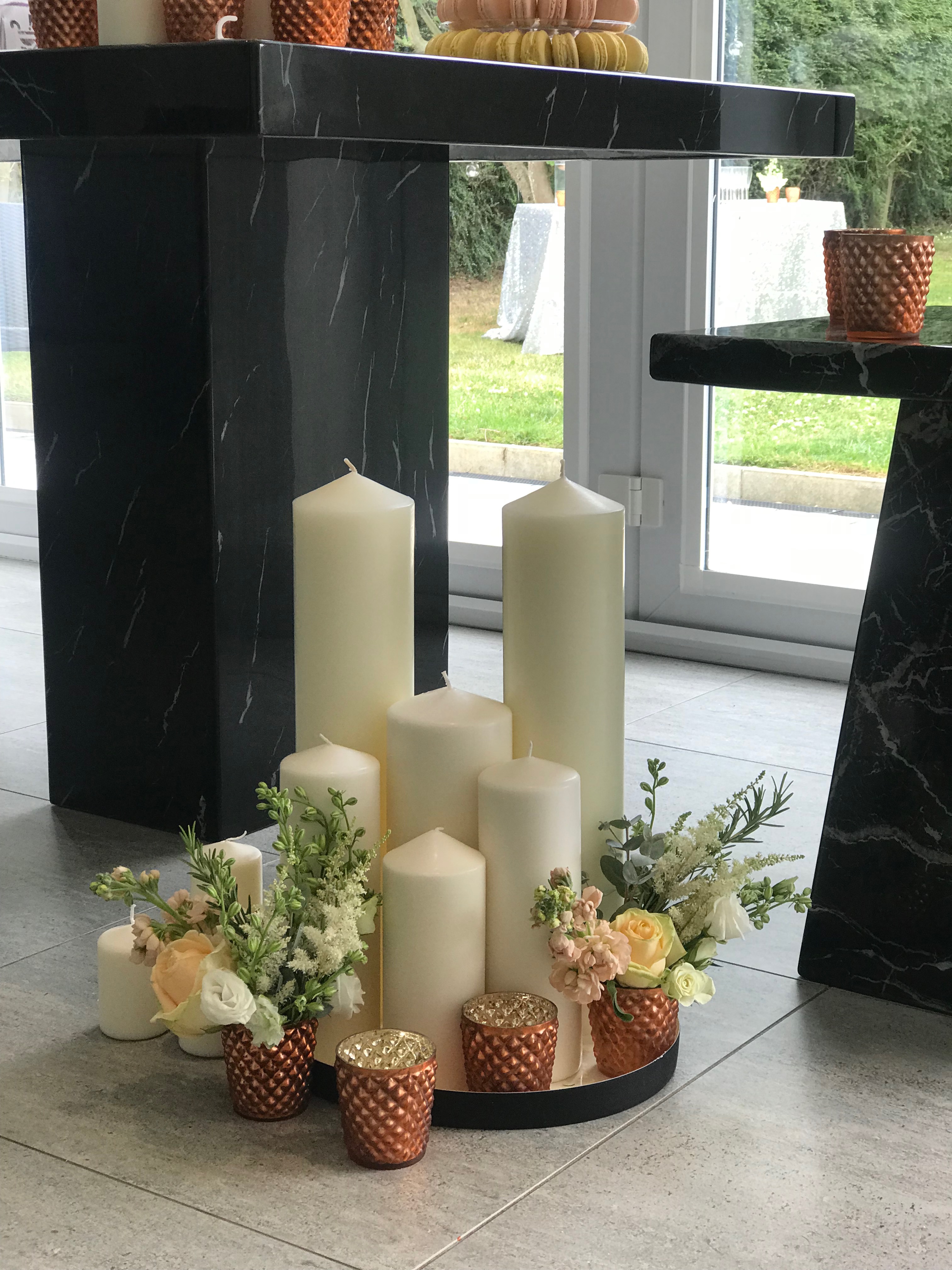 WEDDING DESSERT TABLES – EXTRA STYLING
If you are having a dessert table, cake table, escort card table, favour station or anything similar then go all out and make this a focal point. Any of the above decoration ideas can be used to enhance areas of your venue and create a focal point.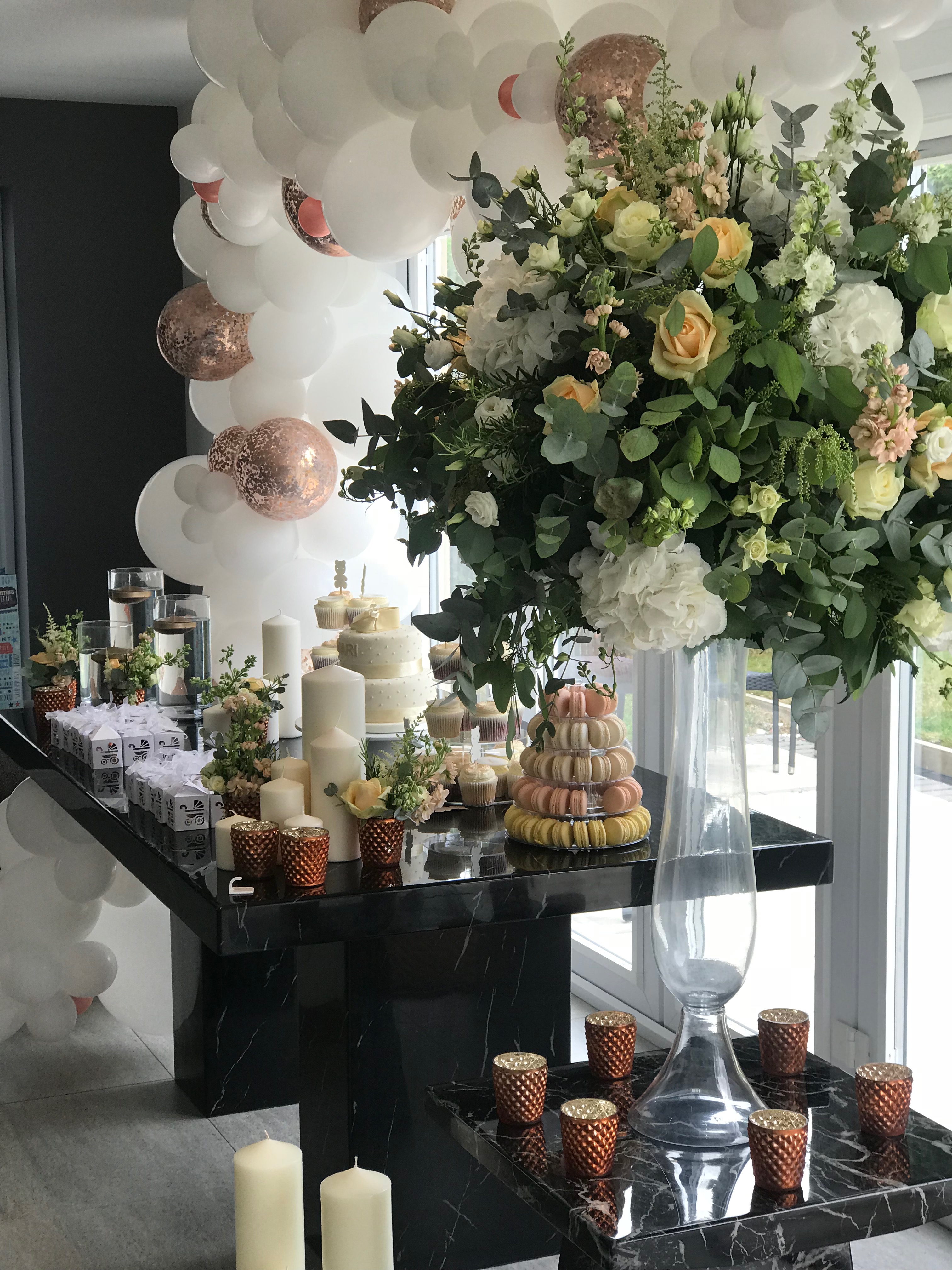 Thanks again to Sprig And Thistle for these lovely ideas with our copper tea light holders.
SHOP NOW