Ways To Use Keys At Weddings {Wedding Decoration Inspiration}
Keys at weddings
I love the thought of using keys at weddings for extra details and décor, they can hold so many meanings…the key to my heart, key to a happy marriage, unlocking my heart, unlocking our future… they will add a lovely touch to your wedding day.
How would you incorporate antique keys into your wedding?
Keys to a happy marriage
Set up a table laid out with antique keys and luggage tags, ask your wedding guests to write their tips or keys to a happy marriage. They will attach a key to a tag and hang it up for everyone to read. Keep these notes and read them on your first wedding anniversary.

Credit: Ask Wedding Guests The Key To A Happy Marriage
Use Keys as Wedding Escort Cards
Escort cards are similar to wedding table plans, they show guests where to sit. Each guest has an escort card with their name and table number on, these escort cards are usually hung up in alphabetical order so wedding guests can easily find their name. Using keys as wedding escort cards is one of the most popular ways of using keys at weddings, and we love it. Tie a vintage key to each luggage tag write the guests name and table number on the luggage tag and hang them up in a row. They look stunning when displayed all together. See our inspiration below for different ways to display them.

Credit: [1] Key Escort Cards [2] Hanging Vintage Keys [3] Key Wedding Table Plan [4] Key Escort Cards Take Your Seat [5] Key Table Numbers [6] Key Escort Cards [7] Wedding Chair Back Key To Successful Marriage [8] The Key To Your Seat [9] Find Your Key Find Your Table
Keys as wedding place settings
Lay a key on each guests place setting, lay on top of their napkin or attach to their name card to continue your key theme through the décor.

Credit: Key Wedding Place Settings
Keys on bouquet wraps
Having a key on your bouquet wrap can have a lovely sentimental meaning to you as you walk down the aisle and unlock your future. Perhaps you have a significant key to use here, a key to your first flat or that belonged to and old family member.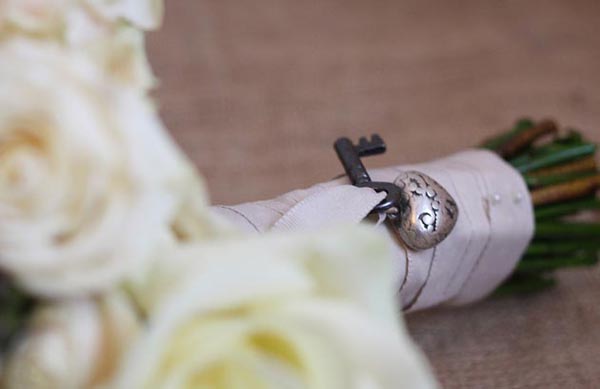 Credit: Key Bouquet Wraps
If you are using keys on your bouquet wraps don't forget the boys, they can have keys entwined with their button holes too. And for the children at your wedding let them blow bubbles through keys using a mix of washing up liquid and water in a jam jar.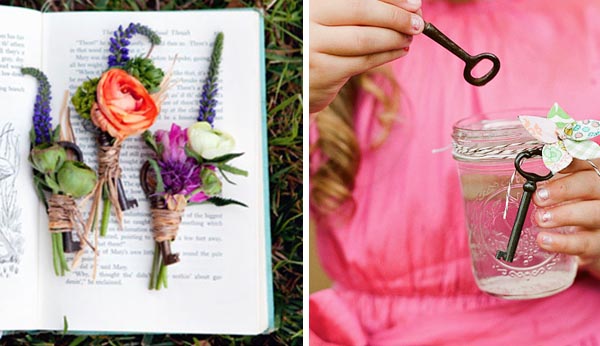 Credit: Key Button Holes, Blow Bubbles Through Keys
Are you thinking of using keys at your wedding, do you have any other ideas? We'd love to hear your thoughts.
Or pop to the shop to see our antique metal keys.