White Paper Pom Poms ~ Wedding Decoration of the Week
This week our wedding decoration of the week is our set of 5 white paper pom poms. White paper pom poms are an inexpensive way to add wow factor to your wedding. Simply hang the paper pom poms on ribbons in clusters above sweetie buffets or from the ceiling of your wedding venue to get that wow factor look while keeping within budget.
Read our post on how to use paper pom poms at your wedding.
White Paper Pom Poms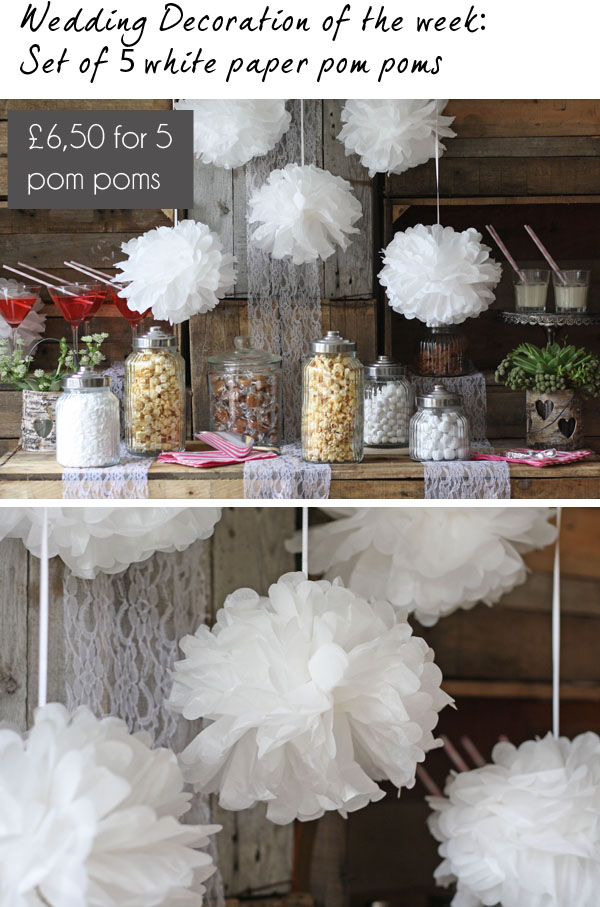 View white paper pom poms in our shop
Product Details
White paper poms are an easy and cost effective way to transform your wedding venue.

Hang white paper poms from the ceiling of your reception venue, marquee or outside, group in clusters or hang individually on different lengths of ribbon.
If you are having a sweetie buffet hang a cluster of white paper poms above it to make a lovely frame.
Paper poms can look fab attached to pew ends and chair backs too, or placed in bowls around your wedding venue.
White paper poms are 10" in diameter
White paper poms come flat packed with instructions telling you how to make them
Each pack contains 5 white paper poms and 5 pieces of wire
You will need your own ribbon
They are easy and fun to make, enlist the help of your family and friends if you are making a lot!
Price £6.50 for 5
You may also like:
Pastel coloured paper poms poms. We have large and extra large paper pom poms available in soft pastel pink, mint green, pale blue, white.