10 Rustic Wedding Centrepieces
Rustic is one of the more popular styles we find customers browsing on our website, if you are having a rustic style wedding be sure to check out our rustic wedding decorations. Today we have chosen our top 10 rustic wedding centrepieces, some of which we sell others we sell components of and others you could have a go at doing yourselves. These are just meant to be ideas and inspire you – giving you a starting point to work from, most of these can be adapted to your own personal taste and style.
10 Rustic Wedding Centrepieces
1. Wooden Boxes make fab rustic wedding centrepieces, they are usually very low so you can easily see over and can be filled with a mix of wild flowers to suit your style. Buy similar wooden boxes / crates for centrepieces here.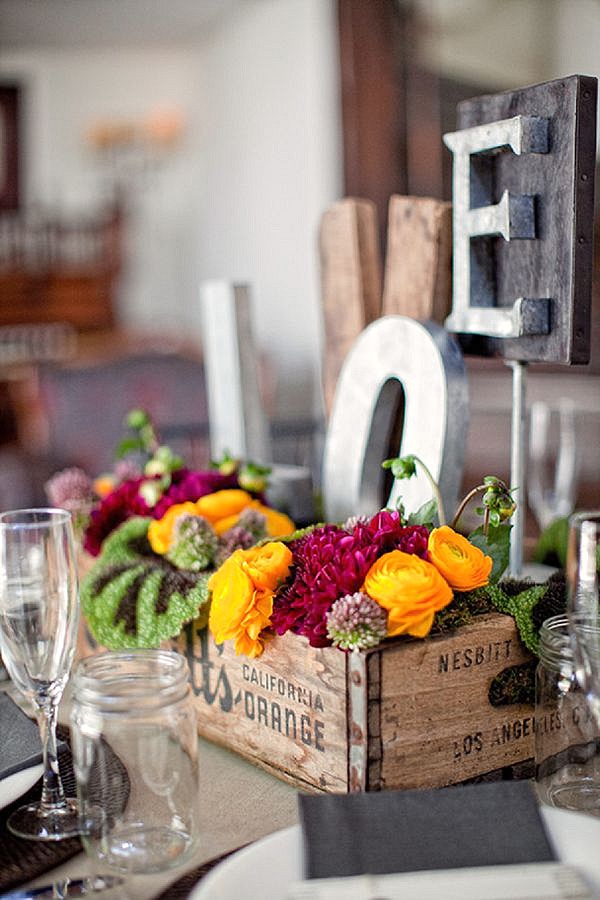 2. Tree slices are excellent for adding a little height and rustic touch to your centrepieces, add bottles filled with single stem blooms, tea light holders or even a whole jug of flowers to the tree slice, you could have different items on different tables to add interest to you reception decorations. Buy tree slices here.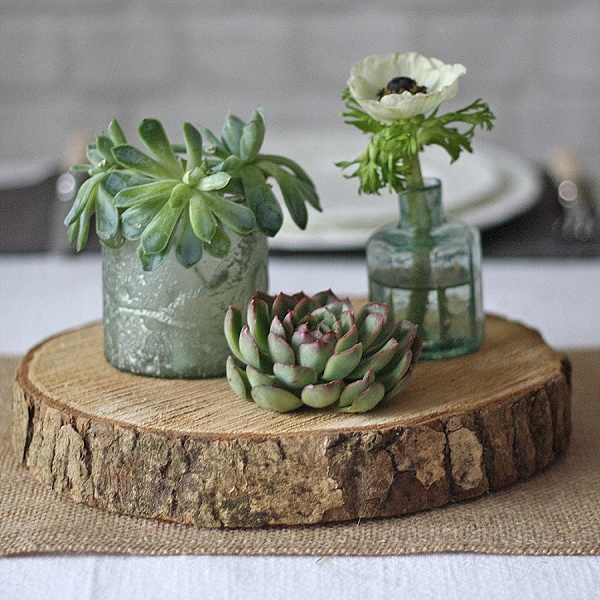 3. For an alternative rustic centerpiece use these bark vases, wild flowers with lots of texture look best in these rustic containers. The vases come in different sizes depending on how low or high you want your centrepieces to be, if flowers aren't your style the bark containers can also be used as lanterns. Buy bark vases here.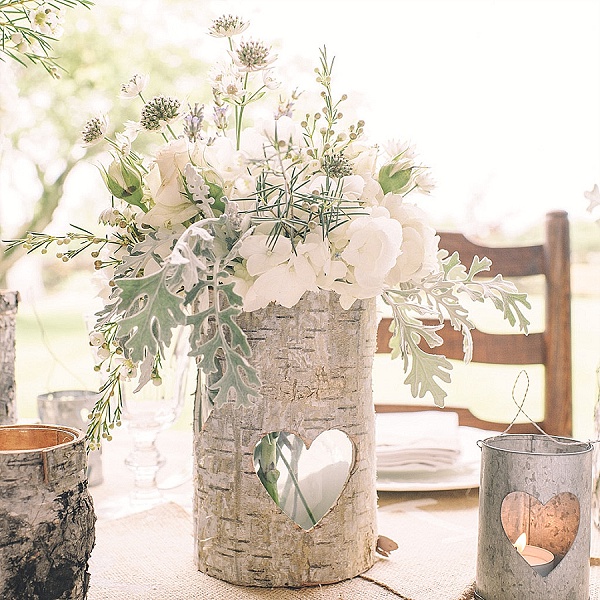 4. For a simple yet still very rustic look you could collect jam jars to be used as your vases. Decorate the jam jars with twine or hessian to add a rustic look and fill with flowers of your choice. If you are doing these yourself you can decorate the jam jars well in advance of your wedding and as the flowers are in water they can be done the day before so you don't have to be making them up on the wedding day.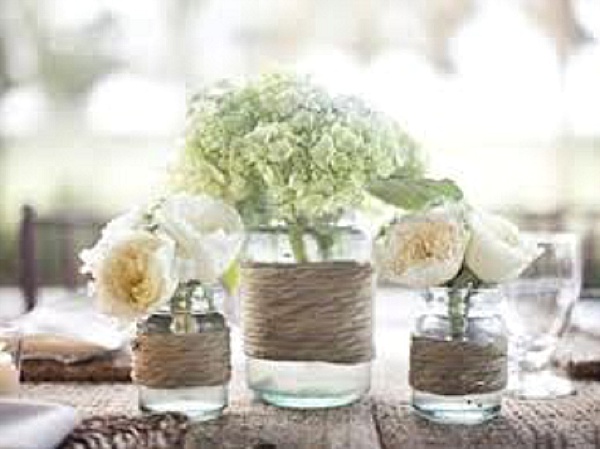 5. Similar to the jam jars above these blue mason jars look fab as wedding centrepieces. You could even use dried wheat instead of fresh flowers for a rustic / barn wedding.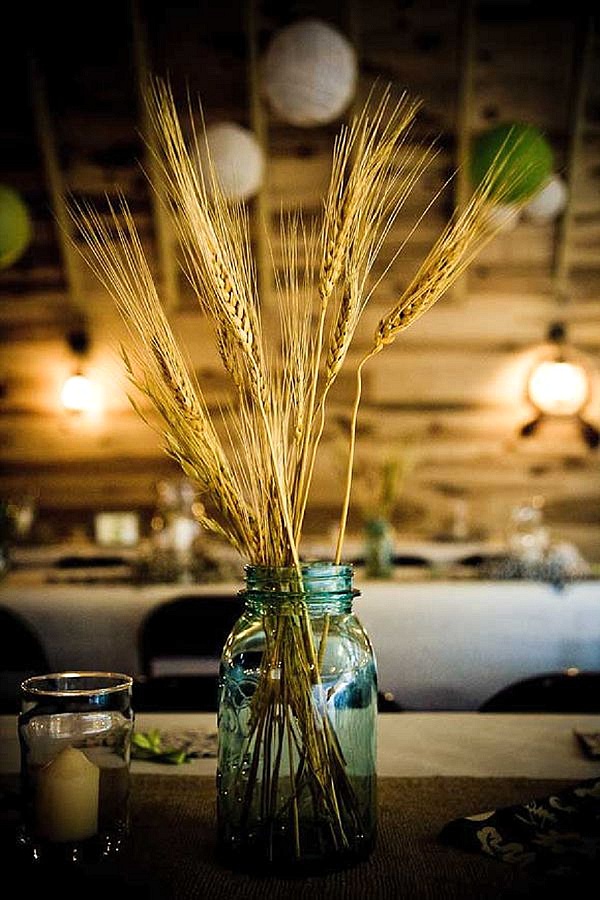 6. For a larger floral display in the centre of a table rusty urns can work well. For the flowers a mixture of natural textures including moss, foliage with berries such as this eucayptus and seasonal blooms work well. Buy rusty urns here.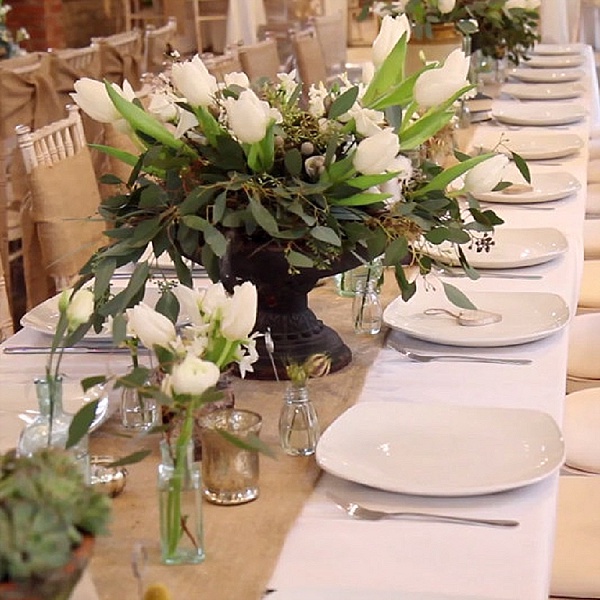 7. We love this idea of using trinkets and special items you may have been given throughout your life or sourced from charity shops especially for the tables. You can use a mix of different items here but be sure to link them, you can link them by choosing a colour scheme, bronze works well with the natural tones of wood. Place the items on pieces of wood and add minimal foliage.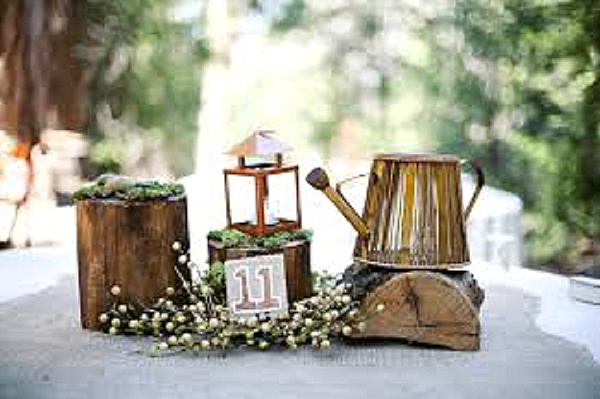 8. Milk churns work well for centrpieces they can hold a lovely mix of flowers and add a rustic touch to your tables. They are perfect for farm or barn wedding venues. By milk churn vases here.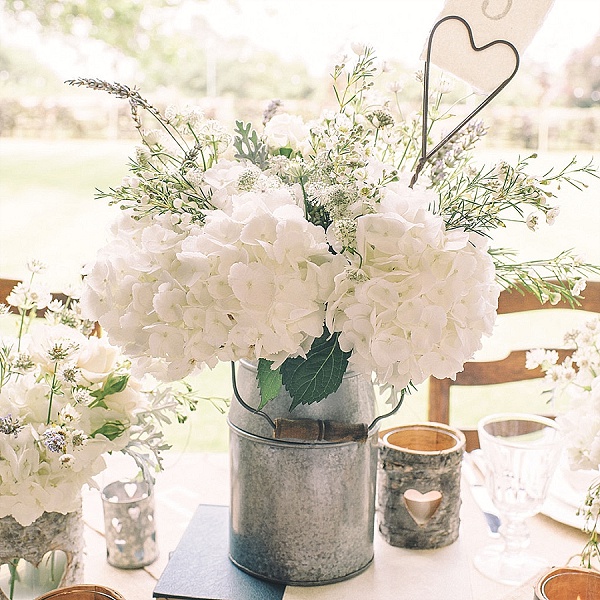 9. If you want to decorate your vases yourself find some cheap clear glass vases, ikea or eBay probably have some great ones. Decorate these with hessian fabric and an overlap of lace ribbon to given them that rustic feel. This vase has been filled with gypsophila but you can ask add the flowers of your choice.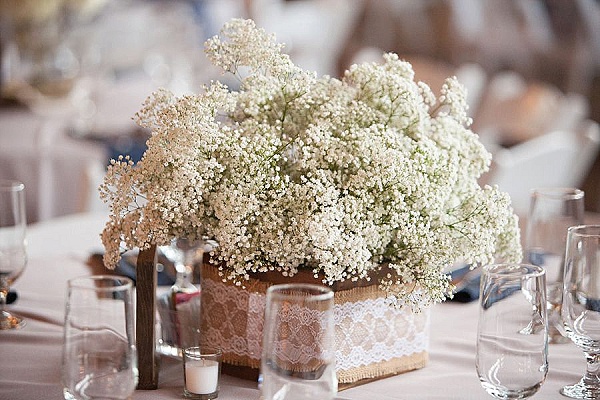 10. For a taller rustic centrepiece tall glass vases with ever larger wooden branches placed within them can look stunning. Add white hydrangeas to the vases so there is some floral interest at eye level. Hang small jam jars / tea light holders from the branches which can be lit and will transform your venue as the lights go dim later on in the evening.