This week our wedding decoration of the week are our white paper lanterns which look fab hung up at weddings. They are just perfect for summer weddings, hang them from the ceiling of marquees or even outside if you have a perfect summers day. The white lanterns also look fab for autumn and winter wedding, add globe lights to brighten them up. For more inspiration of using white paper lanterns at your wedding browse the images on this blog post – white paper lanterns at weddings – ideas & inspiration.
White Paper Lanterns Wedding Decorations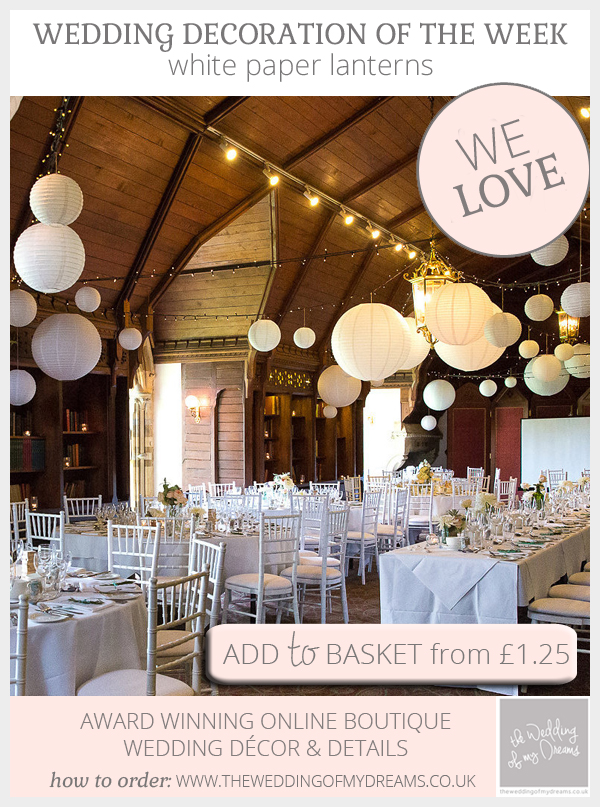 Photo credit: Xander & Thea
View our white paper lanterns for sale in our shop
Product Details
White paper lanterns are a simple yet effective way to transform your wedding venue.
Hang these paper lanterns from the ceiling of your reception venue, marquee or outside, group in clusters or hang individually on different lengths of ribbon.
If you are having a sweetie buffet hang a cluster of paper lanterns above it to make a lovely frame.
Our white paper lanterns are available in 2 sizes
Small: 25cm diameter // Price £1.25 each
Large: 35cm diameter // Price £2 each
These come flat packed but are very quick and simple to make. They have a hook which can be used for attaching ribbon.
These paper lanterns are sold individually.
You might also like