CARDS Bunting Wedding Card & Gift Table – Gold Glitter
This week's wedding decoration of the week is for your cards table. Wondering whether to set up a designated area at your wedding for cards and gifts? We think this is a must. Create a cards or gifts table at your wedding so guests can easily spot where to post your cards. Whether you ask them to post them in a mailbox, vintage suitcase, or large card box the choice is yours. For a gold glitter style wedding or if you just love a bit of sparkle our gold glitter CARDS bunting could be hung above the table.
CARDS Bunting For Wedding Card & Gift Table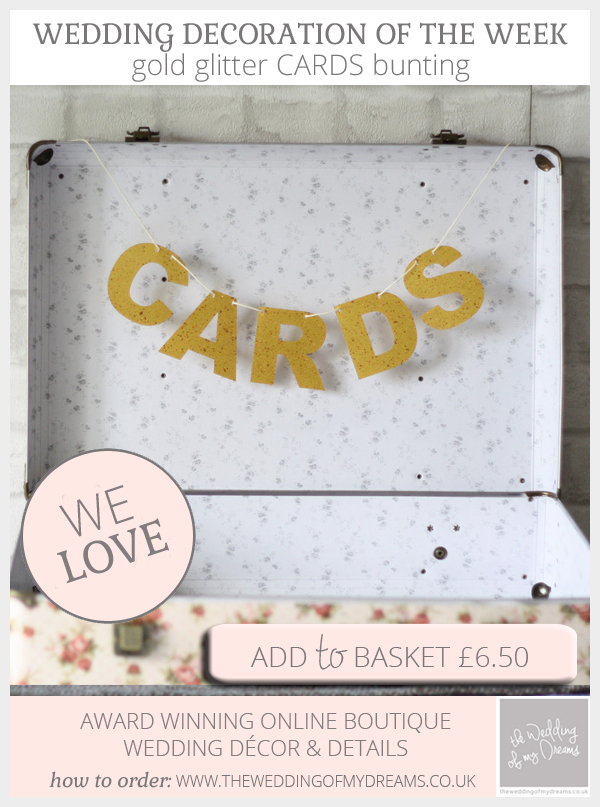 View our CARDS Bunting (gold glitter) for sale in our shop
Product Details
The CARDS bunting can be strung against the wall near your cards table, strung from a notice board, wooden trellis or within a suitcase.
The bunting comes pre string on white string.
The bunting spells out CARDS and is made from shower proof fabric in gold with a glittery finish which glimmers in the light.
Each letter measures approx. 6.5cm x 8cm
Also available in ivory glitter, white / silver glitter, floral and bronze
Price: £6.50
If you like this bunting browse our Gold, Glitter & Bronze Wedding Decorations or our Wedding Mailboxes – all for sale in our online shop.