This week our wedding decorations of the week are our rustic glamour bell jars. These bell jars are perfect for weddings. They make fab wedding centrepieces, add flowers within the bell jar in tiny bottles or on oasis, we love a touch of moss to cover the base and add that rustic / woodland touch. These bell jars have a lovely bronze coloured rim around the base and are open at the top so can hold a candle if you would prefer to use them as a lantern.
Bell jars aren't just for centrepieces, add a floral touch to your guest book table, gift table or entrance tables with a couple of bell jars.
Rustic Glamour Bell Jars For Weddings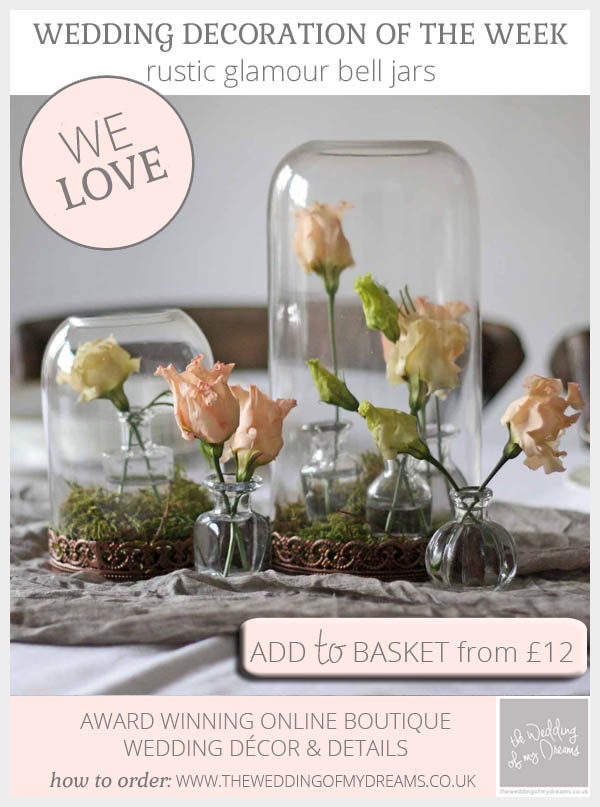 View these rustic glamour bell jars for weddings in our shop
Product Details
Bell jars and cloches are a popular choice for styling weddings. Our bell jars have an elegant gold / bronze base and are open at the top letting air in so can be used with candles and flowers. We think they are perfect for a rustic glamour wedding.

You could place a tea light holder or church candle within the bell jar and use as a lantern. These could be used around your wedding venue, at your ceremony or outside.

Alternatively create a floral arrangement within the bell jars for centrepieces or extra decorations on your cake table or welcome table. Here we have used a bed of moss for a woodland look and placed tiny blooms in our tiny glass bottles (sold as a set of 6).

The bell jars are made from clear glass and have a metal base. The glass top can be separated from the base making it easy to add flowers or candle inside.

Our bell jars come in 2 sizes.

Small: 11cm  x 16cm – Price £12
Large: 13cm x 27cm – Price £20
We think they look fab teamed up together!