Gold Metal Bowls – Wedding Centrepieces
This week our wedding decorations of the week are our hammered gold metal bowls, these bowls make the loveliest wedding centrepieces. Just perfect for adding a touch of gold to your wedding decor.
The gold metal bowls look beautiful as vases filled with blooms to tie in with your wedding style. Use them as centrepices for your guest tables or as decorations around your venue. Flowers on your guest book signing table or near your table plan can look lovely in these vases too.
Gold Metal Bowls – Wedding Centrepieces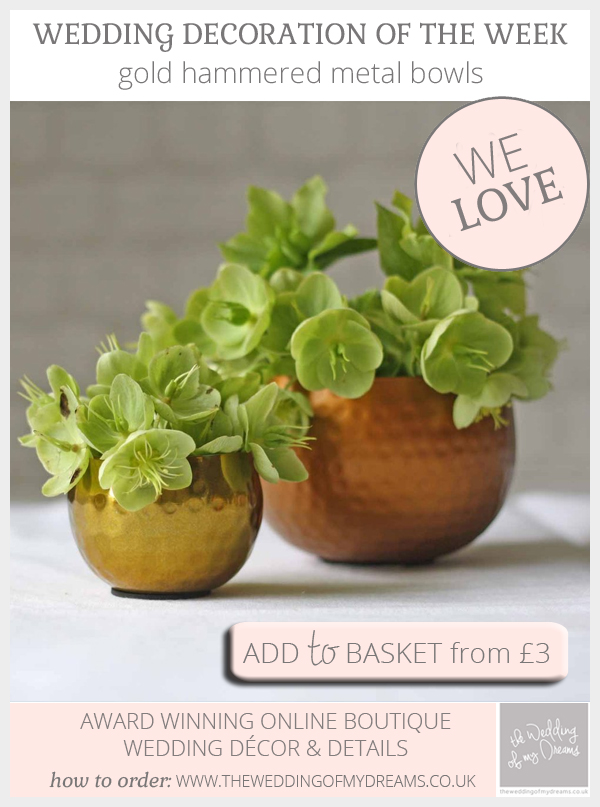 View our gold metal bowl for sale in our shop
Product Details
The hammered metal bowls come in 2 sizes.
Please note the large and small hammered gold bowls are not the exact same shade of gold but complement each other very well.
For centrepices, ask your florist to create a pretty floral arrangement within the bowl and place in the centre of your guest tables, for a larger centrepiece we suggest adding a couple of the smaller bowls for a grouping of 3.
For your top table you could place 6 – 8 of these bowls along the front of the table, with small bowls and gold candlesticks as well.
The smaller bowls can also be used as candle holders, just place a tea light inside them.
Small: 6cm x 8cm – view in shop £3 each
Large: 9cm x 13cm – view in shop £7 each