7 Ways To Include Suitcases At Your Wedding
Are you planning a travel or wanderlust wedding day? Maybe you're simply dreaming of a dainty vintage affair. Vintage suitcases work wonderfully for either theme and they're a lovely addition to any celebration. From centrepieces to cakes, find out how you can use suitcases at your wedding.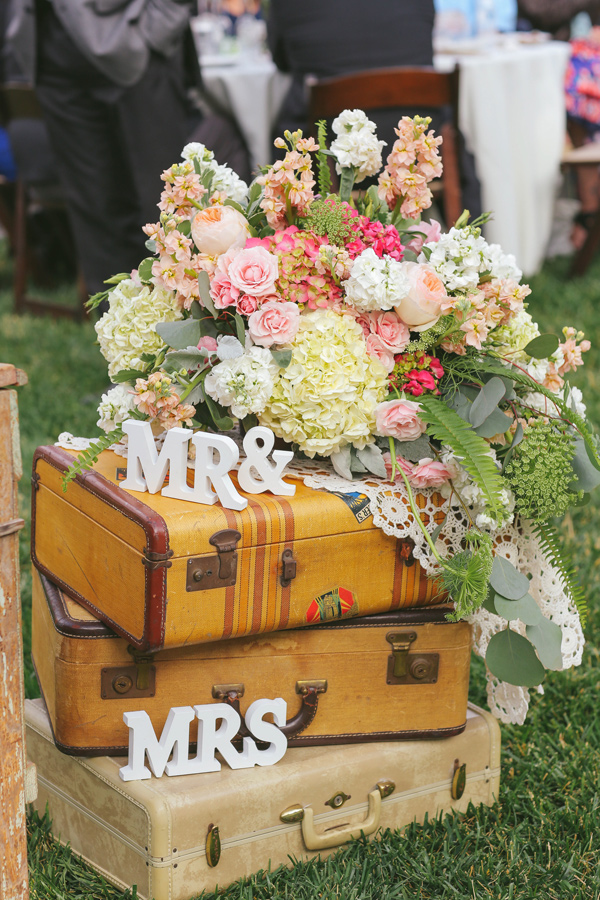 Wedding Venue Décor
One of my favourite ways of using suitcases at your wedding is to incorporate them into your venue décor. Stack two or three suitcases on top of one another and add a pretty vintage vase full of daises or roses. You could even add old-fashioned photographs in antique frames on each suitcase to transport your guests to a bygone era. There are lots of different ways to style your suitcase décor – it's completely down to your personal taste!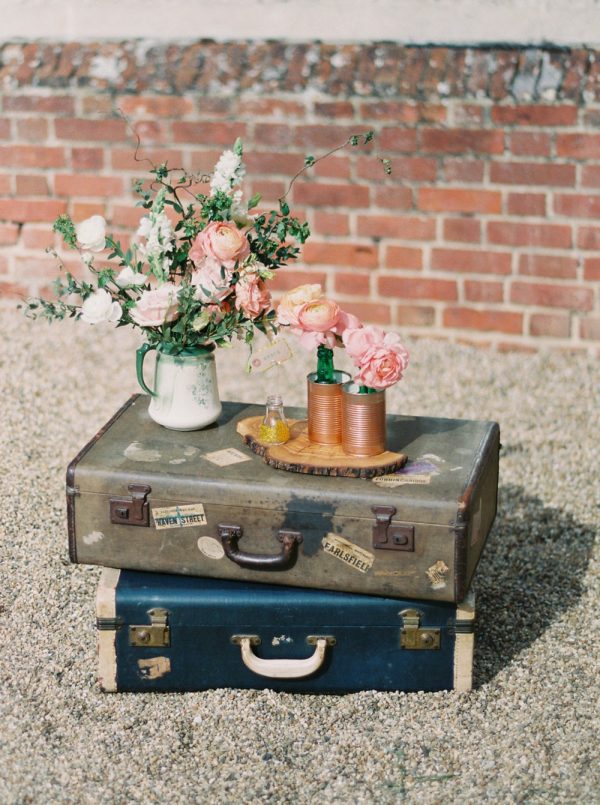 Suitcase Table Plan
Suitcases are extremely versatile, especially when it comes to using them to display your table plans. Tie them in with your suitcase venue décor by stacking them on top of each other – you can then display your table plan on top of them. This is a fab idea if you've already got a table plan framed. On the other hand, you could open the suitcase and hang twine from the edges, and peg each table plan along the string.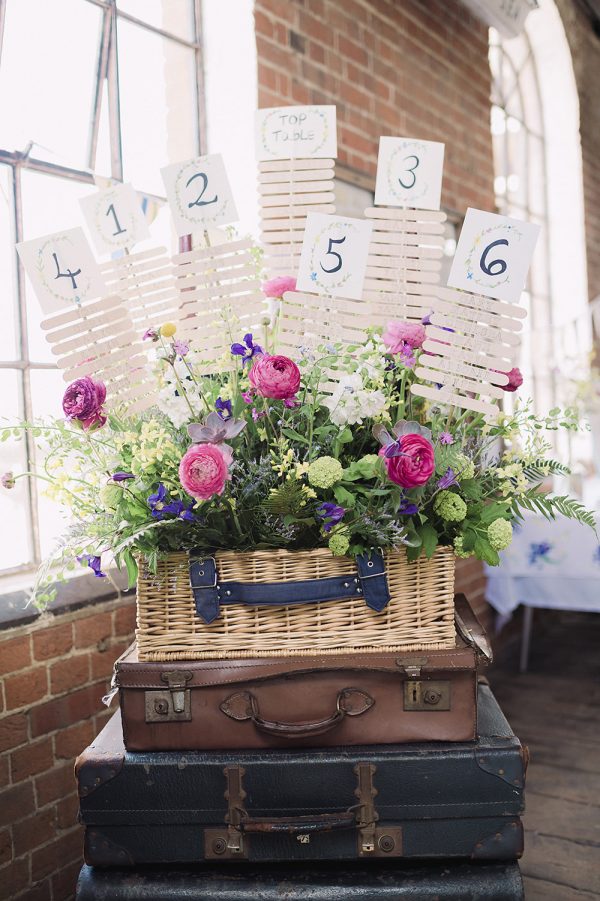 Suitcases At Your Wedding Ceremony
Suitcases at your wedding can be very useful. Fill open suitcases with confetti, wedding favours or even your order of service. Simply place an open suitcase outside your ceremony room with a sign saying 'Please Take A Program'.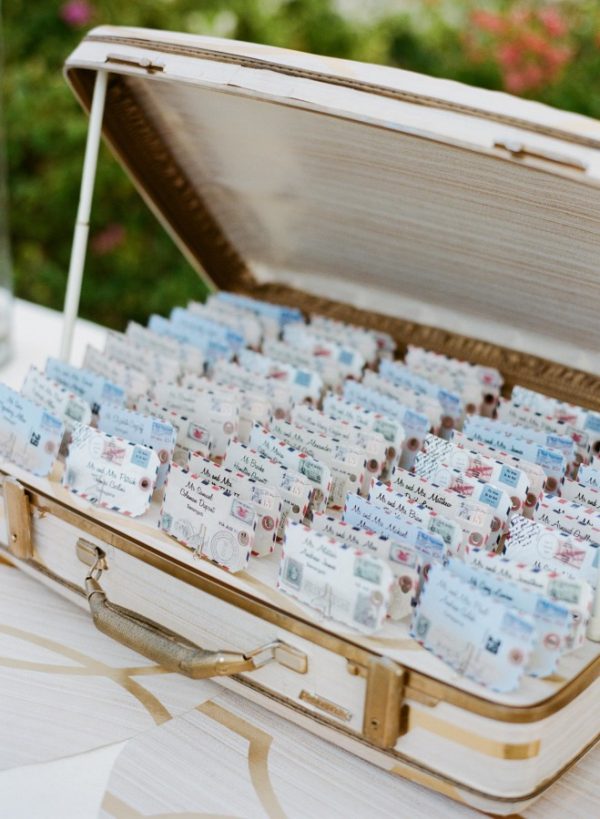 Delicious Cake Display
Where to start with your wedding cake? Why not go all out with a suitcase themed wedding cake? You could ask your cake maker to create a wanderlust wedding cake in the shape of a suitcase! Or you could simply display your wedding cake on or in suitcase – a fab alternative to the traditional cake stand.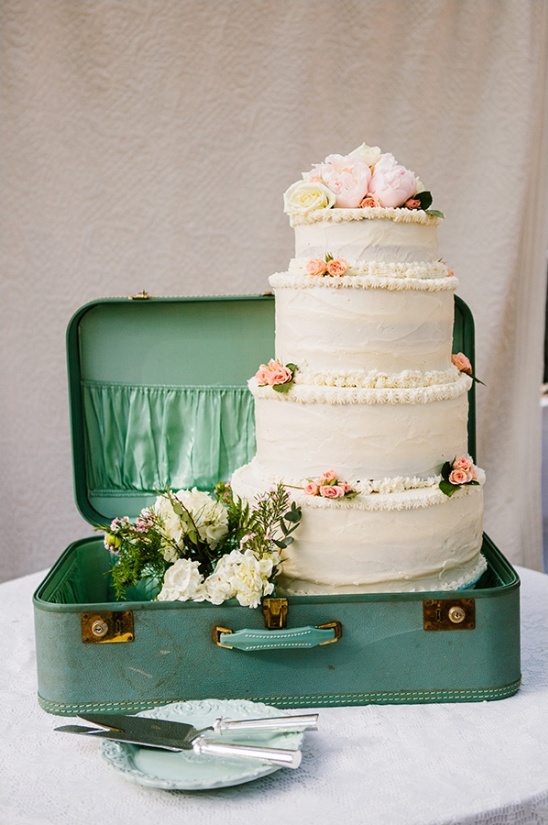 Gifts And Cards
Suitcases are great ways of collecting your wedding cards and gifts. Hang card bunting across the suitcase so that you guests know where to deliver their cards – that way they don't have to worry about losing them during the reception. A vintage card and gift table is a wonderful way of decorating your venue. All you need are a few vintage photographs and some weathered, antique books. It'll fit in with your suitcase style beautifully.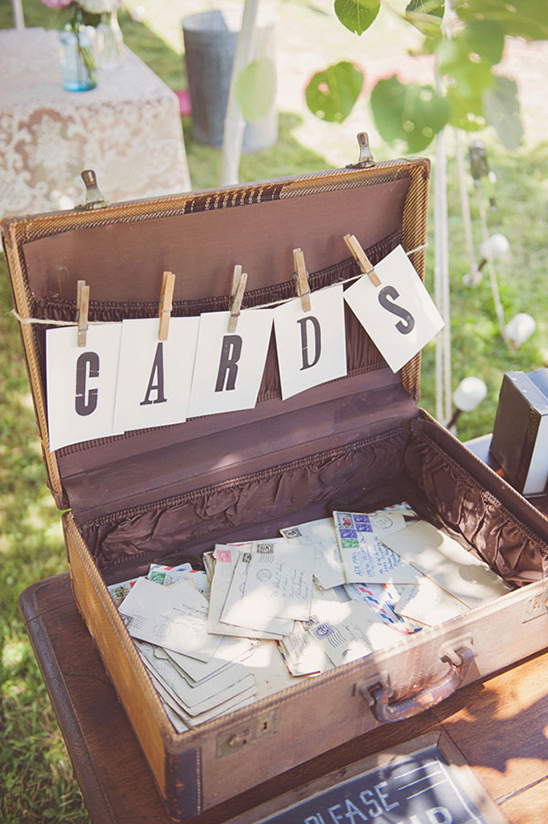 Table Centrepieces
Why not use suitcases as part of your wedding table centrepieces? Opt for smaller suitcases, rather than large ones as they may take over your tables a little too much. Place a mini suitcase in the middle of your table and fill with flowers or your favourite photographs of you both as a couple. Your guests will adore flicking through them and it's a definite talking point for everyone.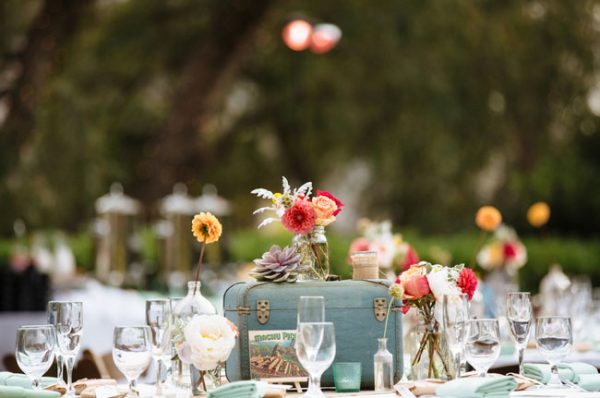 Love Notes
Time to get romantic! Suitcases can be used as a different option to a traditional guest book. Ask your guests to write a lovely note or some marriage advice on a vintage postcard, and ask them to place it in your suitcase. It'll keep your notes safe and it means you can read them after your special day.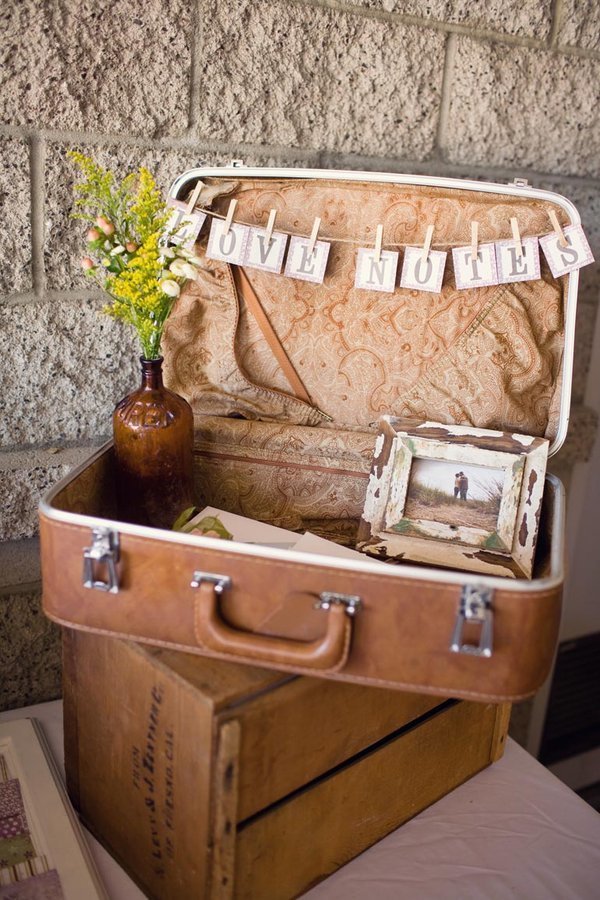 Suitcases at your wedding can be a wonderful addition and there are so many different ways they can be used.