How To Create A Confetti Bar – Step By Step Guide
A confetti bar is a fun and fabulous way to get your guests involved at your wedding day. They'll adore helping themselves to the confetti bar, and it'll give your big day a DIY touch. It'll also make that magical confetti moment after you've said 'I Do' even more special. Plus, with our step by step guide it's incredibly easy to recreate! Find out how…
How To Create A Confetti Bar – Step By Step Guide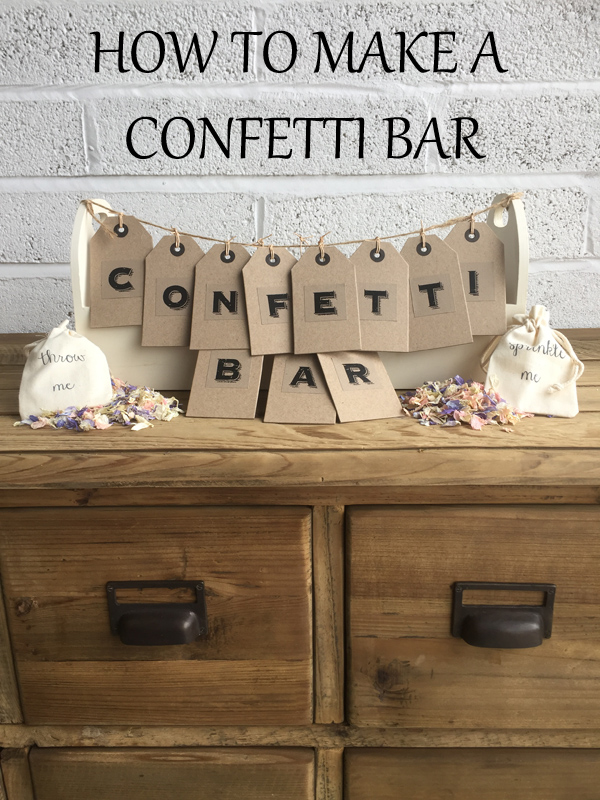 You Will Need:
Cream Wooden Trug
Summer Mix Wedding Confetti
Brown Luggage Tags
Rustic Brown Alphabet Stickers
We suggest having a designated table for your confetti bar. Fill a wooden trug with some colourful confetti. We've opted for a gorgeous summer mix, consisting of various pink, purple and ivory petals. Our Sprinkle Me and Throw Me cotton bags are a lovely addition for your confetti bar, and you can offer them to guests if they'd rather take a bag of confetti.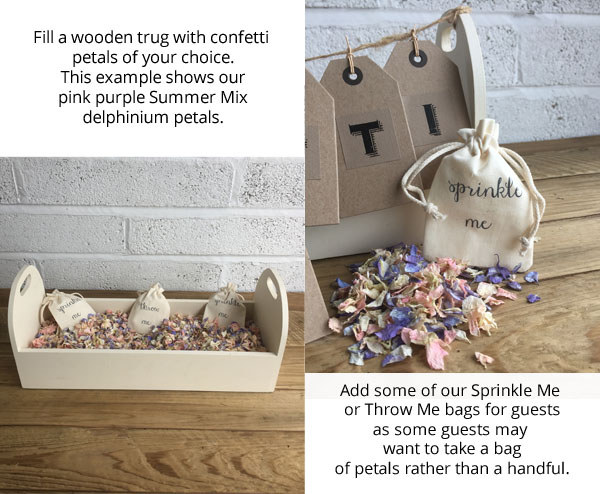 Using the luggage tags and alphabet stickers, spell out 'CONFETTI BAR' and attach each luggage tag to a piece of twine ribbon. You'll need to measure the length of the wooden trug, so that you can tie the twine ribbon to each end. This will let your guests know to help themselves!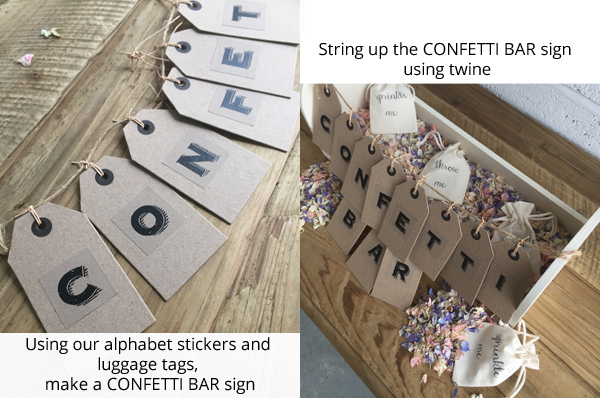 As you can see, a confetti bar is super easy to create but it's a wonderful addition to your wedding day.
Alternative Confetti Bar
There are lots of different ways you can create a confetti station. Take a look at our alternative idea for creating a unique bar for your wedding confetti…
You Will Need:
Glass Sweet Jar 14cm
Glass Sweet Jar 18cm
Glass Sweet Jar 24cm
Box of Dried Carpet Moss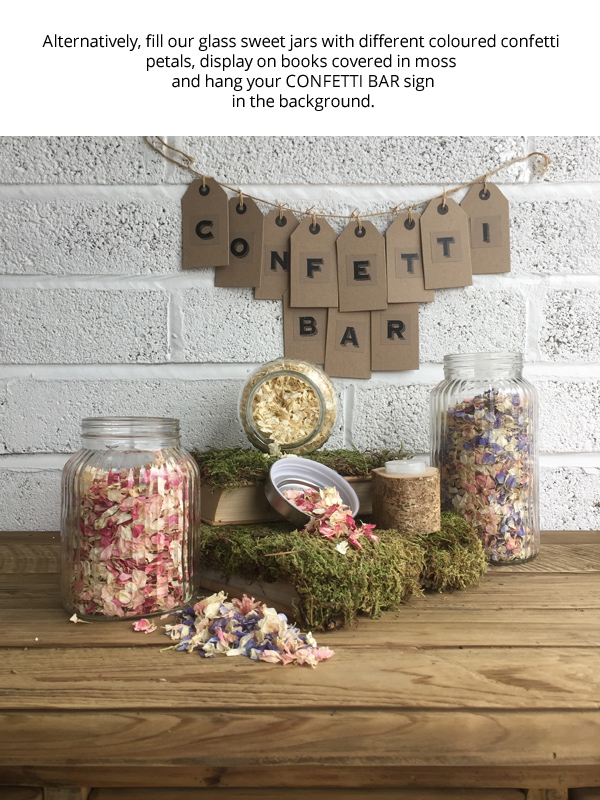 You could add a rustic touch by covering a wooden crate or vintage books with dried carpet moss. Glass sweet jars in various sizes can also be used to hold different colours and types of confetti. Simply hang your CONFETTI BAR sign above the glass jars or as a backdrop.
Wedding confetti bars are predicted to be a huge trend for 2017 weddings. Guests adore the 'self-serve' element, and it can definitely add a fun touch to your big day.