15 Sparkly Sequin Table Runners & Tablecloths – Ideas and Inspiration
Sparkly sequin table runners and tablecloths are a fab way of adding to your reception decor. They are a simple decoration to use, yet create huge impact for your wedding tables. They also have the talent of making even the simplest of wedding venues look incredible. Channel your inner-magpie and discover our favourite sparkly sequin table runners and tablecloths.
15 Beautiful Sparkly Sequin Table Runners & Tablecloth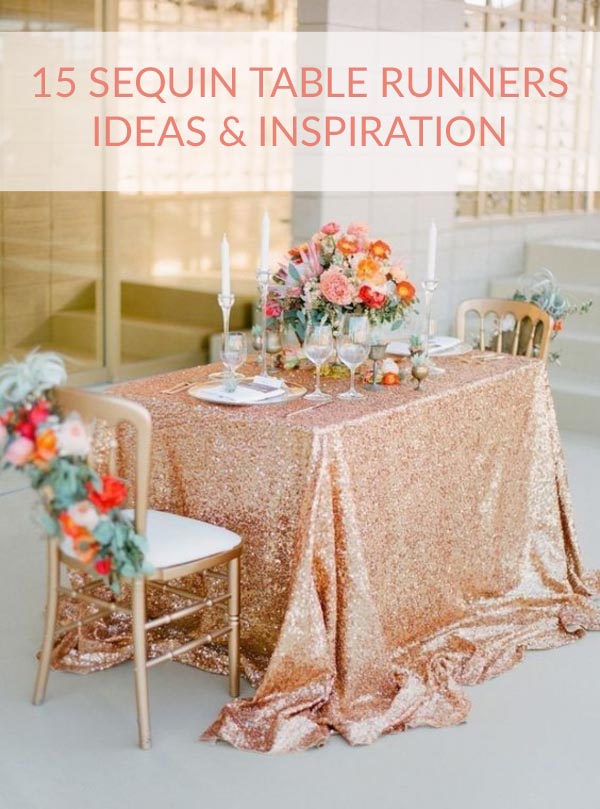 Gold, Mint and Pink
If you're planning a pastel colour scheme for your wedding day, why not add a touch of glamour to your tables with gold sparkly sequin table runners or tablecloths? Team it with golden plates and mint napkins, and fill metallic vases with pretty pink peonies. It's a pastel theme with a gorgeous twist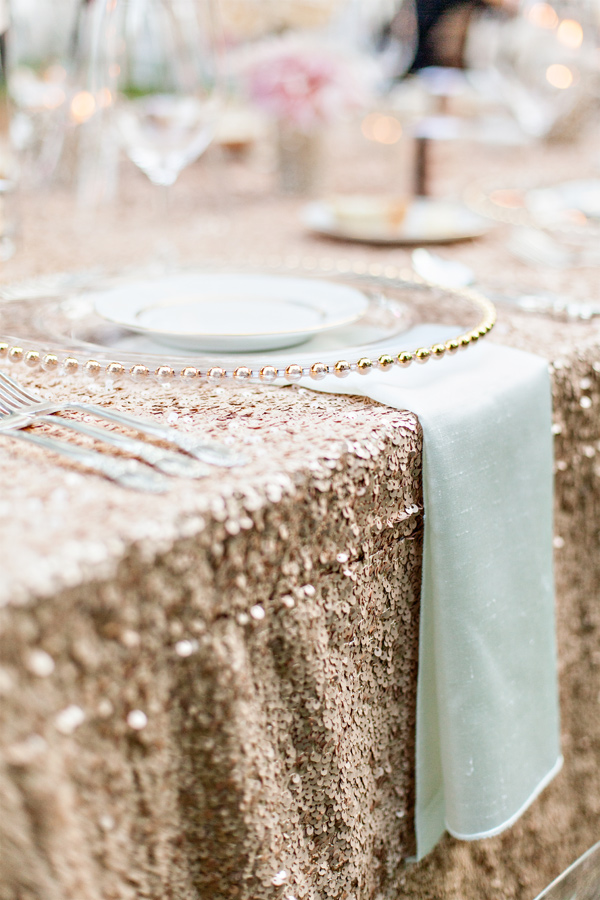 White and Gold Chevron Sequin Table Runners
Gold and white chevron table runners look incredible against a simple white tablecloth. Accessorise with sparkly gold table numbers and antique gold vases. White and gold work beautifully together to create a seriously elegant colour scheme that can used in any season.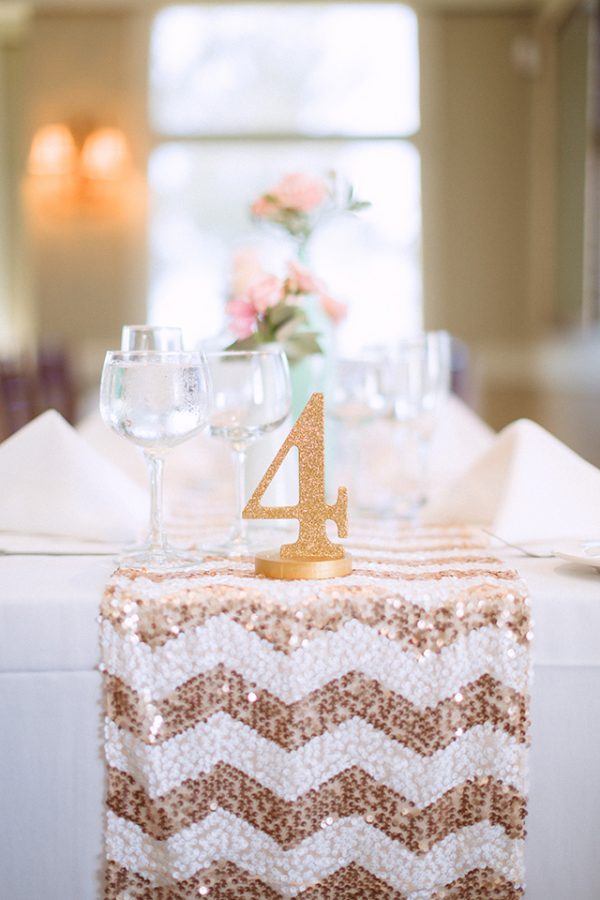 Glamorous Gold Sequin Cloths
Planning a glittering gold affair? Then opt for a completely gold sequin tablecloth for your reception tables. Add in gilded plates and cutlery, with some sparkling napkins for extra glamour. Glasses of golden champagne are obviously a must-have!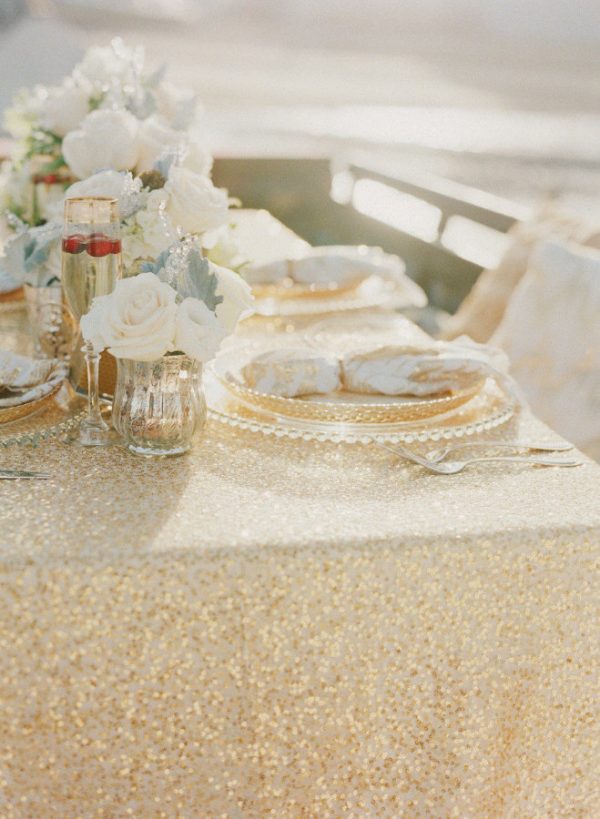 Industrial Copper Sequin Tablecloths
Copper is the metal of the moment and it makes a divine and unusual colour for a tablecloth. It's the perfect choice if you're dreaming of a glamorous industrial wedding theme. Why not compliment your tables with copper geometric terrariums and copper tolix chairs?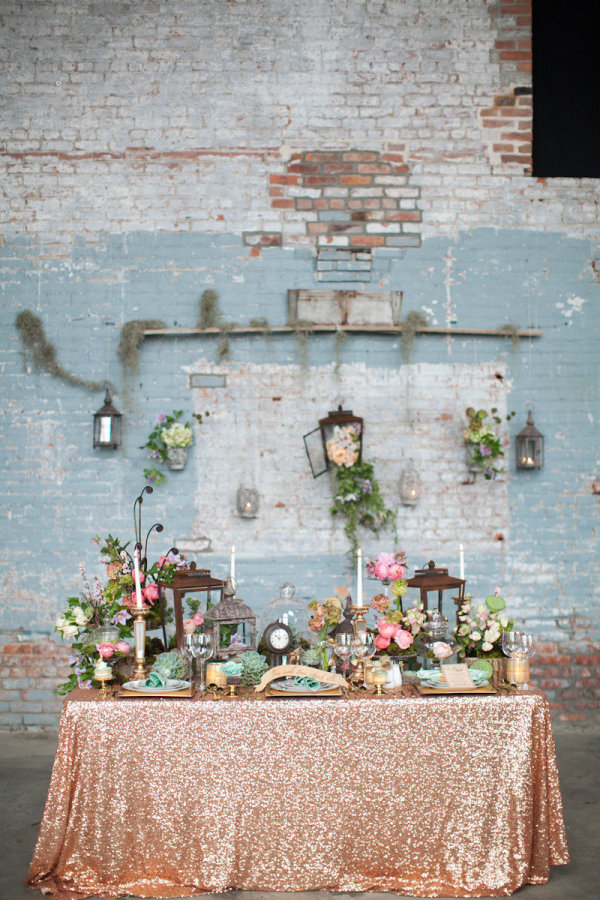 Stylish Silver Sequin Table Runners
A sequin silver table runner is just perfect for a Winter wonderland wedding! Use lots of frosty blue and white table decorations to make your reception feel magical. If you want to incorporate silver into a Summer soiree, pink accessories are definitely the way forward.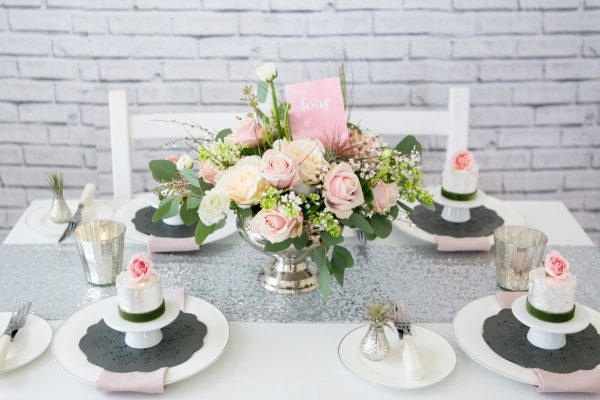 Beautiful Bronze Sequin Cloths
Rose gold and bronze are a stylish alternative to golden tablecloths. A bronze sequin tablecloth will look ultra luxurious on your dessert table. It's the perfect way to display your delicious wedding treats! Why not display your wedding cake on a rose gold cake stand? It'll look seriously glam.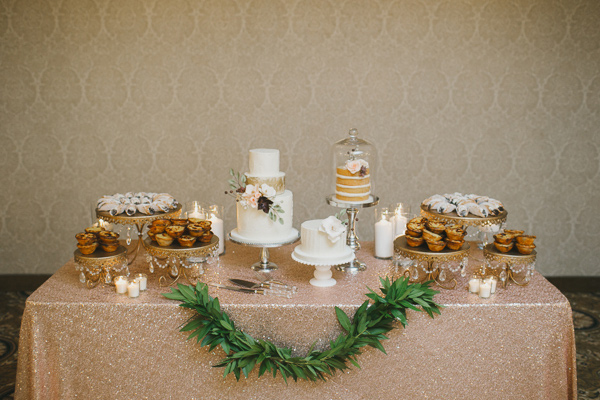 Golden Gift Table
Sparkling sequin table runners and tablecloths don't just have to be used on your reception tables – they can be used anywhere! Why not use a gorgeous gold sequin tablecloth on your card and gift table? Use a matching gold box for your guests to place their wedding cards and add a few pretty gold tea light holders to create a warm, welcoming glow.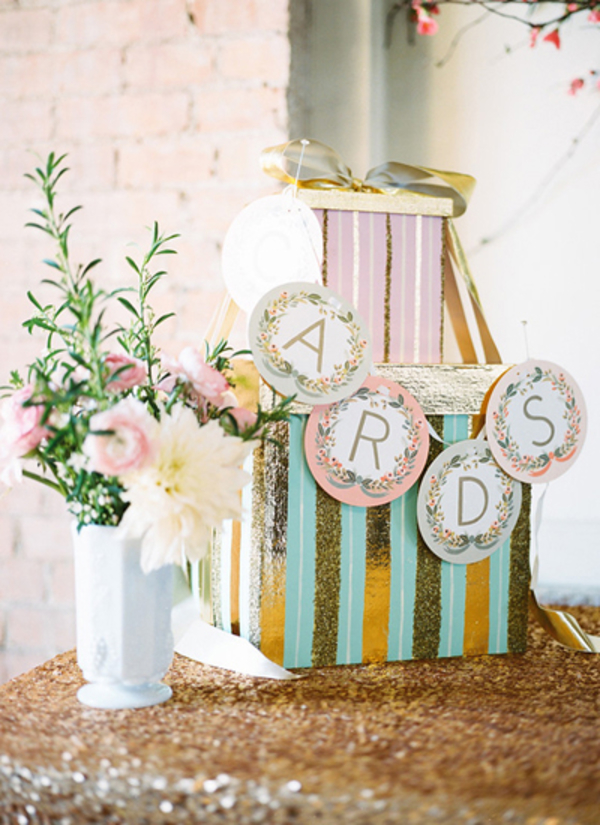 Champagne Gold
Pale gold sequin tablecloths look oh-so-elegant teamed with lots of wild foliage and greenery. Work in lots of glass candle holders and clear vases full of pretty blooms. This style is absolutely timeless and you can guarantee your reception will look on-trend.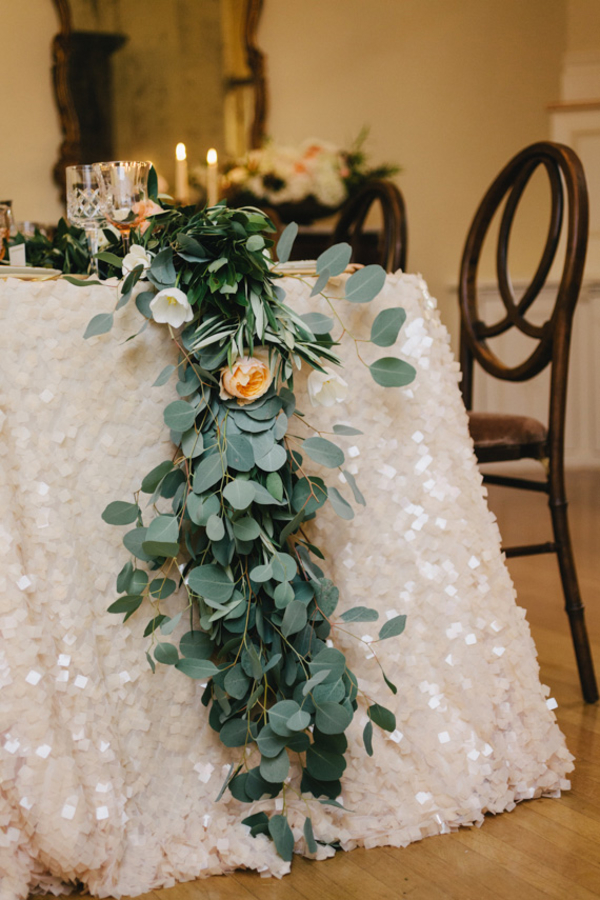 Copper and Coral
Planning a Spring or Summer celebration? Then a copper and coral colour combination is the perfect choice for your reception tables. A sequin copper tablecloth will add a dash of glitz and glamour. Coral and peach blooms look stunning against the contrast of copper, and they're bound to make your tables look beautiful.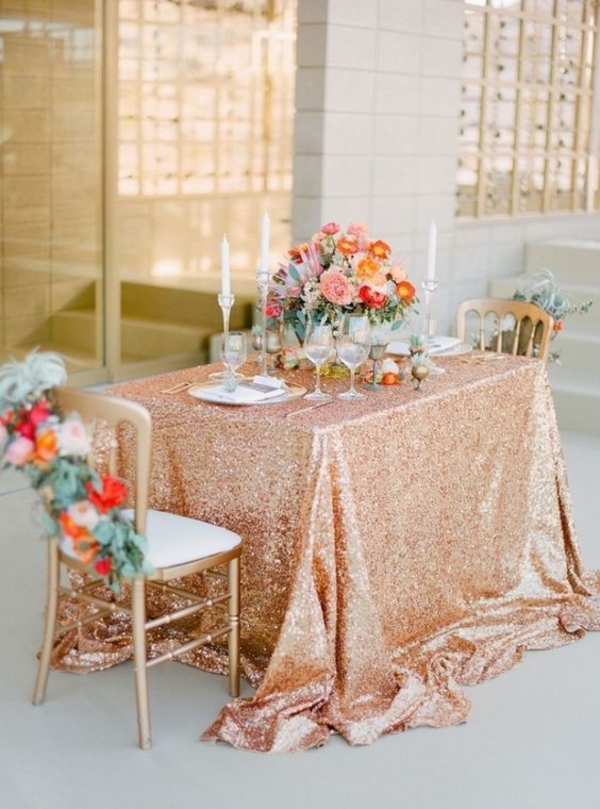 Mermaid Style
Add a splash of colour to your wedding tables with a blue or green sequin tablecloth. This is the perfect choice if you're planning a beach, seaside or mermaid wedding theme. It also works beautifully for a Spring pastel colour scheme, simply add in pale pink and peach tones throughout your table decor.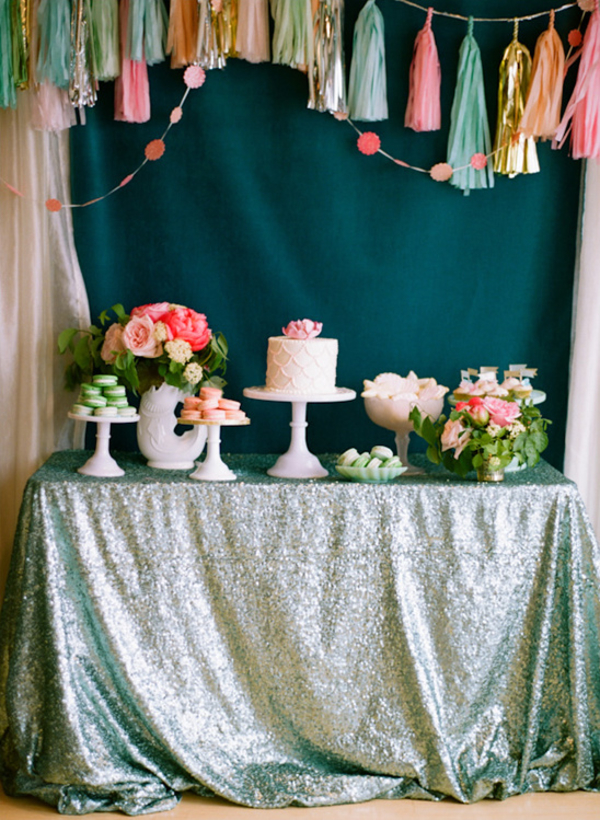 Pink and Gold Sequin Runners
You can't go wrong with a pink and gold wedding colour scheme and your wedding tables are the perfect way to flaunt this theme. We love the thought of adding a pale pink table runner over the top of a sequin gold table runner. Tie a pink bow at the end of each table to secure them in place. Perfection!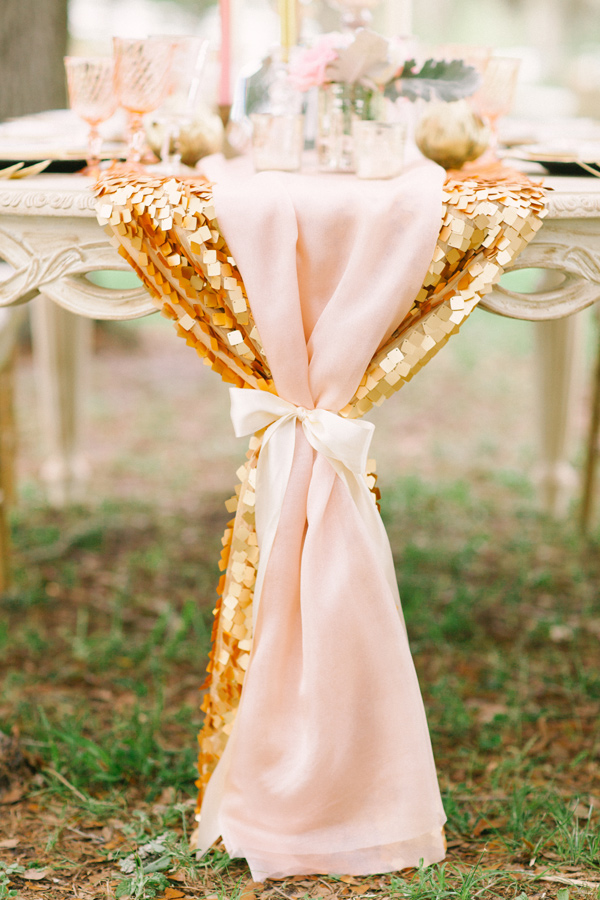 Pretty in Pink
If you're a girly girl, have you ever considered using a pink sequin tablecloth? It'll add a burst of colour to your wedding venue, leaving your tables looking gorgeous. Finish the look off with pretty pink posies, baby pink napkins and even pink candle holders.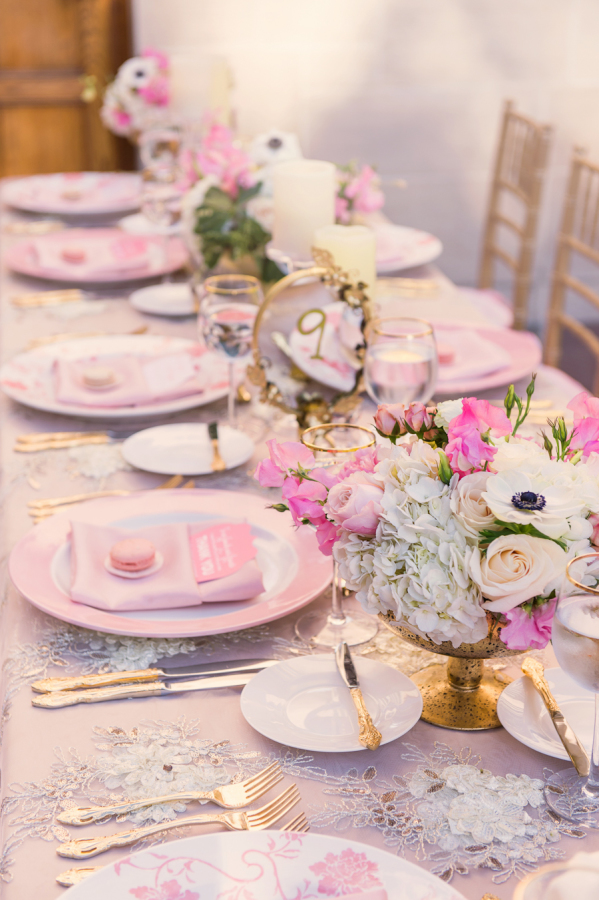 Snowflake Sequins
If you're tying the knot in the Winter, a white sequin tablecloth is a wonderful choice for your special day. It'll create a magical vibe that will make your guests feel like they've stepped into a Winter wonderland wedding.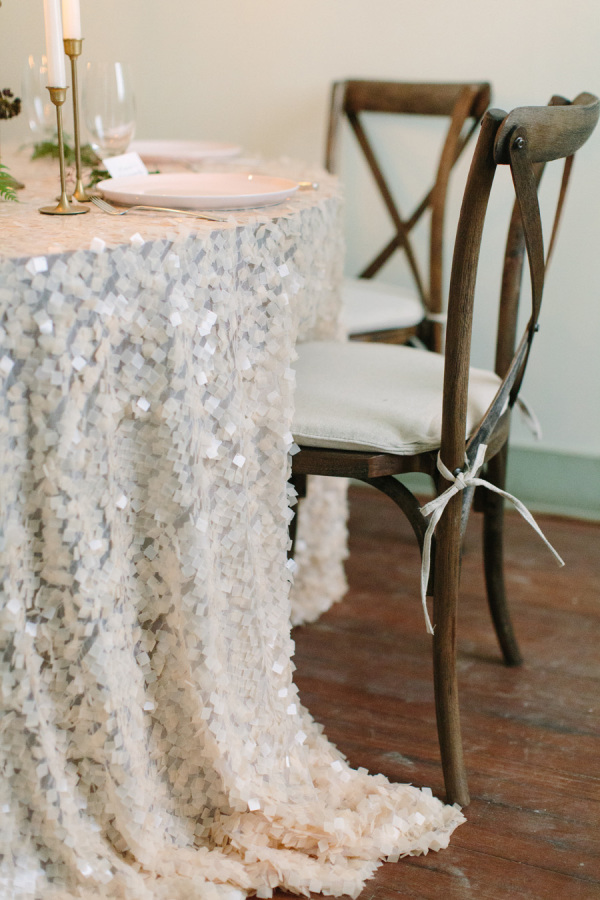 Black and Gold
Black and gold create an ultra-glamorous wedding theme that works beautifully for a New Year's Eve or a Great Gatsby wedding. Use a black sequin tablecloth or runner as the base, with gold as your accessory colour. This is a luxurious colour combination that has maximum impact.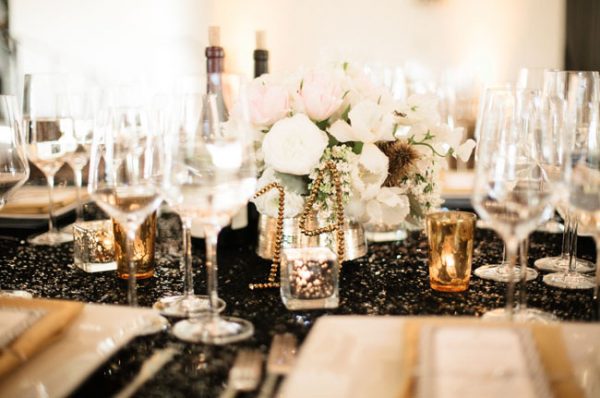 Mint and Gold
Mint and gold are two colours that go hand-in-hand, especially when it comes to your reception tables. A rich gold sequin table runner will look fab paired with mint napkins and lots of pale green foliage. It's a wonderful choice for a Spring or Summer affair. The contrast of a white tablecloth will keep it looking fresh and light.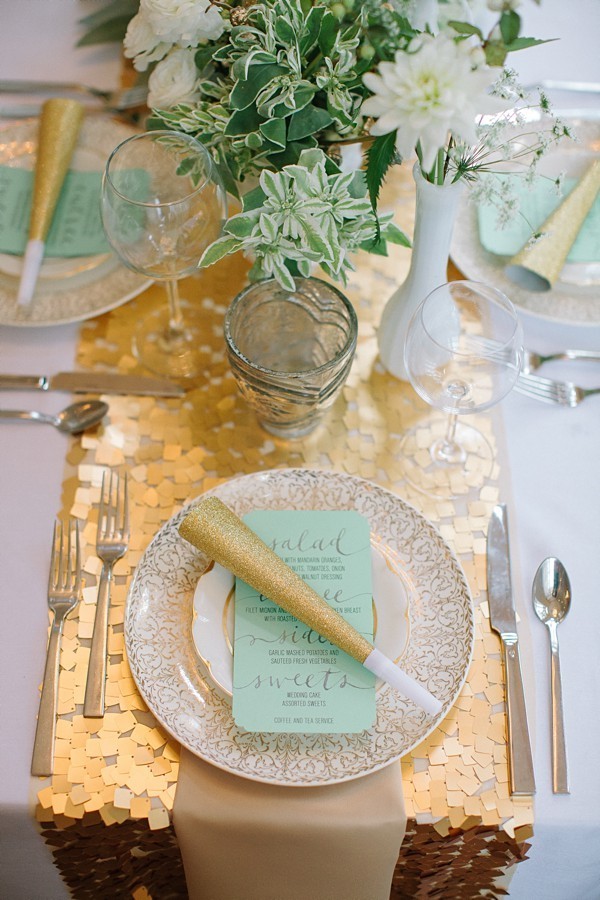 Have you seen our collection of table runners? From sparkly sequin table runners to rustic hessian fabric, we've got it covered!