GOLD POSY VASES CENTREPIECES – TEA LIGHTS, PLACE CARDS, GUEST BOOKS
Gold posy vases wedding centrepieces: complete the look
Are you looking for gold posy vases for your centrepieces? This post is all about how to style our gold posy vases for wedding tables. Once you have decided that you would like a gold rim posy vases to the centre of your tables it's time to start looking for other bits and pieces to match in with your wedding style. Here we have chosen the best items to team up with our clear glass and gold rim posy vases.
All available to buy online.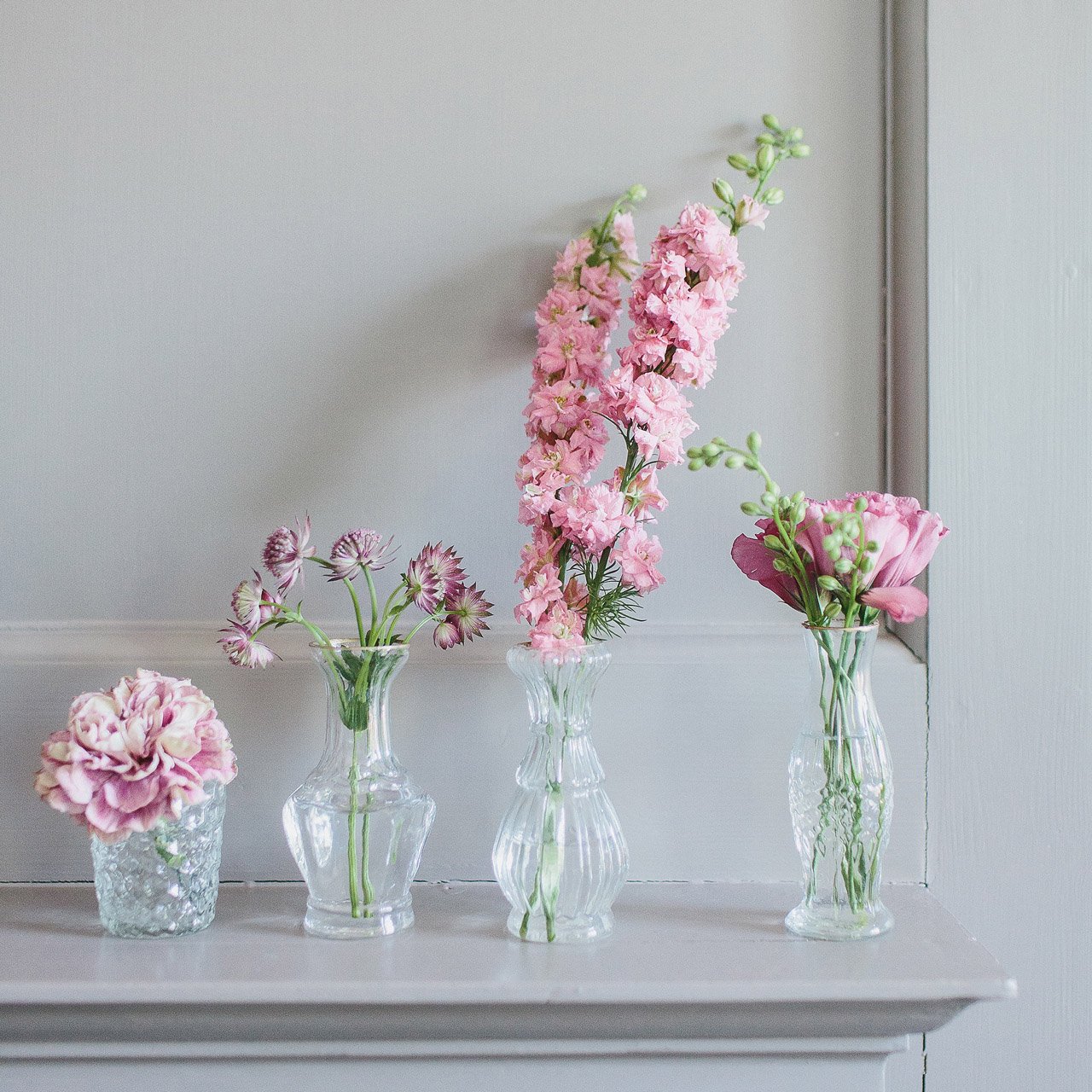 Gold rim posy vases & other bits for the guest tables:
A grouping of our gold rim posy vases look stunning in the centre – either add your own flowers or ask a florist for a helping hand.
The vases can be placed as a group of 6 in the centre of the table, they with on a clear glass tray, place all the vases on the tray for an elegant look. Or for a touch of rustic ignore the tray and place the vases on a tree slice. Not all the vases have to be put on the tray/tree slice how about 3 on the tray/tree slice and 3 on the tablecloth.
You can then mix in gold candlesticks and gold rim tea light holders for extra candlelight.
A natural coloured cotton table runner will really add to the look of the table, our crumpled cotton tablecloths/runners are gorgeous.
Place Settings & Favours:
For the names, we suggest our gold heart place card holders, use our natural style cotton paper with torn edges for your name cards and hand-write your guest names.
For wedding favours to tie in with this look why not use our linen favour bags (add sweets or mints) or shot glasses (add your favourite shot).
Table Numbers:
We suggest either our wooden caligraphy table numbers which can be placed in the centre of each table. Or our brass 7? x 5? photo frames can hold table number cards, the brass really goes well with the gold.
Guest Books & Extras:
Around the venue you will no doubt have some areas you wish to decorate. We suggest adding a few more of the gold rim vases to these areas. Such as near your table plan and on your guest book table. Mix in tea lights and candlesticks here too.
Find a space for your guest book to go, a cotton table runner will really enhance the table. The guest book we suggest with this look is our gold wedding guest book.
For extra fun elements how about a donut wall, our white and gold display will get your guests' mouths watering.
SHOP THE LOOK at www.theweddingofmydreams.co.uk