10 Amazing Autumn Wedding Centrepieces 
Summer is nearly over, which means Autumn is just around the corner. I think Autumn is a beautiful time of the year to tie the knot. Golden leaves, earthy colour palettes and pumpkins are just the start of it! Take a look at our favourite Autumn wedding centrepieces…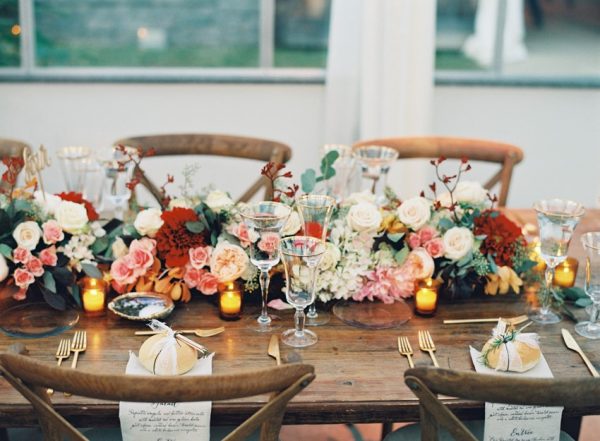 Autumn Wedding Centrepieces
A simple floral centrepiece is always going to look divine. If you want your Autumn wedding centrepieces to look chic yet feminine, this is the perfect choice. A metallic vase full of Autumnal flowers will add a splash of colour to your tables, especially if you've got a matching table runner. Burgundy red and soft peach shades mixed with greenery will evoke a seasonal feel to your reception.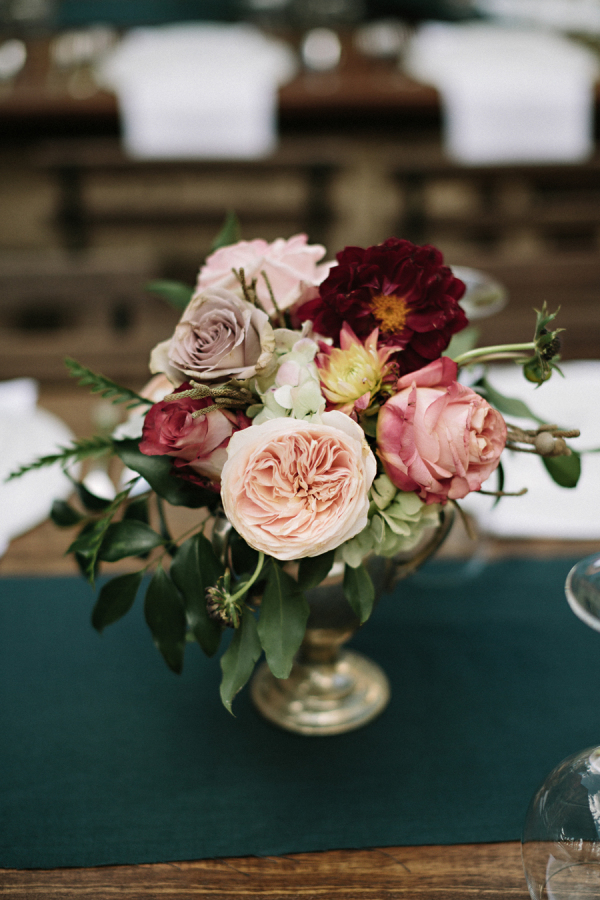 Looking for something a little more dramatic? Use darker shades such as deep red, purple or navy to create a vivid centrepiece with maximum impact! Tall candles in metallic candle holders will add to the drama, while creating a beautiful warm glow. These Autumn wedding centrepieces are perfect for a historic castle or medieval wedding venue!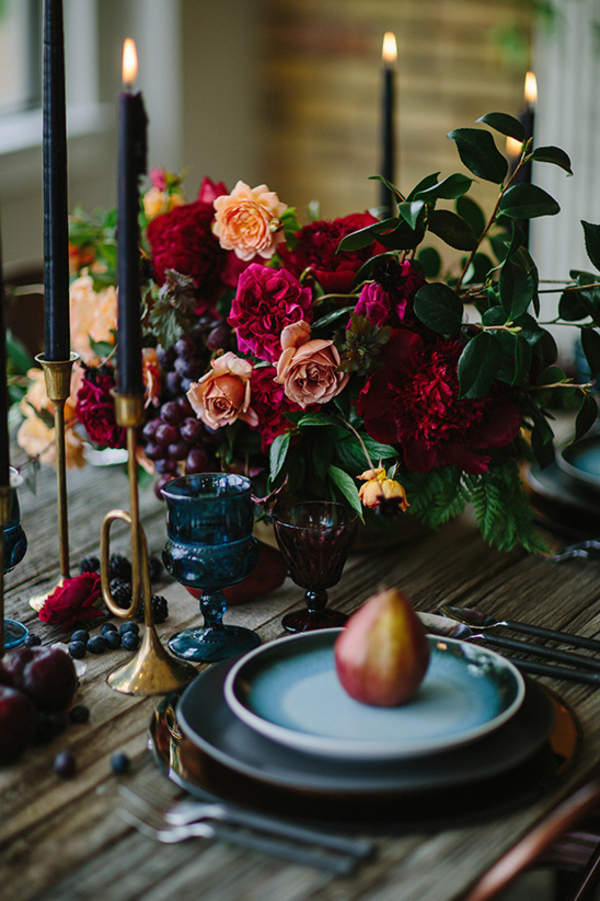 Exposed wooden tables look wonderful at Autumn weddings, especially if you're planning a rustic affair. If you've opted for a similar table style, you won't need anything too much in terms of centrepieces. Compliment your tables with simple vases with a few Autumnal blooms – a few sprigs of foliage with a dahlia or two is all you need. Your wedding florist will be able to guide you in the right direction. If you've got long banquet tables, you could line foliage along the centre for some extra greenery. Add a few red or brown flowers for a pop of seasonal colour.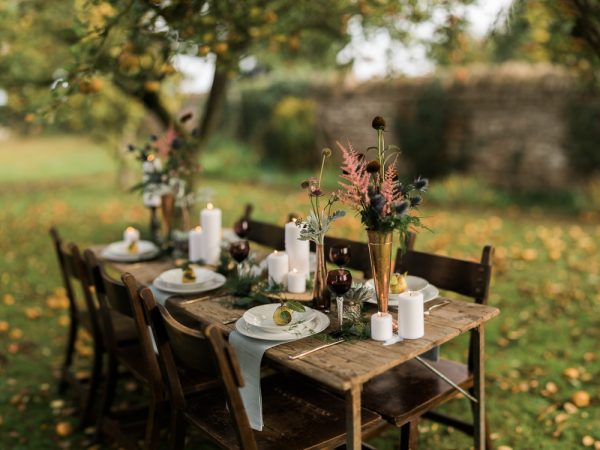 As you know, we are huge fan of using tree slices at The Wedding of my Dreams, so we just had to include them in our Autumn wedding centrepieces! A wooden tree slice is perfect for an Autumn wedding as it gives a nod towards the earthy, organic and rustic feel of the season. Decorate the tree slices with your table numbers, a few jam jars full of flowers and a couple of tea-lights. Simple, yet seriously effective!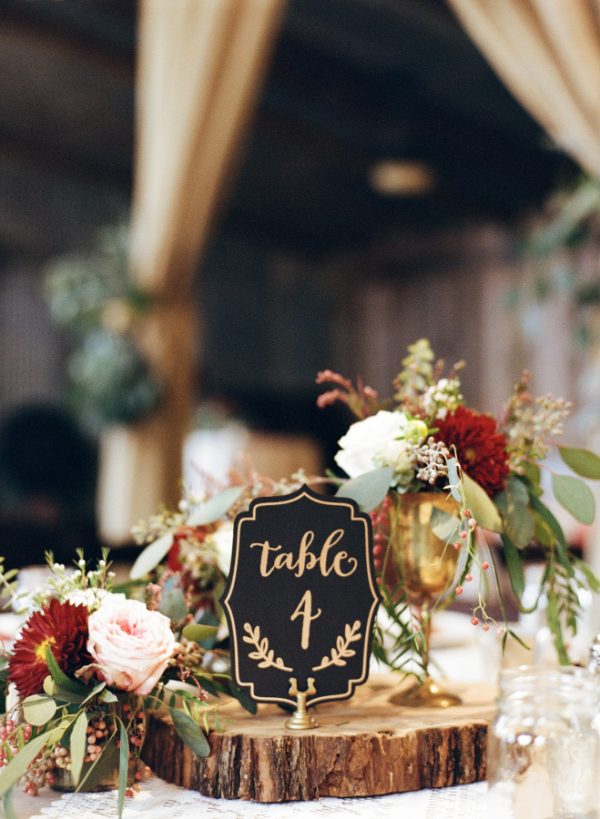 Planning a glittering Autumn wedding full of glamour? Brides and grooms often think glitter needs to be saved for the festive season, but we love the thought of using bronze, copper and gold accents throughout an Autumn wedding. Tall golden candelabra will look truly magnificent as part of your wedding table centrepieces. Opt for floral shades that compliment gold, such as luxurious red or forest green. Alternatively, use tall scented candles that evoke beautiful Autumnal fragrances!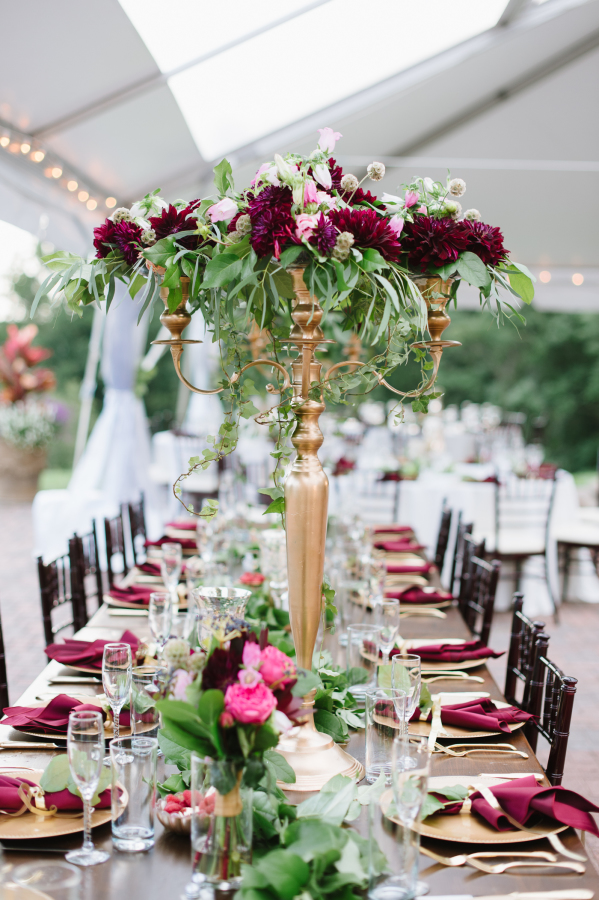 There are two colours that are simply made for this season. Bright reds and pumpkin orange are the perfect colour palette for your Autumn affair, so why not use them as the main shades for your Autumn wedding centrepieces?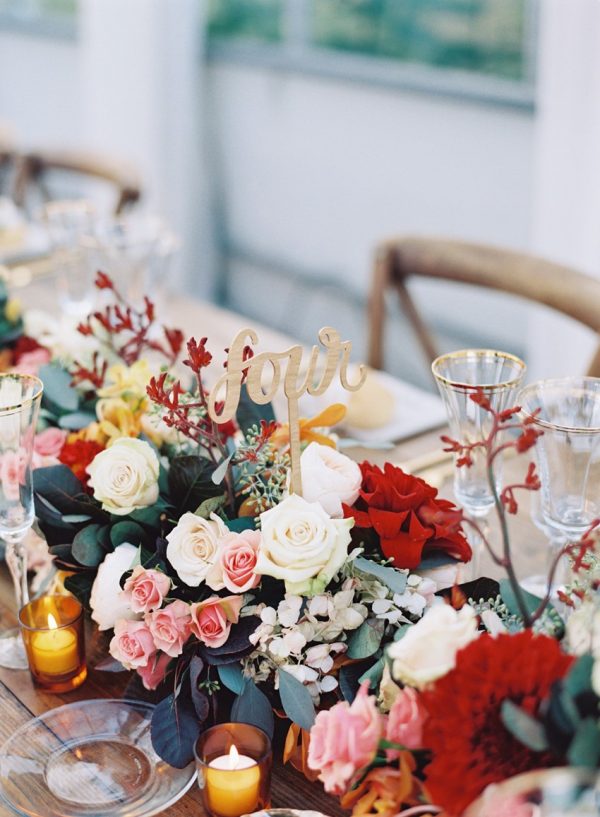 Pumpkins are a must-have when it comes to Autumn wedding centrepieces – particularly if you're planning a Halloween theme! Nestle small pumpkins, squash and gourds in greenery and foliage along long trestle tables. If you've opted for round tables, create a circular centrepiece using a tree slice, greenery and a pumpkin. You could even use the pumpkins as your wedding table numbers!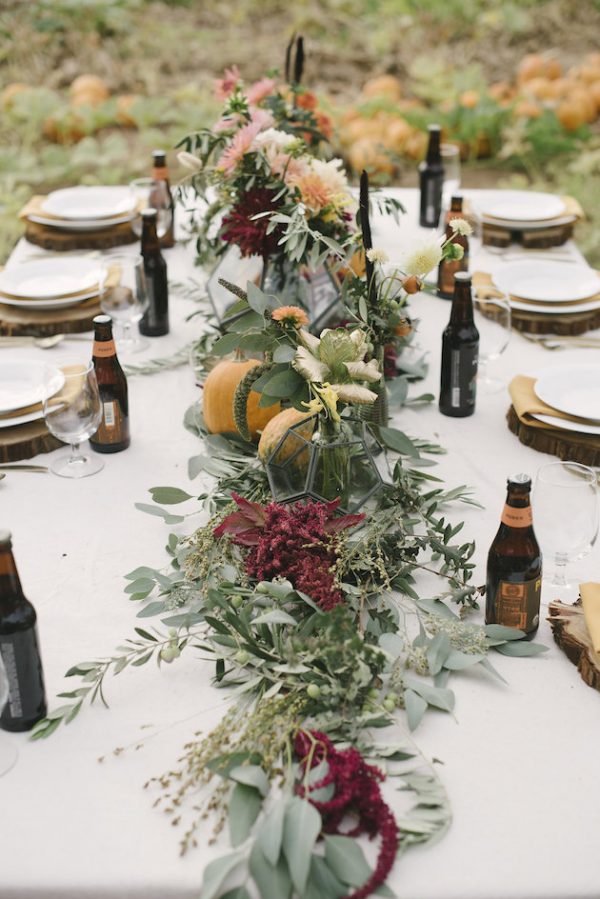 Want to include pumpkins in your table centrepieces, but love the idea of pastels? Fear not, you don't have to stick to a traditional Autumn colour scheme. If you love pale pink, lilac and mint then you can easily incorporate it into your reception tables. Opt for a white pumpkin, and fill it with pretty blooms that match your colour palette. This is such a pretty, alternative idea.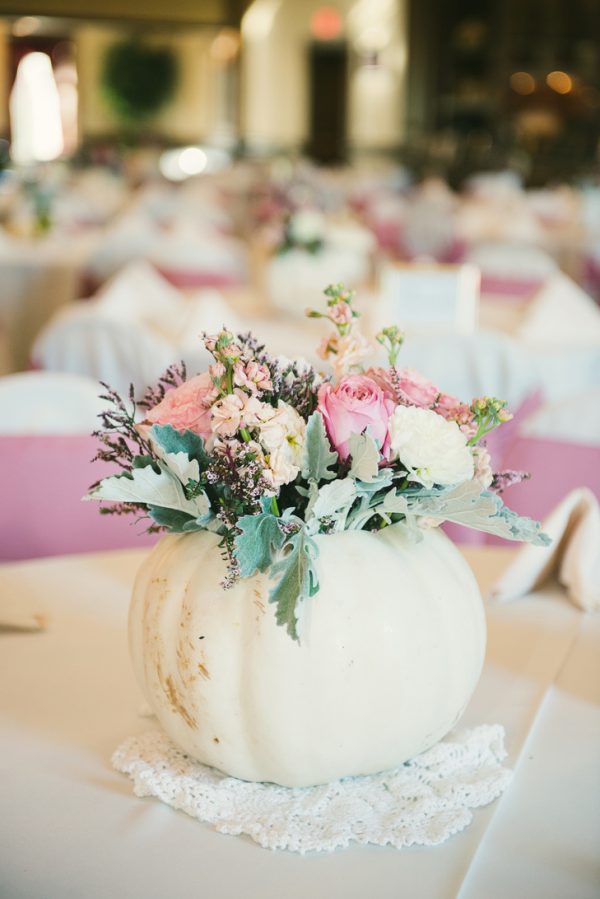 Lanterns are a really lovely way of creating a warm welcoming atmosphere for your guests and they're perfect for Autumn. You can use them on their own as table centrepieces, but they also look fab with jars of flowers and a wooden tree slice. If you're planning an outdoor celebration, then this is a wonderful option for your reception tables!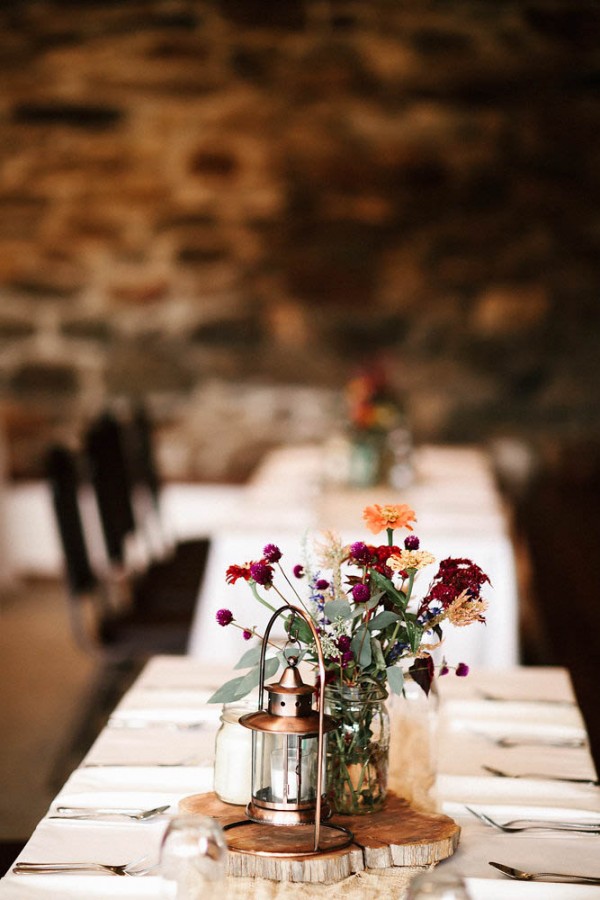 I love the idea of incorporating nature into your Autumn wedding centrepieces. Burnt orange leaves, berries and pumpkins provide the perfect ingredients for a woodland style wedding table. Burn tall brown candles amongst handfuls of greenery and leaves – your wedding table will look enchanting!