How To Style A Rustic Glamour Wedding
As you may know I regularly write for Save The Date Magazine, my latest article was all about how to style a rustic glamour wedding. See the full magazine here, this summer special is filled with inspiration for your big day.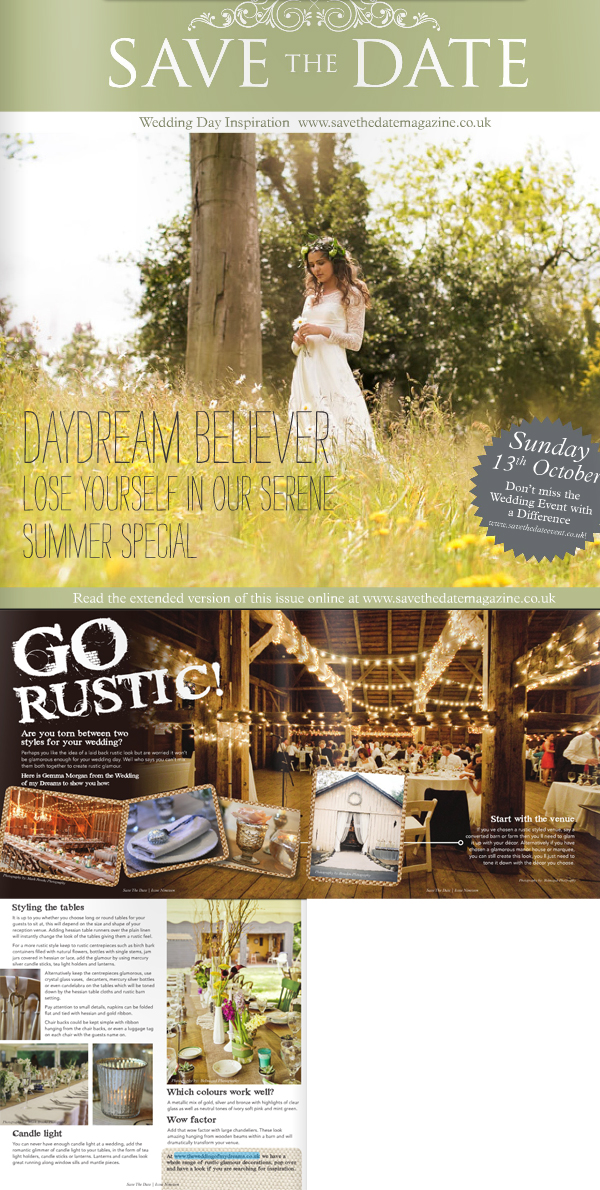 Styling tips for a rustic glamour wedding
Are you torn between two styles for your wedding? Perhaps you like the idea of a laid back rustic look but are worried it won't be glamorous enough for your wedding day. Well who says you can't mix them both together to create rustic glamour.
Start with the venue
If you've chosen a rustic styled venue, say a converted barn or farm then you'll need to glam it up with your décor. Alternatively if you have chosen a glamorous manor house or marquee, you can still create this look, you'll just need to tone it down with the décor you choose.
Styling the tables
It is up to you whether you choose long or round tables for your guests to sit at, this will depend on the size and shape of your reception venue. Adding hessian table runners over the plain linen will instantly change the look of the tables giving them a rustic feel.
For a more rustic style keep to rustic centrepieces such as birch bark containers filled with natural flowers, bottles with single stems, jam jars covered in hessian or lace, add the glamour by using mercury silver candle sticks, tea light holders and lanterns.
Alternatively keep the centrepieces glamorous, use crystal glass vases,  decanters, mercury silver bottles or even candelabra on the tables which will be toned down by the hessian table cloths and rustic barn setting.
Pay attention to small details, napkins can be folded flat and tied with hessian and gold ribbon.
Chair backs can could be kept simple with ribbon hanging from the chair backs, or even a luggage tag on each chair with the guests name on.
Candle light
You can never have enough candle light at a wedding, add the romantic glimmer of candle light to your tables, in the form of tea light holders, candle sticks or lanterns. Lanterns and candles look great running along window sills and mantle pieces.
Which colours work well?
A metallic mix of gold, silver and bronze with highlights of clear glass as well as neutral tones of ivory soft pink and mint green.
Wow factor
Add that wow factor with large chandeliers. These look amazing hanging from wooden beams within a barn and will dramatically transform your venue.
At The Wedding of my Dreams we have a whole range of rustic glamour decorations, pop over and have a look if you are searching for inspiration.