Disposable Camera Wedding Photos Prompt List FREE Download
Disposable Camera Wedding Photos
Are you having disposable cameras on your wedding guest tables? We have been to a number of weddings where disposable cameras were left on the guest tables for anyone to use, this is a great idea and allows you to see the wedding through the eyes of your guests, see the fun had by different tables and their take on the day!
Photo Prompt List For Disposable Cameras
To give your guests some ideas of the photos you want them to take why not leave an 'I Spy' / 'Scavenger Hunt' list of photos for them to take of your wedding. This gives a purpose to having the disposable camera on the wedding table and you get the photos you want.
FREE Download 'I Spy' Wedding Photo Prompt Sheet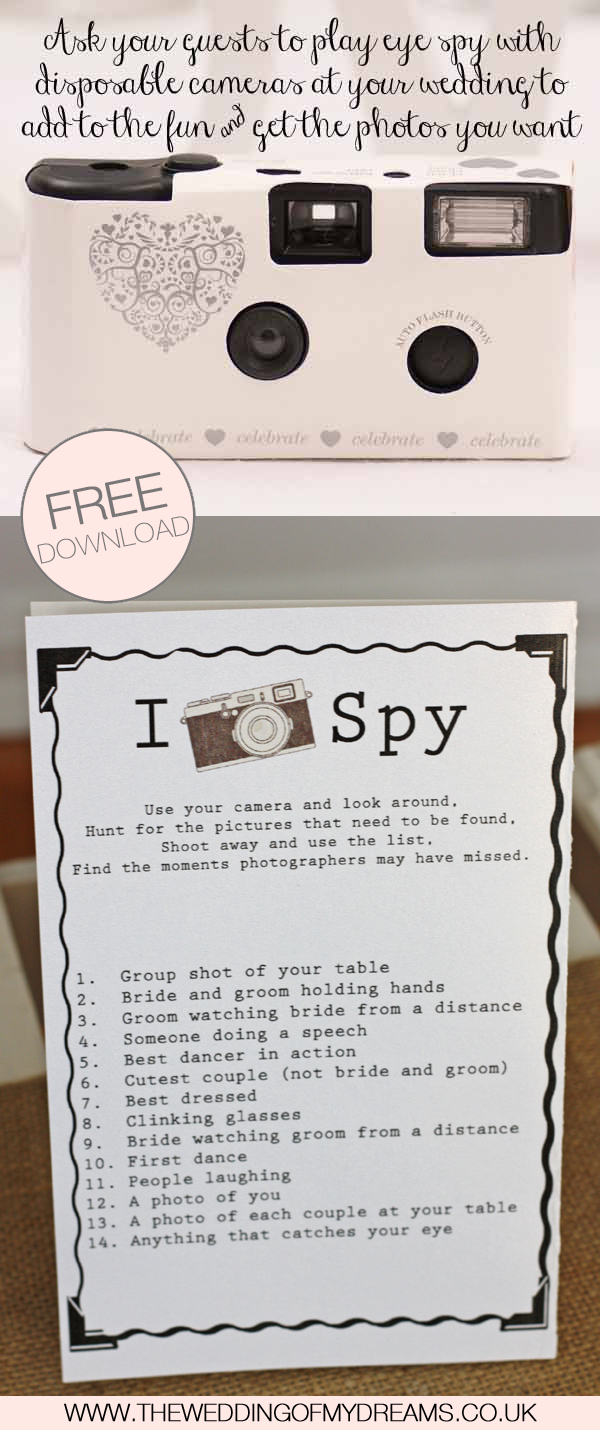 How to:
Download our FREE disposable camera wedding photos prompt list
Print it out on to A4 paper and cut in half.
This will make 2 prompt sheets, lay one on each guest table next to the disposable camera and let your guests shoot away.
Depending on the style of your wedding you may prefer our vintage rustic wedding I Spy photo prompt sheet or our elegant I Spy photo prompt sheet.
You can print the photo prompt sheets on to card of your choice, we have used pearlescent card which has a pearly shine to it, it is available online or in most stationery shops, it comes in a variety of colours to suit your style.——> DOWNLOAD THE PROMPT LIST HERE FOR FREE <——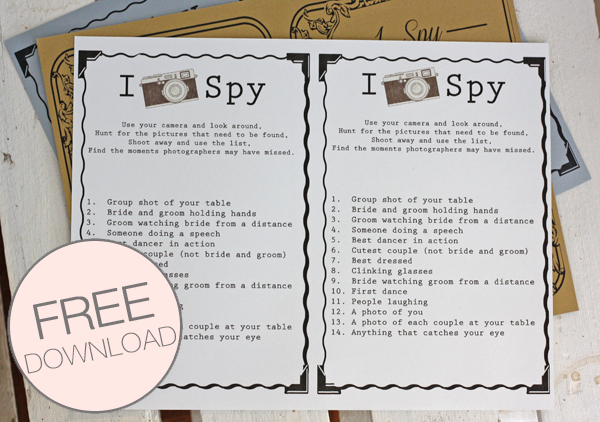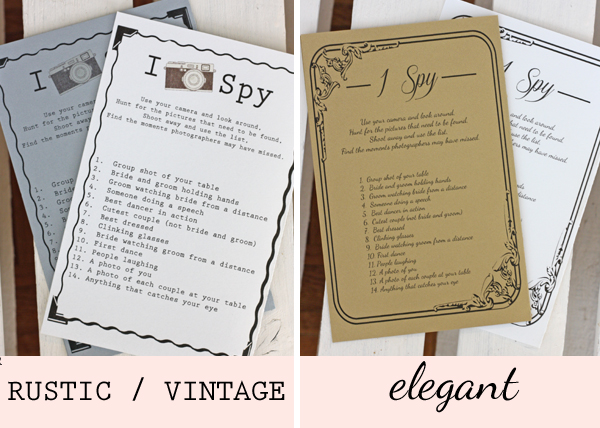 ——> DOWNLOAD THE PROMPT LIST HERE FOR FREE <——
 or click on the images below
Our free downloadable photo prompt lists includes the following photo prompts for wedding guests, if you are creative you may choose to make your own photo prompts, add to our list below to create your own.
Use your camera and look around, Hunt for the pictures that need to be found, Shoot away and use the list, Find the moments photographers may have missed.
1. Group shot of your table
2. Bride and groom holding hands
3. Groom watching bride from a distance
4. Someone doing a speech
5. Best dancer in action
6. Cutest couple (not bride and groom)
7. Best dressed
8. Clinking glasses
9. Bride watching groom from a distance
10. First dance
11. People laughing
12. A photo of you
13. A photo of each couple at your table
14. Anything that catches your eye