How To Choose My Wedding Centrepieces {Wedding Centrepiece Ideas}
If you are a regular to our blog you will know I write regular features for Save The Date Magazine. The latest issue features a number of wedding centrepiece ideas in my article on how to choose your wedding centrepieces. If you are looking for wedding centrepiece ideas check it out below, or read the
full magazine online
.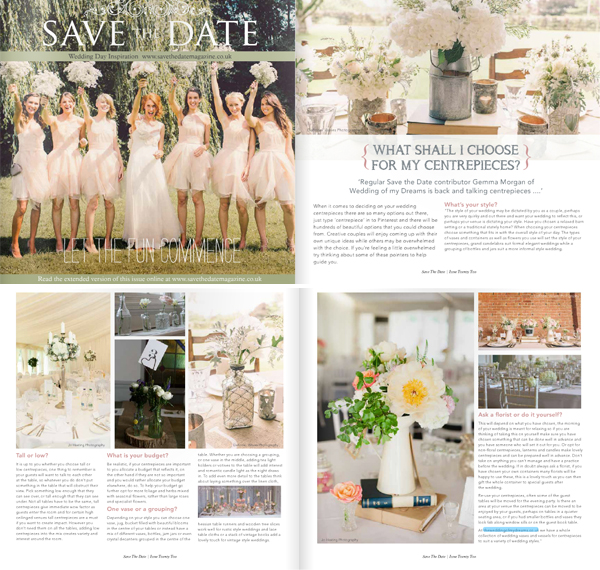 What shall I choose for my centrepieces?
When it comes to deciding on your wedding centrepieces there are so many options out there, just type
'centrepiece' in to Pinterest
and there will be hundreds of beautiful options that you could choose from. Creative couples will enjoy coming up with their own unique wedding centrepiece ideas while others may be overwhelmed with the choice. If you're feeling a little overwhelmed try thinking about some of these pointers to help guide you.
What's your style?
The style of your wedding may be dictated by you as a couple, perhaps you are very quirky and out there and want your wedding to reflect this, or perhaps your venue is dictating your style. Have you chosen a relaxed barn setting or a traditional stately home? When choosing your centrepieces choose something that fits in with the overall style of your day. They types of vases and containers as well as flowers you use will set the style of your centrepieces, grand candelabra suit formal elegant weddings while a grouping of bottles and jars suit a more informal style wedding.
Tall or low?
It is up to you whether you choose tall or low centrepieces, one thing to remember is your guests will want to talk to each other at the table, so whatever you do don't put something in the table that will obstruct their view. Pick something low enough that they can see over, or tall enough that they can see under. Not all tables have to be the same, tall centrepieces give immediate wow factor as guests enter the room and for certain high ceilinged venues tall centrepieces are a must if you want to create impact. However you don't need them on all the tables, adding low centrepieces into the mix creates variety and interest around the room.
What is your budget?
Be realistic, if your centrepieces are important to you allocate a budget that reflects it, on the other hand if they are not so important and you would rather allocate your budget elsewhere, do so. To help your budget go further opt for more foliage and herbs mixed with seasonal flowers, rather than large roses and specialist flowers.
One vase or a grouping?
Depending on your style you can choose one
vase
,
jug
,
bucket
filled with beautiful blooms in the centre of your tables or instead have a
mix of different vases
, bottles, jam jars or even crystal decanters grouped in the centre of the table. Whether you are choosing a grouping, or one vase in the middle, adding
tea light holders or votives to the table
will add interest and romantic candle light as the night draws in. To add even more detail to the tables think about laying something over the linen cloth,
hessian table runners
and
wooden tree slices
work well for rustic style weddings and lace table cloths or a stack of vintage books add a lovely touch for vintage style weddings.
Ask a florist or do it yourself?
This will depend on what you have chosen, the morning of your wedding is meant for relaxing so if you are thinking of taking this on yourself make sure you have chosen something that can be done well in advance and you have someone who will set it out for you. Or opt for non-floral centrepieces,
lanterns
and candles make lovely centrepieces and can be prepared well in advance. Don't take on anything you can't manage and have a practice before the wedding. If in doubt always ask a florist, if you have chosen your own containers many florists will be happy to use these, this is a lovely touch as you can then gift the whole container to special guests after the wedding. Re-use your centrepieces, often some of the guest tables will be moved for the evening party. Is there are area at your venue the centrepieces can be moved to be enjoyed by your guests, perhaps on tables in a quieter seating area, or if you had smaller bottles and vases they look fab along window sills or on the guest book table. At
theweddingofmydreams.co.uk
we have a whole
collection of wedding vases and vessels for centrepieces
to suit a variety of
wedding styles
.