Just Married Wedding Ribbon With Frayed Edges
This week our wedding decoration of the week is our Just Married wedding ribbon. This  wedding ribbon is white with black typewriter style lettering reading JUST MARRIED. The wedding ribbon had frayed edges giving it that home spun look.
Ribbon can have so many uses at weddings, use it for wrapping around your napkins or wedding favours, add it to your wedding stationery for finishing touches or use it for any hanging decorations.
Just Married Wedding Ribbon (with frayed edges)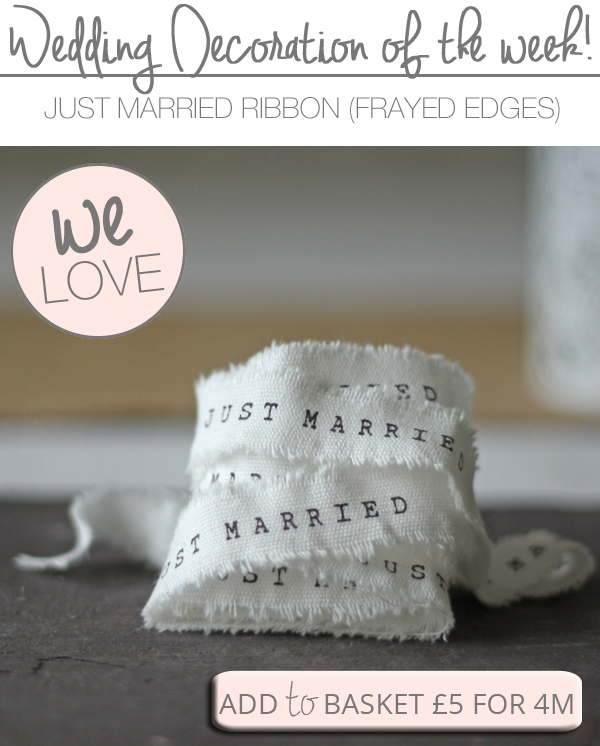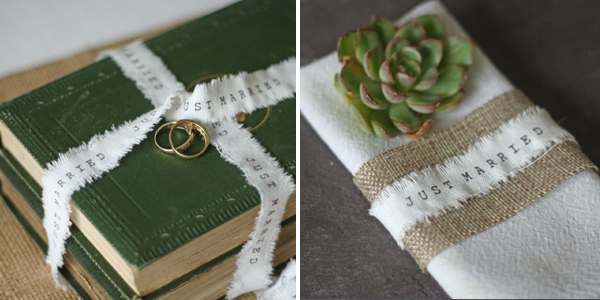 View our just married ribbon for sale in our shop
Product Details
This beautiful ribbon has frayed edges for that hand finished look.
The ribbon is white with just married printed in a typewriter style font running along it.
Use the ribbon to tie around napkins or cutlery to finish off place settings. Or use the ribbon to tie around favour boxes or string up luggage tags, hanging decorations and more. We love the idea of using a stack of vintage books tied with ribbon with the rings tied to the top for the ring bearer to hold as he walks down the aisle.
The ribbon is lovely tied around wedding gifts for the bride and groom.
Our frayed edged ribbon is ideal for a home spun look, vintage or rustic weddings.
The ribbon comes as a roll of 4m.
Price: £5 for 4m