Pink And Gold Vases For Weddings
This week our wedding decorations of the week are our quilted hanging pink and gold vases for weddings. These vases are just perfect if you are having a pink and gold wedding colour scheme and look fab at spring and summer weddings. Though depending on your flower choice could also be incorporated into winter weddings too.
These pink and gold vases can be hung using the gold handle or sat on your tables with the gold handle as decoration. The vases could be used as part of a grouping on your wedding tables (these vases are also available in a larger size). Or positioned on poseur tables around your venue, on your ceremony table, down the aisle or in the bar or relaxed seating areas at your venue.
You don't have to add flowers, the vases look lovely with a tea light in too as a small lantern.
Pink And Gold Vases For Weddings (Hanging)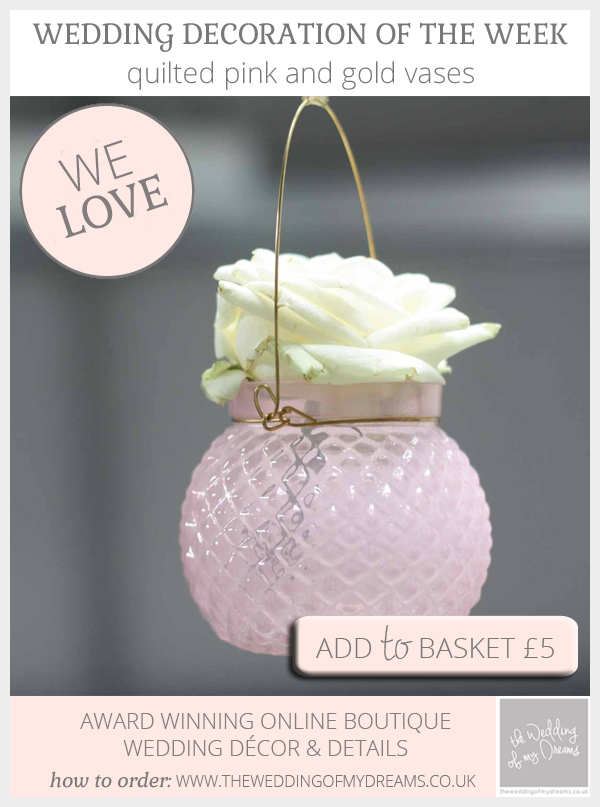 View our pink and gold vases for weddings in our online shop
Product Details
Pink and gold is a beautiful colour combination for any wedding.
Our quilted candle holder is a pale pink / baby pink in colour, made from glass with a quilted effect. The handle of the candle holder is gold metal and can be used for hanging or just extra decoration.
Use either as a candle holder using a tea light inside or fill with water and use as a vase. Team up with our larger vase if you want to make a grouping on your guest tables.
Flowers and candles next to your guest book or on your ceremony table could also be displayed in these containers.
Mix and match with our other gold and pink tea light holders and decorations to complete the look.
Dimensions: 9cm x 7cm
Price: £5