This week our wedding decoration of the week is our wooden wedding suitcase. Suitcases can be used in a number of ways for wedding styling, see our blog post 'How To Style Suitcases At Weddings'.
Use suitcases stacked up on one another to create different heights to display props and signs.
Fill the suitcase with pretty blooms and display around your venue, or use a smaller one for your centrepieces.
Use a suitcase at your wedding ceremony to hold all your order of service cards.
An open suitcase can be used as a table plan showing guests where to sit.
Use a vintage style suitcase on your card and gift table to collect your wedding cards.
Place all your favours in a suitcase and encourage guests to help themselves.
Wooden Suitcases For Weddings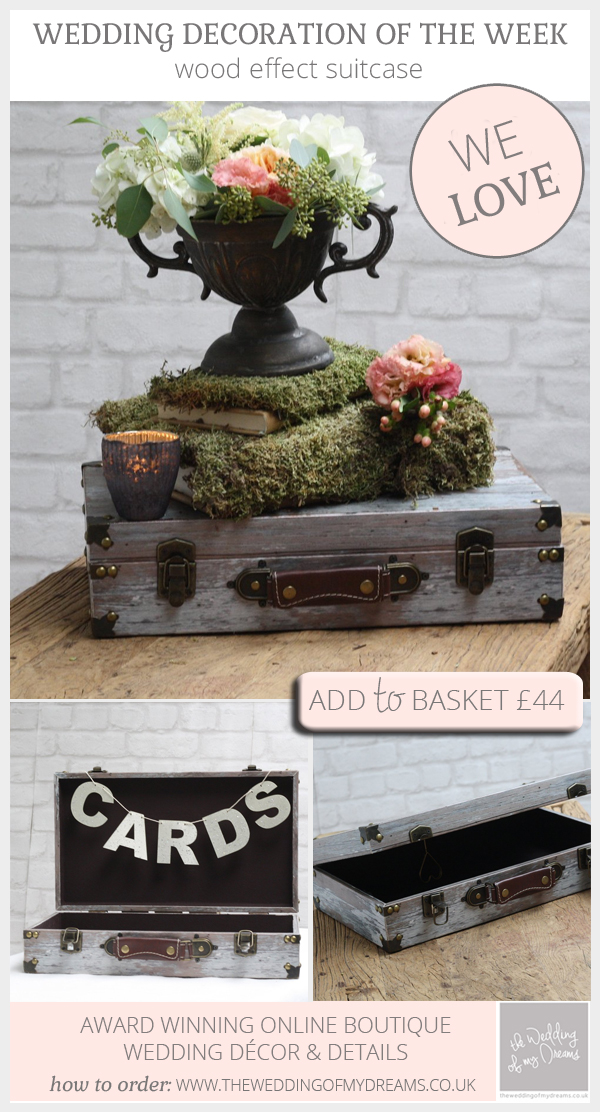 View our wooden suitcases for weddings for sale in our online shop.
Product Details
We just love these wood effect suitcases and the great news is there are lots ways you can style a suitcase at your wedding.
The suitcase is made from wood witSa timber-look paper finish and a leather handle.
It has a rustic, distressed finish. Using steel grey off-white and touches of blue, this design creates the perfect driftwood look.
The suitcase measures 42 cm x 24 cm x 10.5 cm.
Price: £44