Natural Wooden Bark And Tree Slice Wedding Decoration Ideas ~ Rustic Woodland
Are you hoping to create a woodland or rustic feel at your wedding? Maybe you have chosen a venue that suits the woodland style (a barn or farm wedding venue) or perhaps as a couple, you love the outdoors, and a woodland wedding just feels right.
One way to create a woodland style is to use lots of natural materials, we have chosen our favourite natural wood, bark and tree slice wedding decorations as well as ideas that you could use to create this look yourselves.
Natural wood & bark table number holders & place settings
For your wedding table numbers you could choose to have a table number holder made from an actual tree branch, use narrow branches so they don't take up too much space on the table and slot your table number card into them. Or alternatively use a small tree slice and engrave the table number or name into it. This looks best propped up against your centrepiece so it is visible for guests.

Natural bark vases, tea light holders and tree slice wedding centrepieces
You want to create a relaxed centrepiece for a woodland styled wedding, nothing too perfect and uniformed, not all tables have to be the same. There are a number of different wooden bark vases and vessels that could be used to hold your flowers. Wild flowers look best with lots of texture. Around the bark vases add in a couple of bark tea light holders to complete the look.
The majority of venues provide a white linen table cloth for your tables, this is not very rustic! You will be surprised, adding a hessian table runner over the cloth works wonders. Or for an even more rustic touch use a wooden tree slice as the base of your centrepiece, positioning your bottles, jars and vessels on top.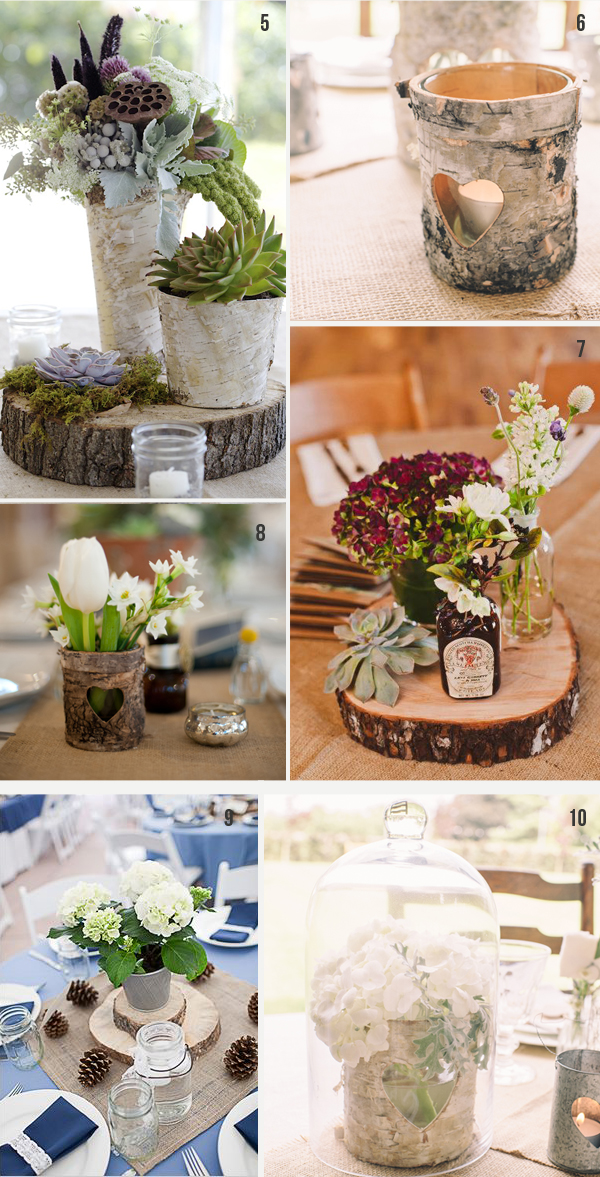 Extra wedding decorations and ideas using tree stumps
Wooden tree slices or tree stumps could be used as a base for more than just your centrepieces. Large tree slices can be used for your wedding cake or lots of smaller ones for cup cakes or a dessert table.
For an outdoor woodland wedding ceremony, position larger tree stumps down either side of the aisle and place jam jars with flowers and candles on top. A simple but effective look. We also really love the idea of gathering lots of large tree stumps and piling them up to create shelves. Add candles in jam jars and vases to create a wow factor display.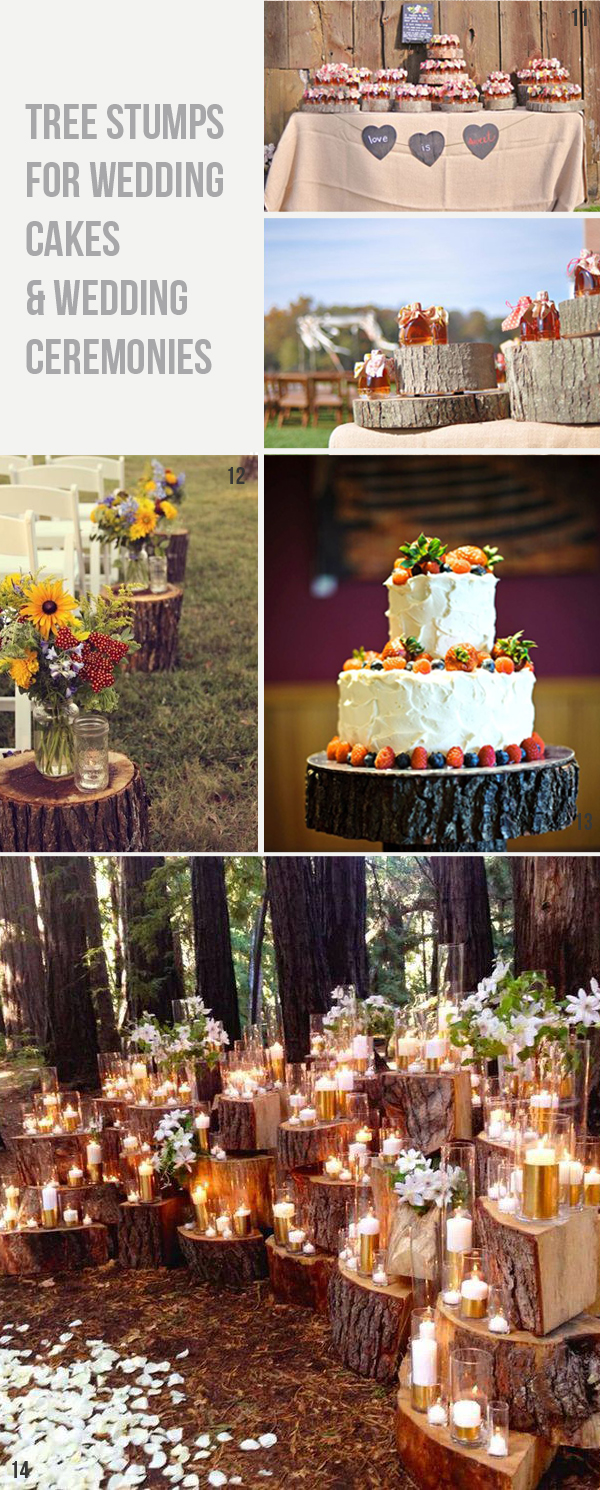 Source: 1 Wooden bark table number holders // 2 Wooden tree branch name card holders // 3 Small tree slice table number // 4 Assortment of bark vases in different sizes // 5 Bark vases on tree slice table decoration // 6 Bark tea light holder // 7 Tree slice wedding centrepiece with grouping of bottles // 8 Small bark vases // 9 Layered tree slice wedding centrepiece // 10 Bark vase inside bell jar // 11 Tree slice stand for wedding favours (unknown source) // 12 Tree stump stand aisle decorations (unknown source) // 13 Wooden tree slice wedding cake // 14 Natasha Lisitsa, Waterlily Pond Floral Design – San Francisco, California