Our Favourite Squash, Gourd And Pumpkin Wedding Centrepieces
If you're planning an Autumn wedding or even a Halloween inspired celebration, pumpkins are a must-have for your wedding décor. Indulge in a little wedding inspiration today by taking a peek at our favourite squash, gourd and pumpkin wedding centrepieces. We've found a style to suit every couple!
Ideas for Pumpkin Wedding Centrepieces
You may not want to use squash or pumpkin as the main focus of your wedding centrepiece and fortunately it's easy to subtly incorporate them into your reception tables. A copper or bronze geometric vase is modern while the metallic style will fit in with the season perfectly. Fill your vase with flowers of candles, and simply surround it with a few mini pumpkins or gourds. This look is understated yet chic.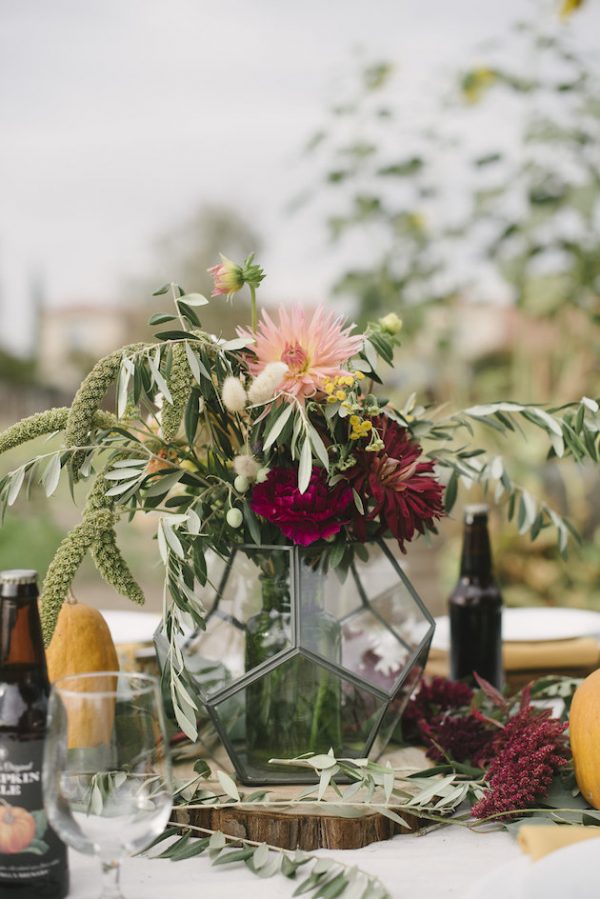 If you love the thought of pumpkin wedding centrepieces but you're not so keen on the idea of an orange colour scheme, fear not! Simply paint your pumpkins, squash or gourds in your chosen colour – pale blue or pink will look wonderful. Fill with pretty flowers that match your colour scheme and voila! You've got yourself a stunning centrepiece.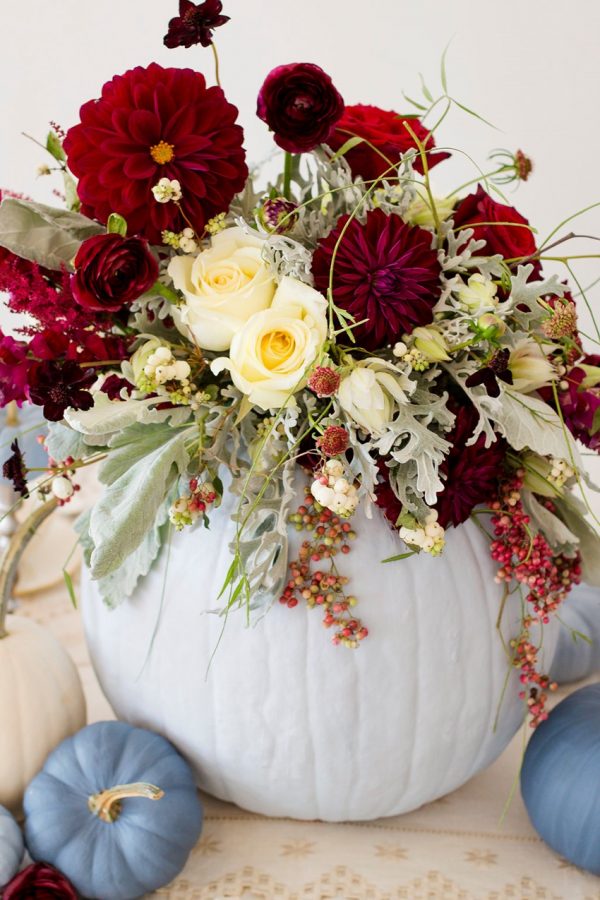 Autumn can be a seriously elegant time of the year to tie the knot. Reflect this through your pumpkin wedding centrepieces by concentrating on understated colours such as cream and blush pink. A tall squash painted cream can act as a vase for white roses and pink posies. Alternatively, simply place a painted cream pumpkin next to an ivory jug full of blooms. Finish the look off with a white or blush table runner.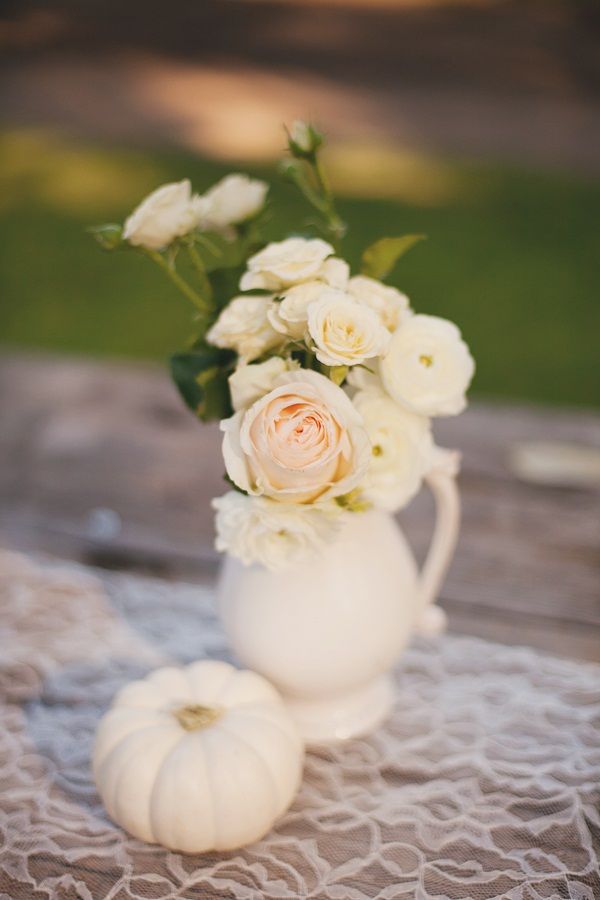 Have you ever considered spray painting your pumpkin wedding centrepieces? Gold spray paint will make your gourds and pumpkins look ultra glam, especially if they're full of gorgeous red blooms. The shades of burgundy and gold will fit in with Autumn beautifully and they'll look completely luxurious.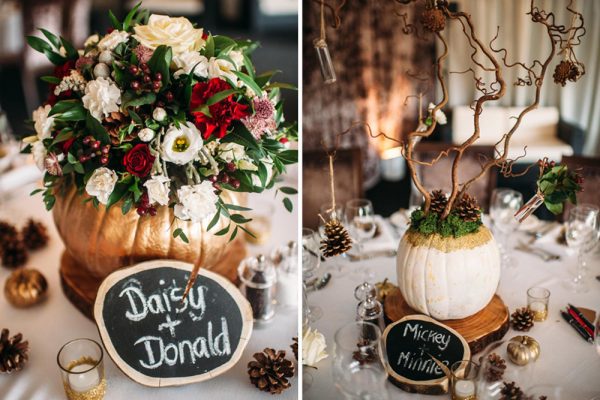 Image Source – Photographer / Image Source – Photographer
Planning an outdoor or rustic celebration? Then tree slices are a must-have for your wedding centrepieces. Whether you choose to place a large pumpkin or just a vase on your tree slices, they're bound to look fab. A small jar with lots of orange and green flowers makes for a lovely centrepiece. All you need are a few mini pumpkins or gourds surrounding the jar.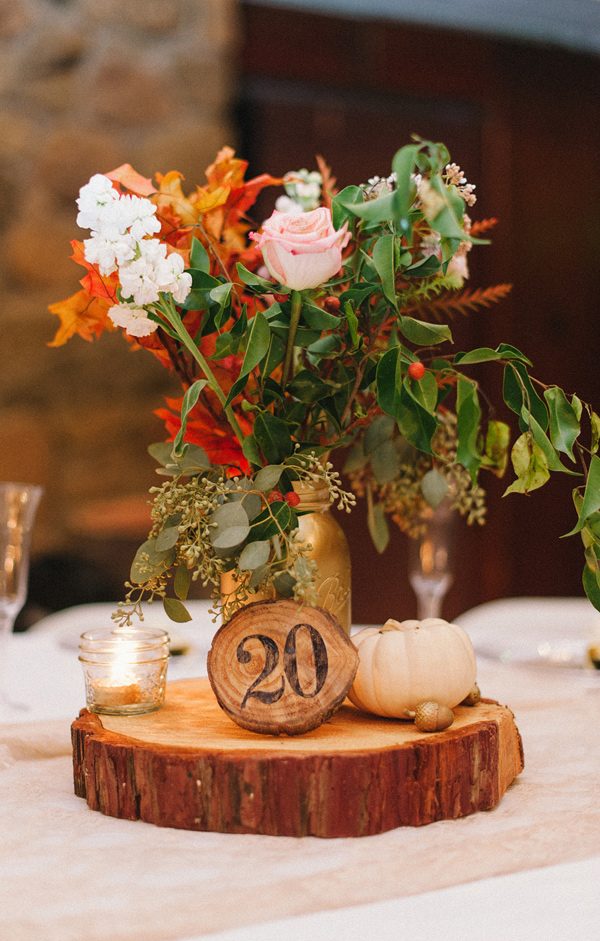 A modern botanical theme is often seen throughout Spring and Summer, but I love the thought of incorporating it into an Autumn affair. Add a few succulents and cacti to medium sized pumpkins and you've got yourself a contemporary take on a Halloween wedding!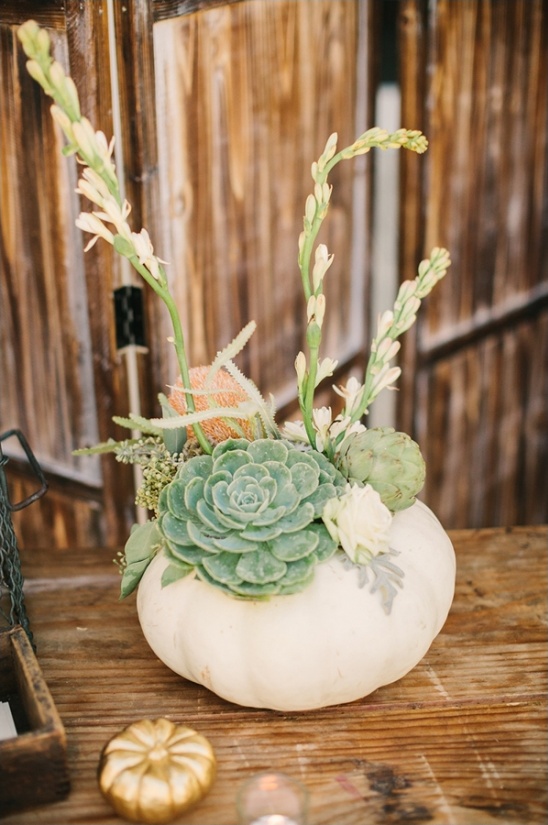 If you've got long trestle tables, you'll need to line them with a few pumpkins. A hessian table runner along each table will set the scene. Adorn with lots of leafy greenery and nestle a few pumpkins along the table runner. Dot a few small candle holders within the décor to evoke a warm glow in the evening.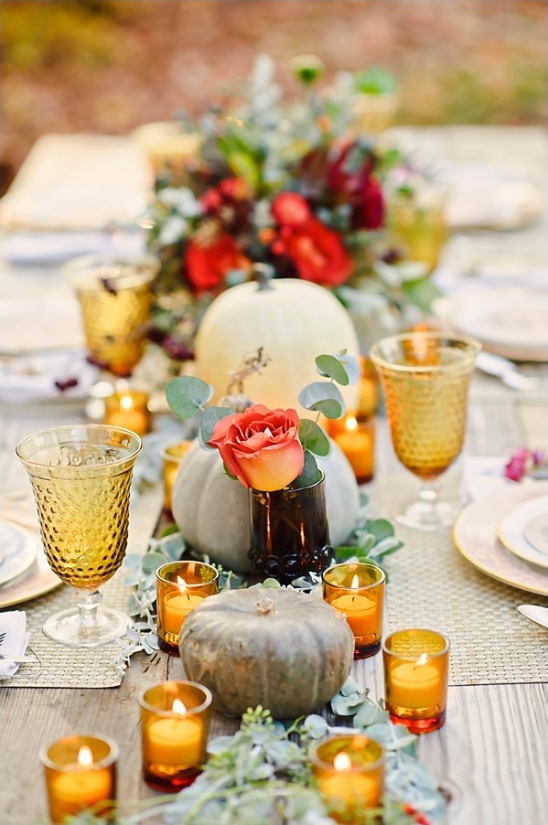 Couples often think that pumpkin wedding centrepieces need to be completely orange and Autumnal but this post just shows how versatile they can be! Whether you want pink centrepieces or Halloween-inspired tables, you can create anything you want with squash, gourds or pumpkins!