Beautiful Chair Decorations Wedding Ideas
Beautiful Chair Decorations Wedding Ideas
Here at The Wedding of my Dreams we feel it's the little things that make your wedding unique, and totally yours. Chair decorations are a lovely way to add extra details and put your own individual stamp on your wedding. Your venue may have standard chairs which they use for every wedding they hold, why not add a touch of something special to make your chairs look lovely and in keeping with your style.
You may choose to decorate the chairs in the wedding ceremony, those chairs along the edge of an aisle look pretty with a touch of decoration. Go all out and decorate all the chairs in the wedding reception or just make the bride and groom chairs special with some lovely chair backs.
Having worked on huge a number of weddings we have to say we're sick and tired of seeing the white chair covers with coloured sashes hired out by venues, some venues have lovely chairs, why cover them completely, especially with white covers which in our experience don't seem to fit?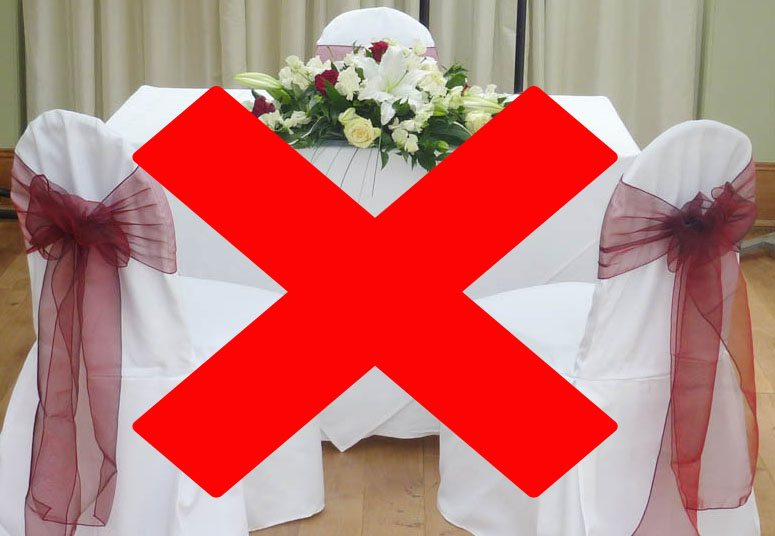 Chair decorations which do win our vote are simple and in keeping with the style of your day, if you want to keep to your colour scheme add floaty ribbons hanging from the backs of your chairs. We have chosen a few of our favourite wedding chair decorations to help inspire you and get your creative juices flowing.
Bride And Groom Chair Backs For Weddings
Love the idea of the bride and groom having their own personal chair back, these are so simple to make from hessian or material of your choice. Or buy alphabet garlands and spell out MR and MRS across the chair backs.

Source: 1&2 Katie Neal Photo 3 Marta Locklear Photo 4 The Wedding of my Dreams 5 Jess Barfield 6 Unknown – Pinterest
Flower Chair Decorations At Weddings
There's nothing nicer than beautiful floral chair decorations, ask your florist for advice on this but keep to soft green foliage and herbs to create a lovely scent which an accent of flowers. The flowers could be in a wreath over the back of your chair, or hanging from the side or back of the chair with ribbon.

Source: 7&8 Belle The Magazine 9 Laura Ivanova 10 Rydervans Photography 11 Erin Hearts Court 12 Harwell Photography
Ribbon Chair Decorations
For a more DIY look but still beautiful add ribbons in one or many colours to the backs of your chairs to create a lovely chair decoration. Again you may only choose to decorate the bride and groom chairs or more depending on your time and budget.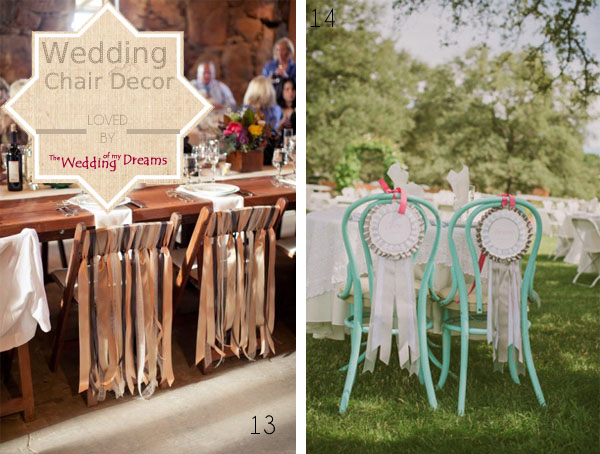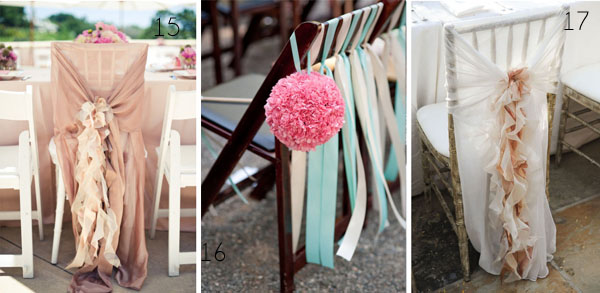 Source: 13 Mibelleink 14 Grass Valley Florist 16 Gertrude And Mabel 15 & 17 Raining Blossom