Vintage Country Garden Wedding ~ Wedding Themes
Today we have gathered together some of our favourite vintage country garden wedding decorations and ideas. This post should help you if you are trying to style your wedding like a vintage country garden.
Some of of favourite vintage country garden wedding ideas include hanging bottles from trees, pretty jugs filled with beautiful flowers on wedding tables, hessian and lace details, hanging paper pom poms or bunting around your venue – we love the idea of a vintage bike as a prop, fill the basket with a lovely bunch of flowers.
We have uploaded the photos individually as well to make it easier for you to pin them to your favourite pinterest boards (scroll down to the bottom)
If vintage country garden weddings aren't your style you may like to browse our other wedding themes for more inspiration.
Vintage Country Garden Wedding Decorations & Ideas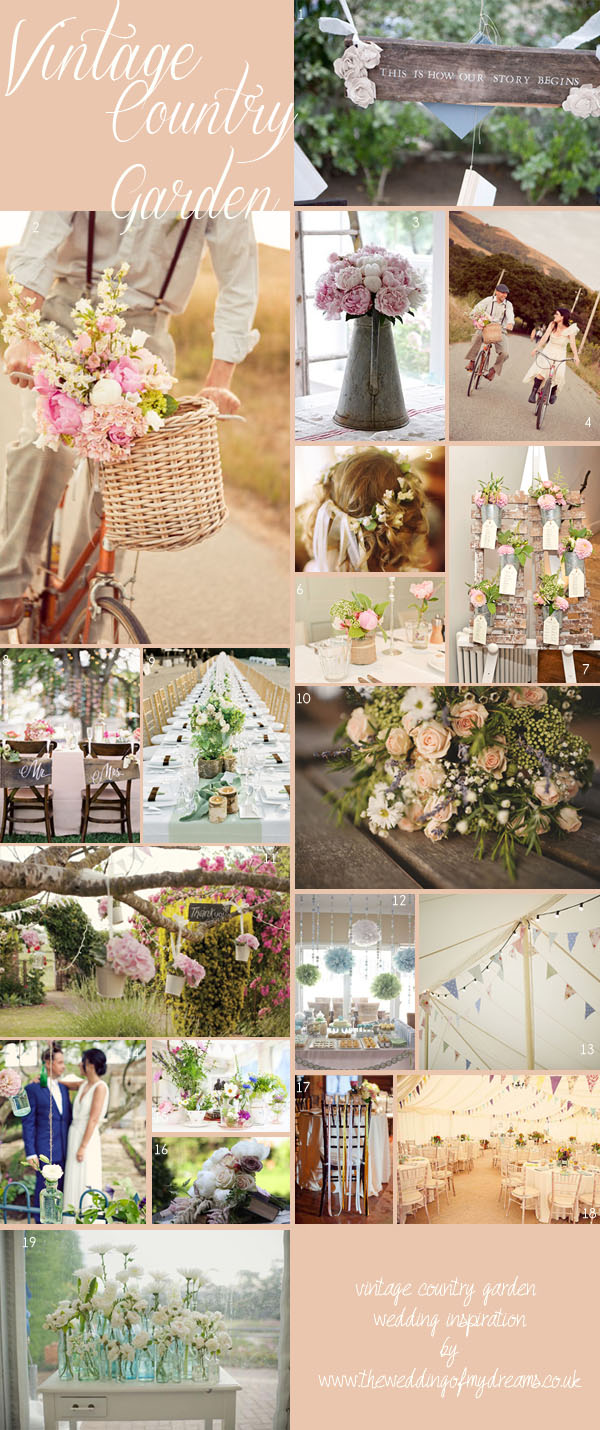 Source: 1 This Is How Our Story Begins Wedding Sign 2 Vintage Bike With Flowers 3 Galvanised Jug 4 Bride & Groom On Vintage Bike 5 Flower Girl Hair Flowers 6 Jam Jar Tied In Hessian 7 Wedding Table Plan With Buckets 8 Mr and Mr Chair Backs 9 Long Wedding Tables 10 Dusky Pink Rose Bouquet 11 Hanging Flower Pots From Trees 12 Paper Pom Poms 13 Wedding Bunting 14 Hanging Bottles 15 Vintage Wedding Table Decorations 16 Vintage Rose Bouquet 17 Ribbon Chair Backs 18 Marquee Wedding 19 Glass Bottles at Wedding