Wedding Confetti Bags Sprinkle Me Throw Me
This week our wedding decorations of the week are our cute wedding confetti bags. Our confetti bags say 'sprinkle me' or 'throw me' and can be filled with our delphinium petals. Or you can choose to have them empty and fill them yourselves.
Leave the wedding confetti bags in a basket at the back of the ceremony for guests to pick up on their way out. Giving your guests confetti in little bags keeps it all in one place until they need it. We think it's a better option than asking guests to scrunch up confetti in their hand for ages until the moment of the confetti throw. What do you think? These sprinkle me and throw me confetti bags are exclusive to The Wedding of my Dreams.
Read more about them or browse them in our shop.
Sprinkle me confetti bags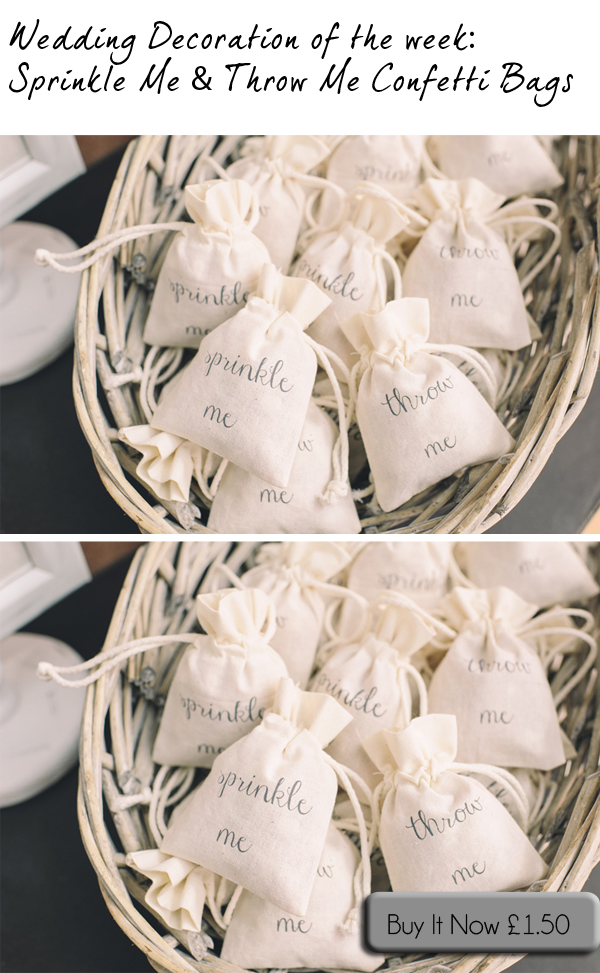 Photo credit: Daffodil Waves Photography
View sprinkle me confetti bags in our shop
Product Details
Confetti bags are made from cotton with a drawstring

The cotton bags measure 12cm x 8 cm (9cm to the drawstring)
The cotton bags have 'Sprinkle Me' or 'Throw Me' printed on in grey ink
Choose empty or filled with our delphinium petals (ivory, soft pink, deep purple, summer mix)
Price: £1.50