Wedding Dessert Table Inspiration
Are you thinking of having a wedding dessert table? If you're anything like us here at The Wedding of my Dreams you'll love anything sweet… chocolates, cake pops, cup cakes and ice cream mmmm.
We have some lovely glass cakes stands, glass sweetie jars, milk bottles and drinks dispensers which can all be used on your wedding dessert table. We thought this morning we would share some of our styling inspiration for wedding dessert tables.
Browse below to see some of our favourite dessert table ideas.
1. A rustic glamour wedding dessert table with white and gold coloured sweets and cakes in glass sweet jars and cake plates. Love the wooden tree stumps at the back for height and the backdrop 'One upon a table'.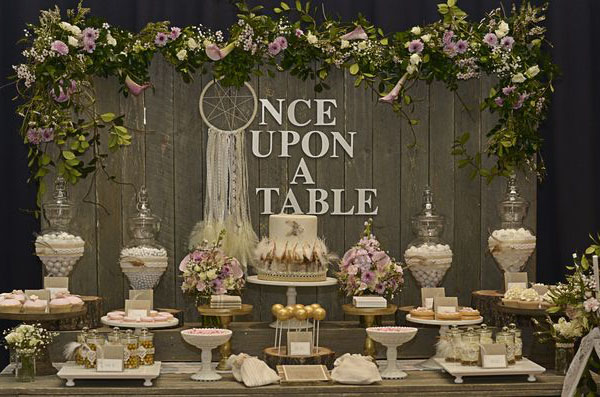 2. A beautiful wedding dessert table set up in a barn with exposed brickwork backdrop. Love the paper wall decorations and hessian bunting hanging in front of the tables. They have used a mix of cake stands and jars to create this look.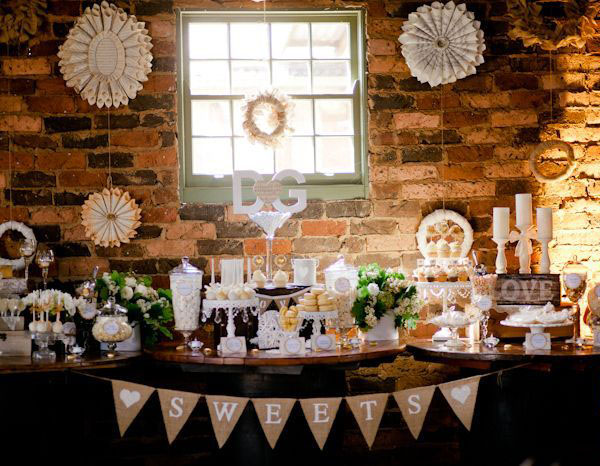 3. A simple wedding dessert table set up in a marquee. The wedding cake is the centrepiece in this dessert table with it sat in the centre of the table on a crate for added height. Cake pops, macaroons, cakes and sweets are extra desserts for guests to enjoy. Again the front of the table has been decorated with hessian JUST MARRIED bunting.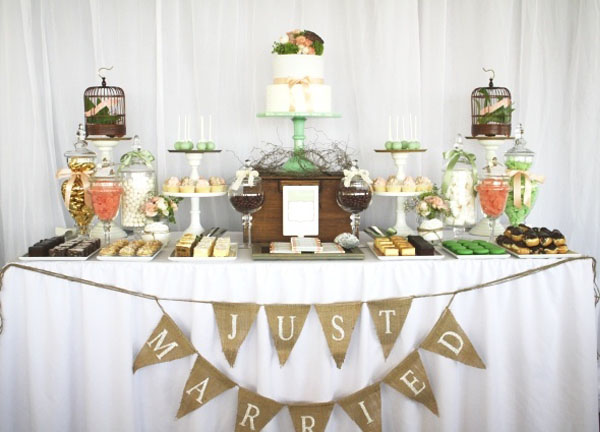 4. An outdoor wedding dessert table. The extra candle light from the tea light holders add a romantic glow to this set up. The cakes and treats have been chosen reflect the colours of the wedding, white, mint green and rich dark brown.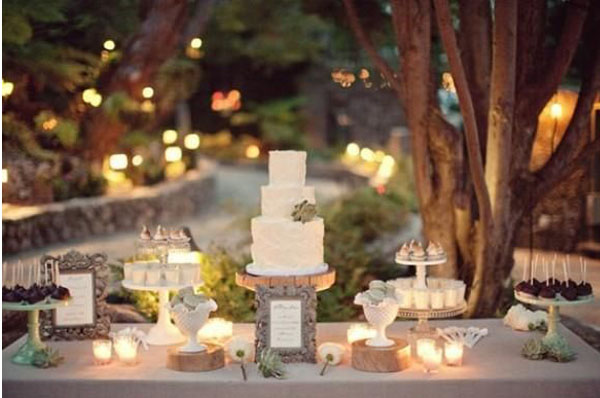 5. A simple yet stunning dessert table. The cake plates and cake stands have been set up on a rustic wooden table. Extra details include bottles with flowers and a ribbon backdrop.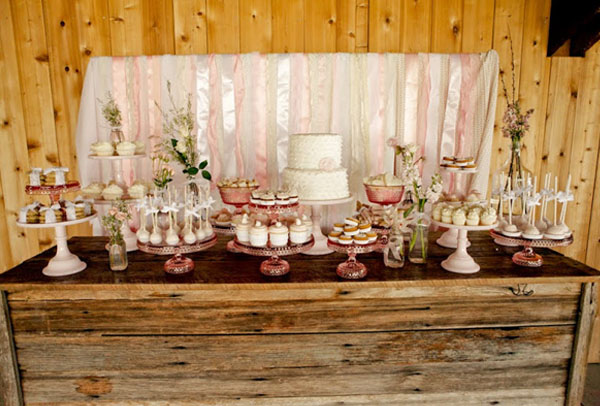 6. We love the idea of letting your wedding guests help themselves to drinks at your wedding, create fun fruit cocktails and set them out in glass drinks dispensers for guests to top up their glasses.
7. A rustic brown and cream wedding dessert table, using wooden crates and vintage suitcases to add height. Adding paper pom poms above the table creates impact and draws guests attention to the area.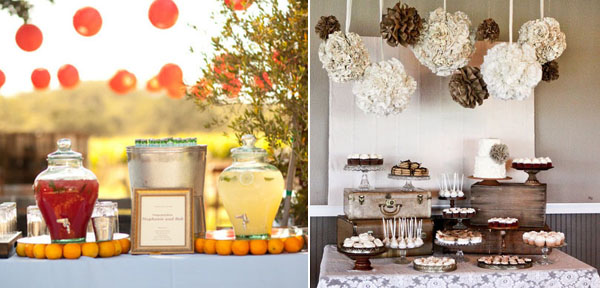 Source: 1 2 & 3 (unknown) 4 5 6 7