Glass Drinks Dispenser With Chalkboard Sign
This week our wedding decoration of the week is our glass drinks dispenser. If you are thinking of having welcome drinks at your wedding or serving guests signature cocktails then setting up and styling a drinks station is a lovely touch. These glass drinks dispensers have a chalkboard sign on the front for you to label your drinks.
If you are thinking of having a drinks station at your wedding you may like our Drinks Station Ideas post and Drinks Station Checklist post.
Glass Drinks Dispenser With Chalkboard Sign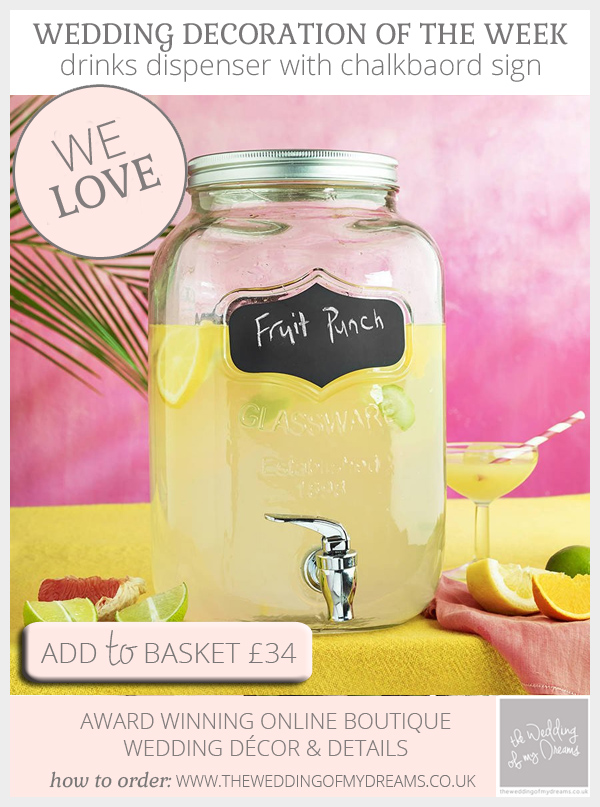 View our glass drinks dispenser for sale in our shop
Product Details
Place the glass drinks dispenser on your sweetie buffet or dessert table filled with the drinks of your choice, fruit juices, flavoured water or beer and let your wedding guests top up their glasses themselves.
The drinks dispenser is made from sturdy clear glass with a separate metal screw on lid and has a chalkboard area on the front and back for labelling your drinks. The dispenser has a silver coloured tap for pouring the drinks.
We think this is fab! After your wedding you can use this at home for parties and summer refreshments.
The drinks dispenser measures 32cm x 18cm.
Capacity: 7 litres
Using the drinks dispenser: Make sure that the silver coloured tap is positioned to 'closed' before filling the dispenser.
Price: £34