Outdoor Italian Wedding Ceremony Decor Ideas You'll Want To Steal
Wedding ceremony decor ideas for an outdoor ceremony
If you have been following my recent posts you'll know I've been talking you through my wedding decor choices. Today I am going to be looking back at my wedding ceremony. Having a destination wedding I had an outdoor Italian wedding ceremony, during the initial planning stages I had so many decor ideas for the ceremony. Probably too many so I needed to cut it down to ensure the whole wedding flowed and style stayed the same throughout. The ceremony took place under a stone and wooden loggiato in the tiny village of Bagno Vignoni Tuscany, to the left of the loggiato was a lovely stone wall and to the right was a thermal pool which was the centre of the village. I will endeavour to talk you through my wedding ceremony decor ideas and final choices.
CEREMONY ENTRANCE / WELCOME SIGN
We were inviting guests to arrive half an hour before the ceremony to enjoy a pre-ceremony drink (more on that later). As I wasn't going to be there to welcome guests I wanted a clear entrance and welcome sign. You enter the loggiato through an gap in the stone wall up a couple of step so this felt like the ideal place for a welcome sign. We placed one of our personalised white wash wooden welcome signs against the steps with trailing organic florals around the sign. The flowers were predominantly foliage based, using a mix of textures with large white blooms including roses and hydrangeas for an organic natural look. Being a wedding florist I had quite a clear idea of what I wanted here and we had great fun creating the florals in the days running up to the wedding.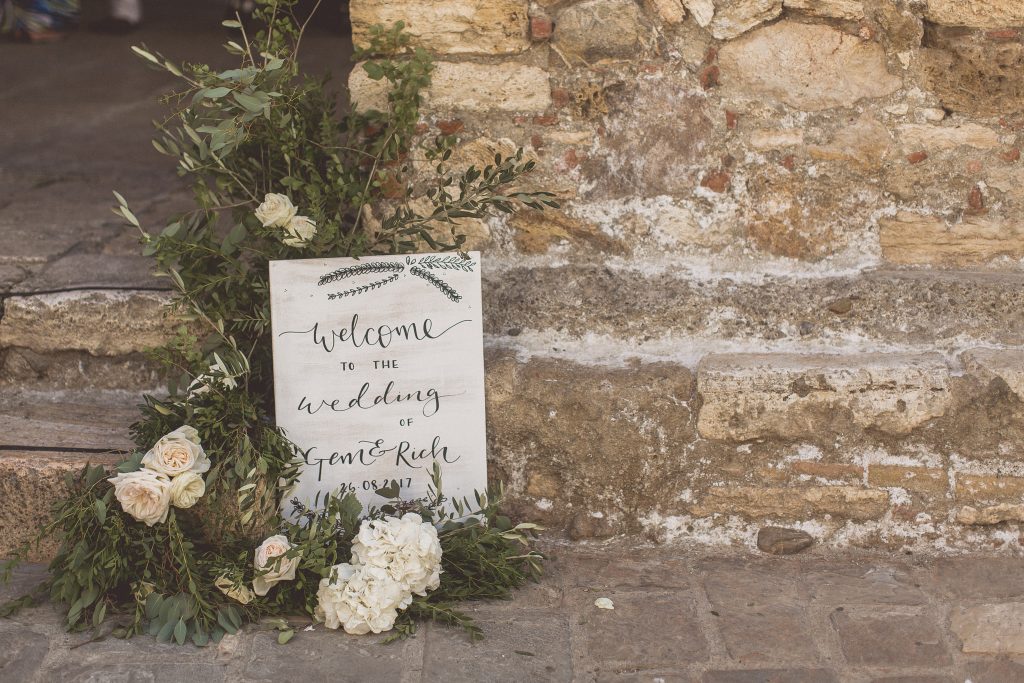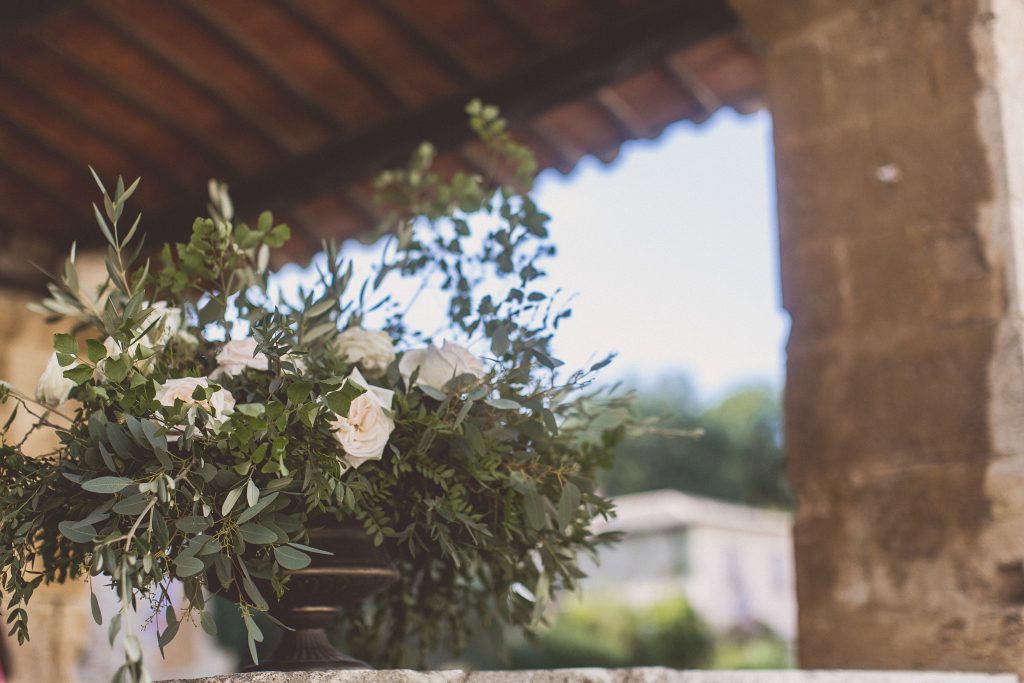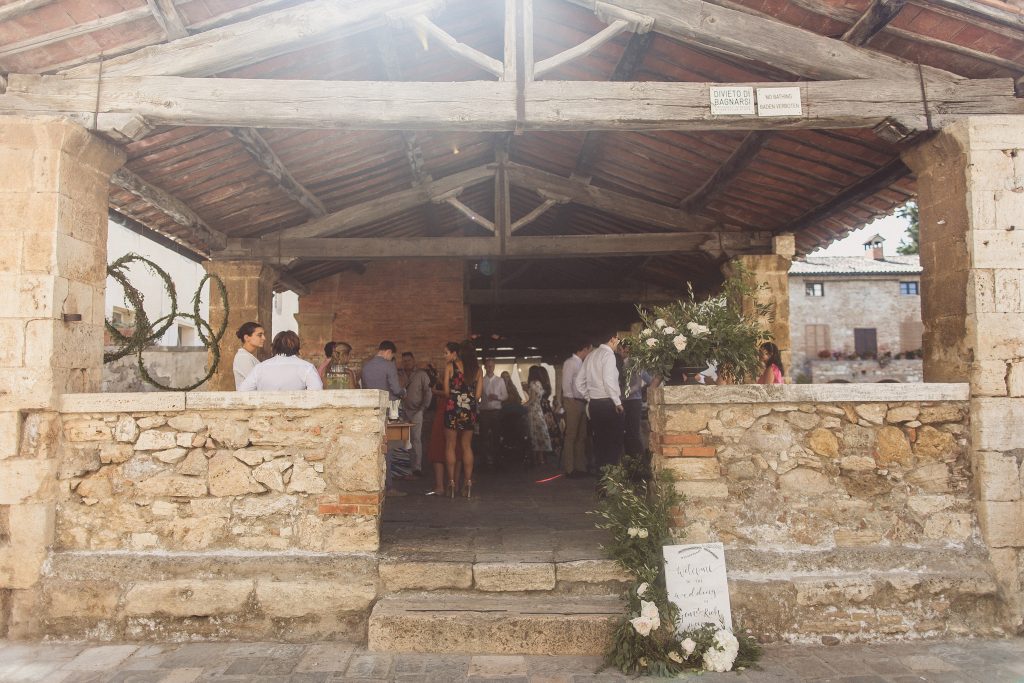 WEDDING CARDS
When you turn up at a wedding and your wedding card is to large for your bag I know how annoying it is and how much you want to hand the card over as soon as possible. We set up an area for cards within the ceremony location and guests put them in the brass box provided, we also used one of our printable CARDS signs and framed it in a brass frame.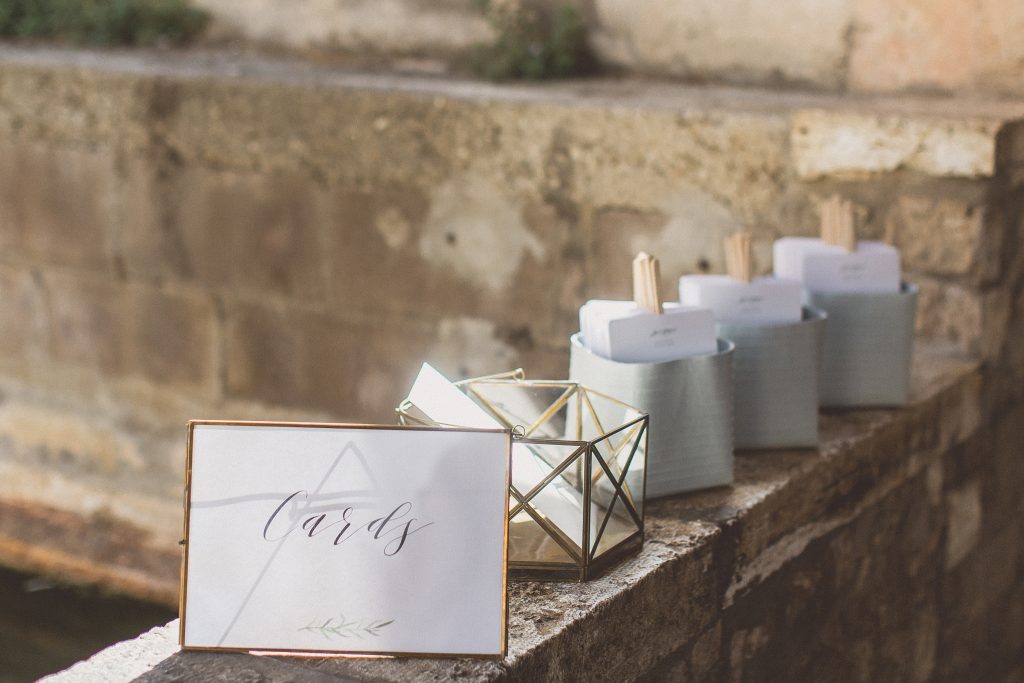 PRE-CEREMONY DRINKS STATION
To keep guests refreshed we offered them acqua aromatica and limonate from our drinks station. The drinks were set up on a table with drinks dispensers that guests could help themselves to, we offered gold straws and had signs to name the drinks in our small brass frames. We also displayed one of our printable signs in the A4 brass frame, 'Grab a drink, find a spot, we'll be out soon to tie the knot'. Our saxophonist was playing in the background while guests arrived and mingled before finding their seats.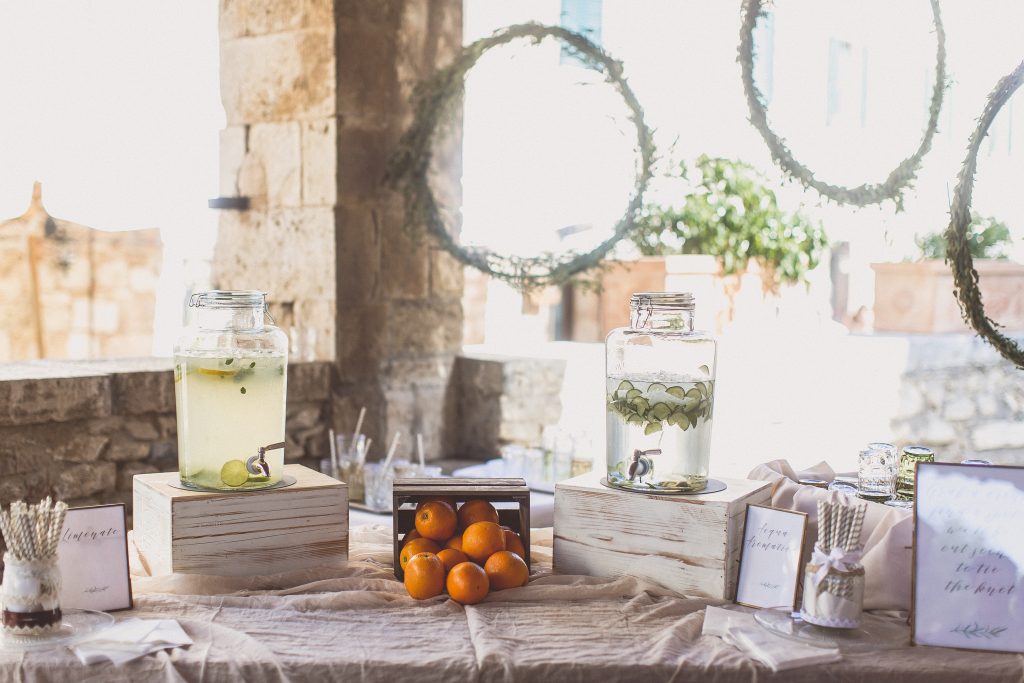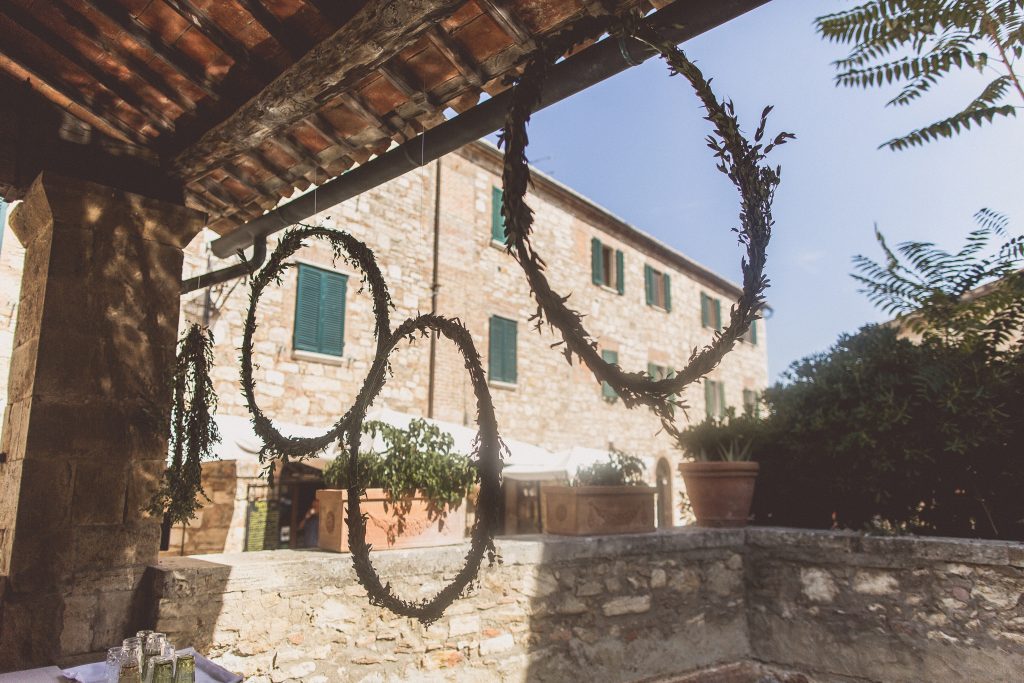 WEDDING CAR – FLORAL GARLAND
Our car was a Triumph Spitfire MKIII 1969 in green, we loved it. My Dad drove me to the ceremony along the winding Tuscan roads in it. My Mum had created a beautiful floral garland for the car earlier that morning. Arriving in the small Tuscan village we pulled up next to the ceremony area and walked the final steps.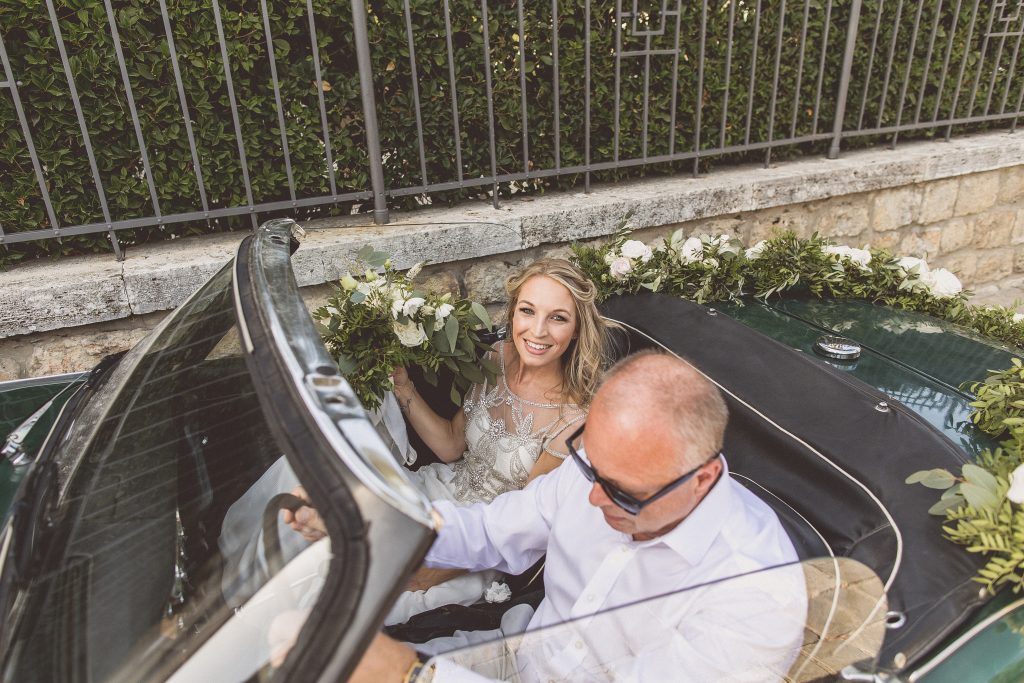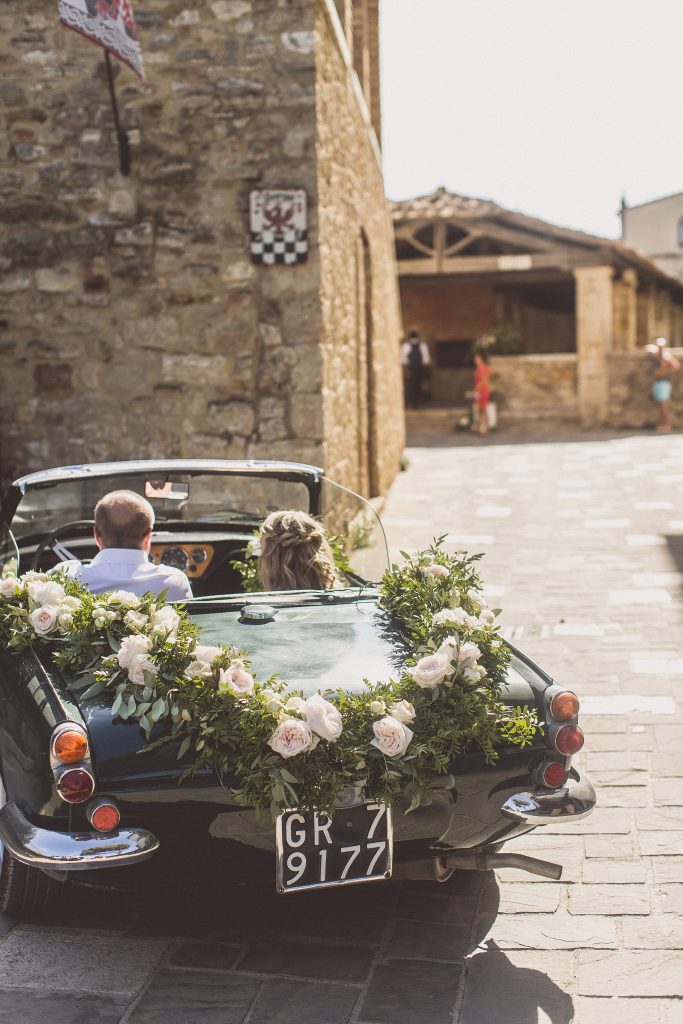 THE CEREMONY – LOGGIATO, BAGNO VIGNONI
We had 80 guests attend the ceremony, as the loggiato was relatively narrow the rows were wet out in 2s and 3s which meant it felt very intimate, I spotted almost everyone as I walked down the aisle.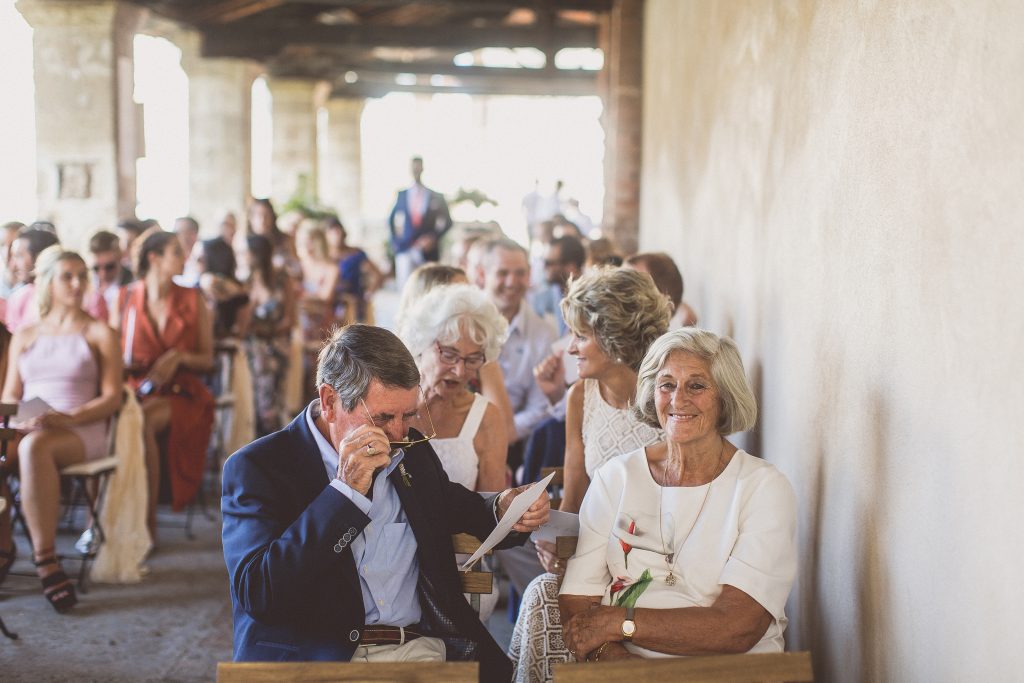 AISLE DECORATION
To each chair on the aisle side we tied a cream table runner which lightened up the aisle, they billowed in the breeze. Perfect for a summer wedding as we didn't need to worry about the heat getting too much for floral decorations and lanterns wouldn't have been right. These were brought back the the reception venue later and used elsewhere.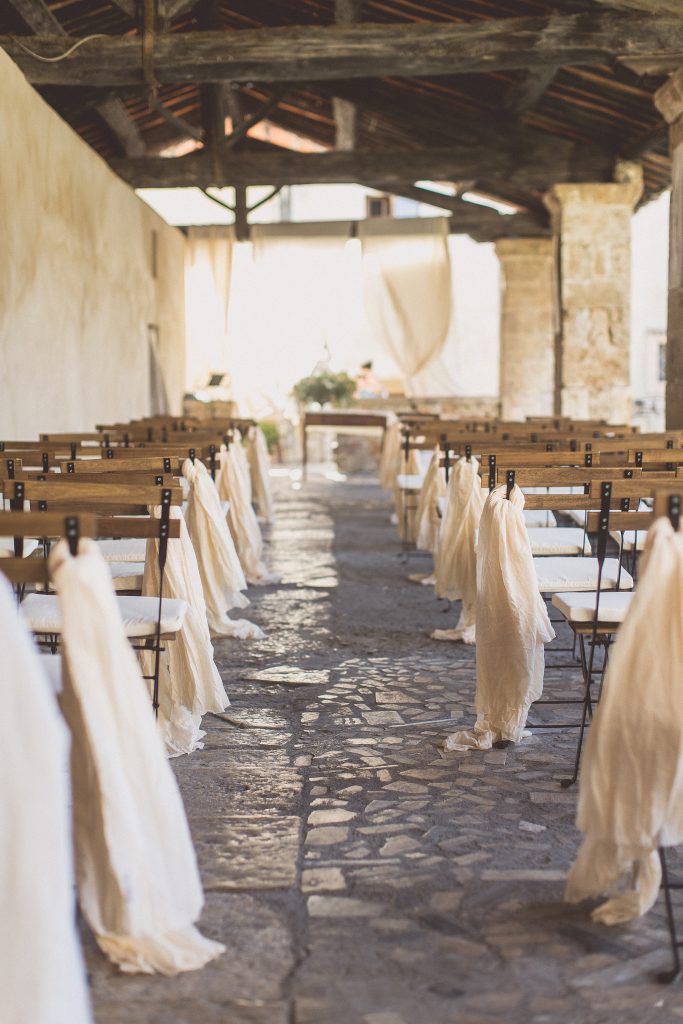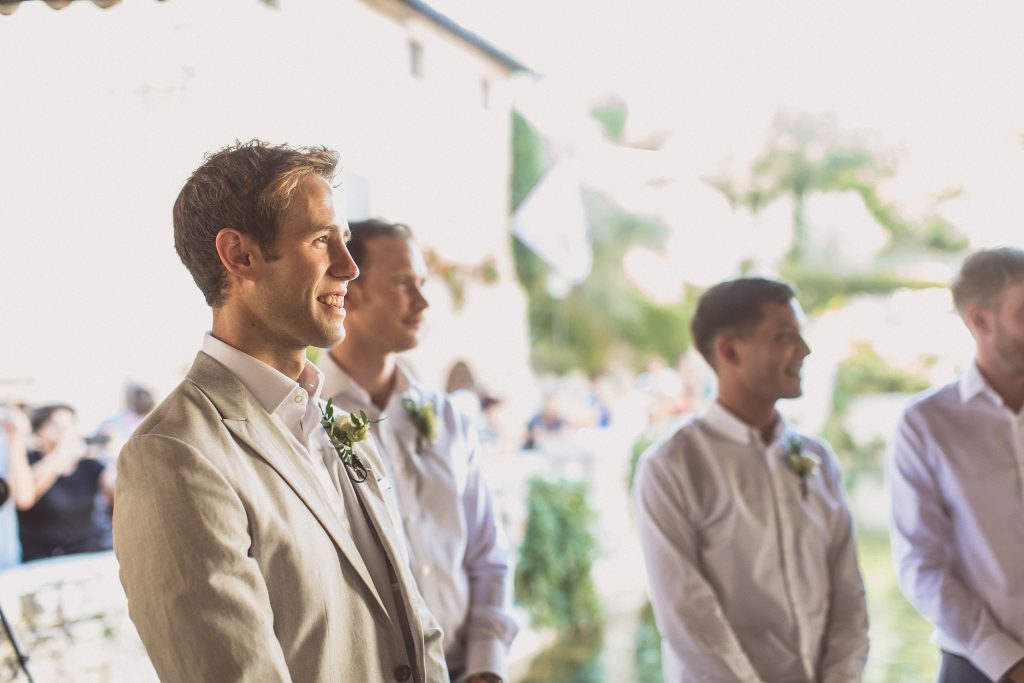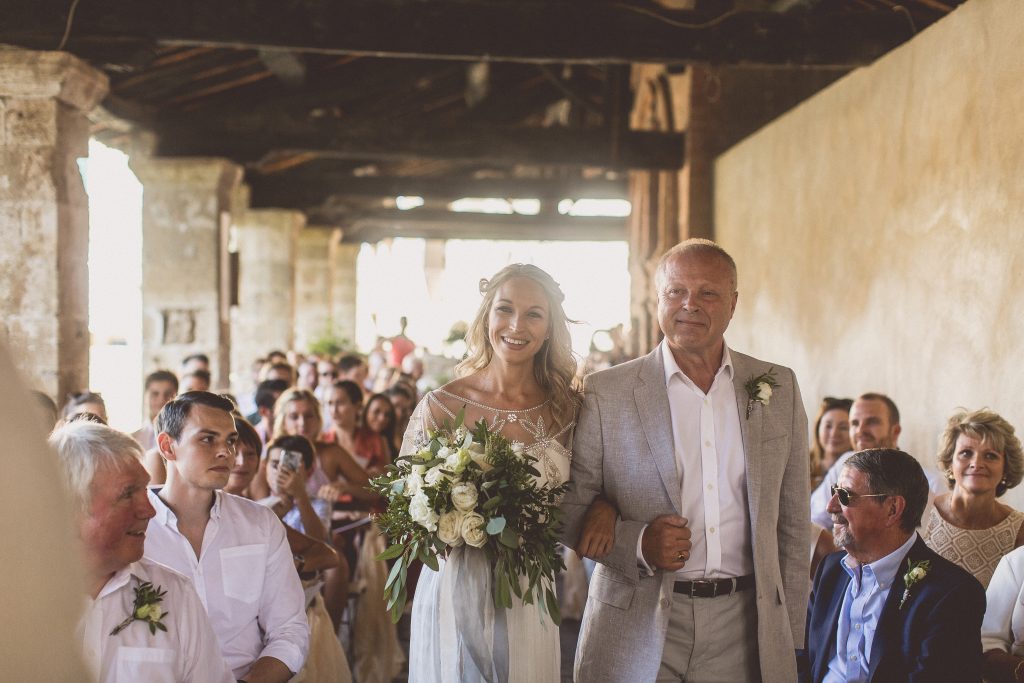 On the ceremony table we used another of the cream table runners to tie in and had an organic floral display in a bronze urn set to one side of the table.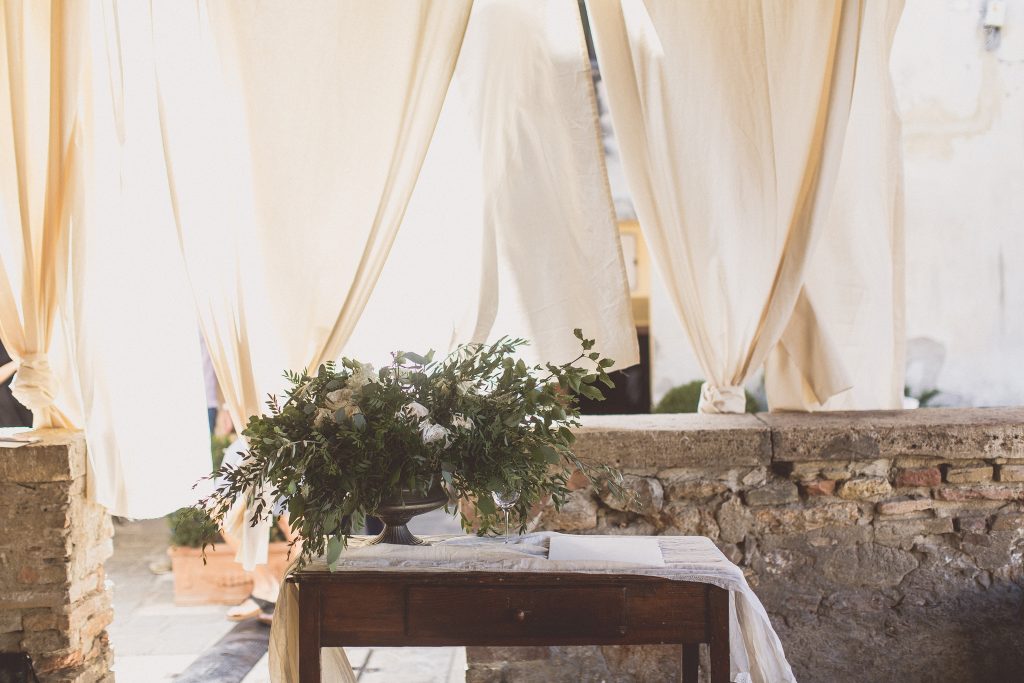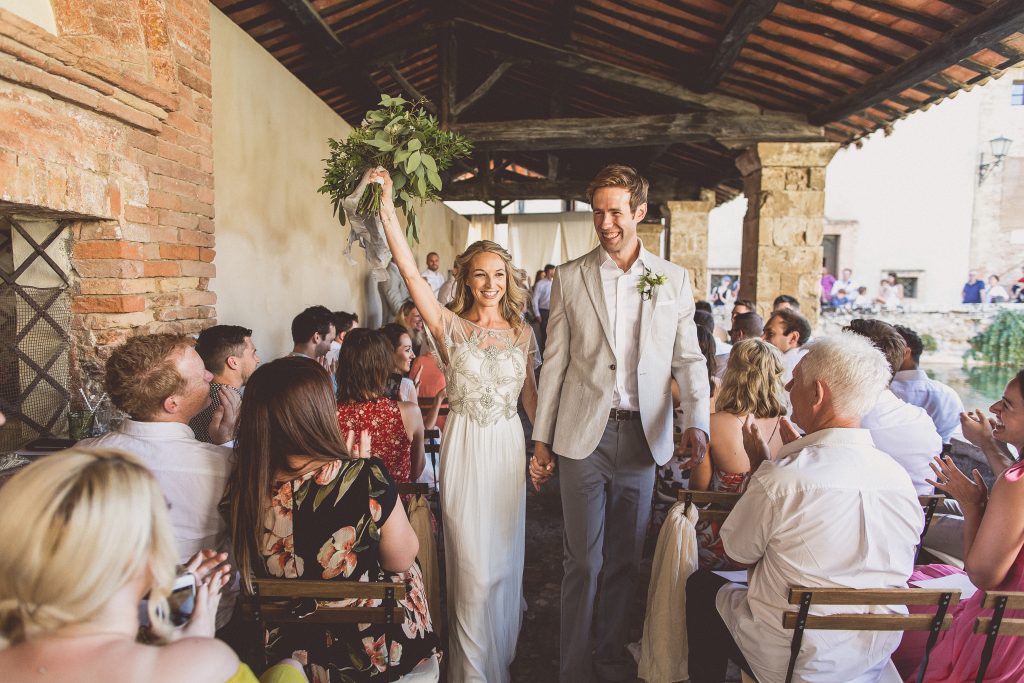 FLOWER GIRL CEREMONY IDEAS – FLORAL COT
Our daughter Olivia was 9 months old at the time we got married, she was of course the star of the show. I wanted to make a special place for her to sit (of course this was mainly for the photo as everyone really wanted to hold her the whole time). I borrowed a traditional wooden cot from one of the B&Bs in the village where our guests were staying and we decorated it with a floral garland, added blankets and cushions, how adorable does she look?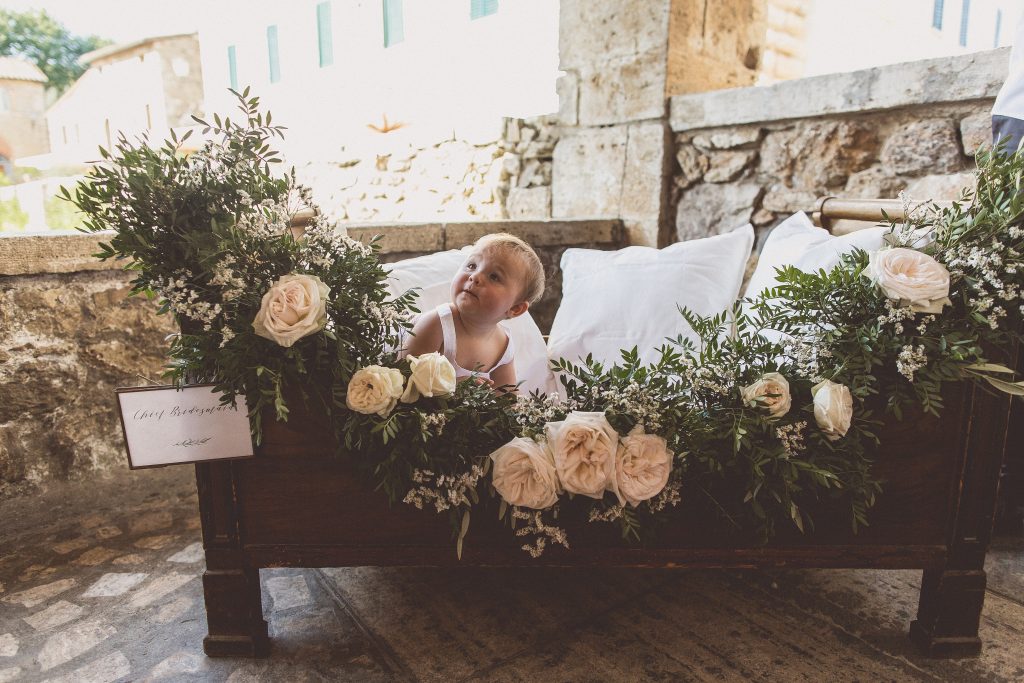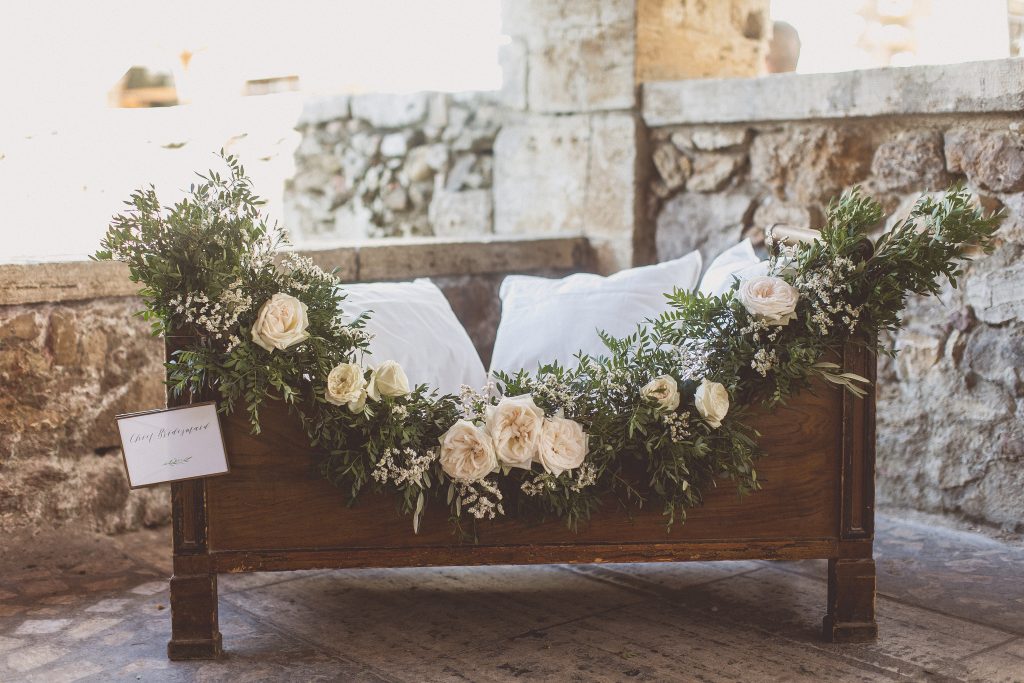 BRIDE AND GROOM PORTRAITS AROUND BAGNO VIGNONI, TUSCANY
After the ceremony our photographers took us around the village for some relaxed photos. The village is beautiful, with olive groves, narrow streets and view points over the Tuscan landscape. My dress was Anna Campbell, Adelaide bought from the lovely ladies at Coco & Kate, Rich wore grey chinos a white shirt and soft grey jacket from Reiss for a relaxed summer look.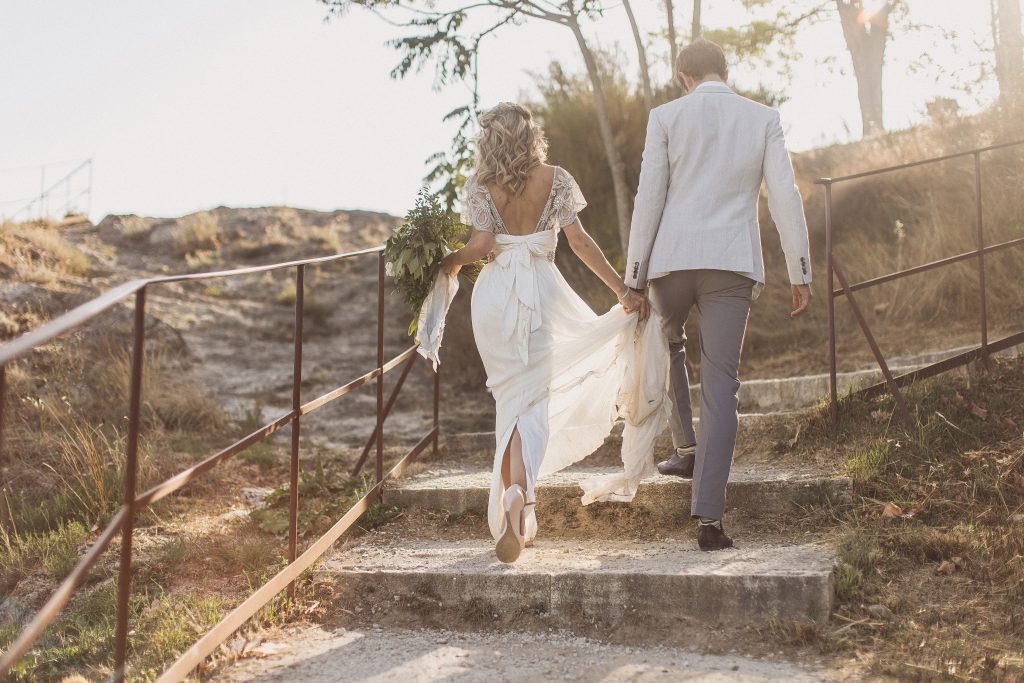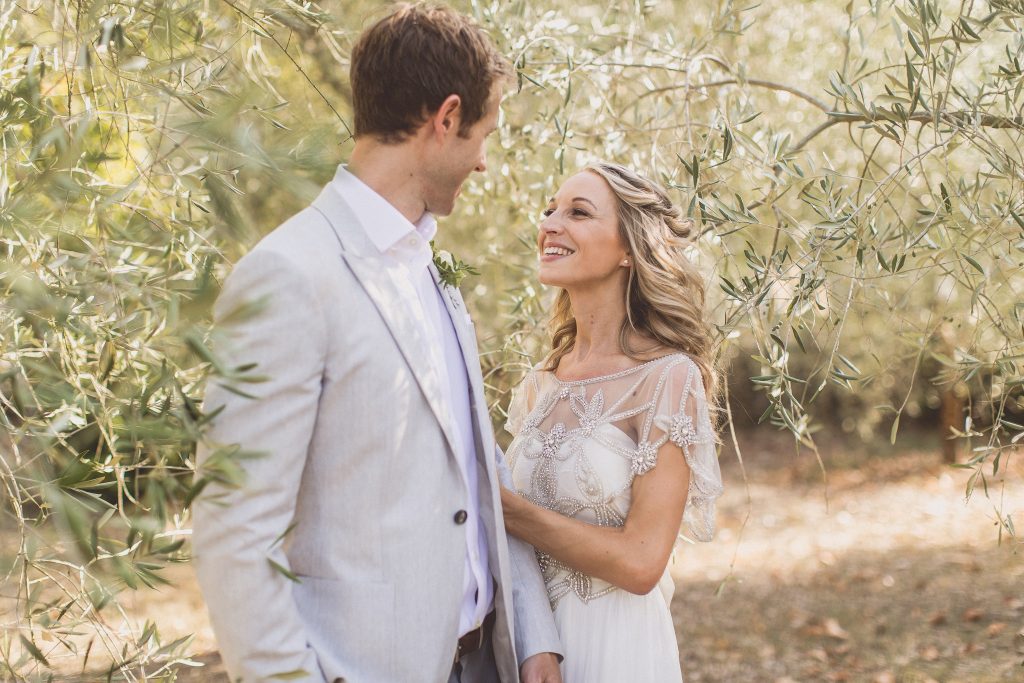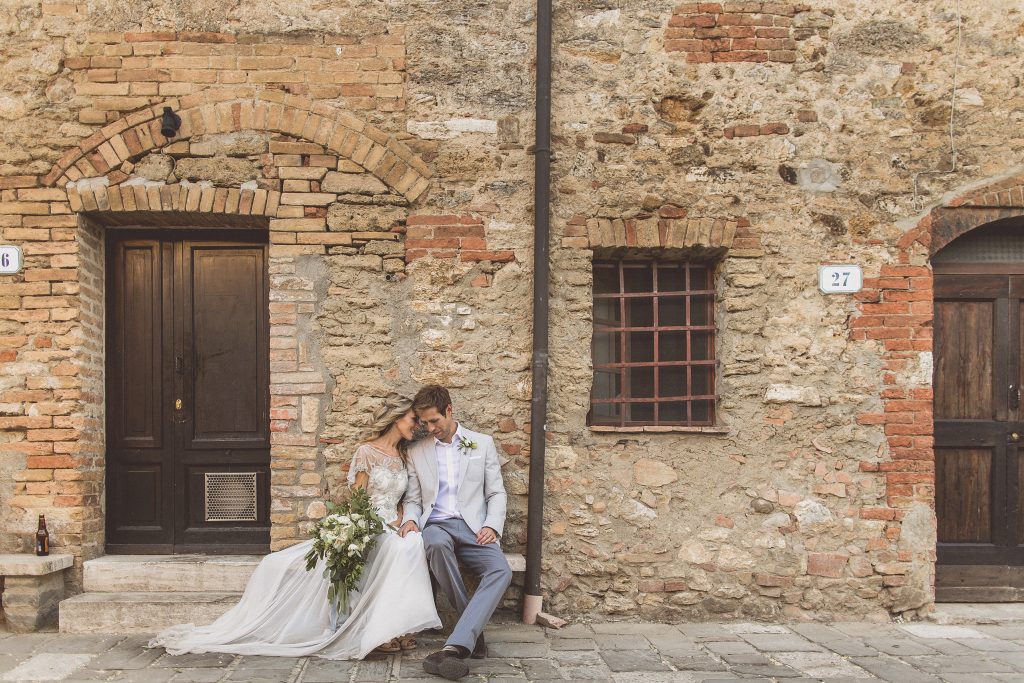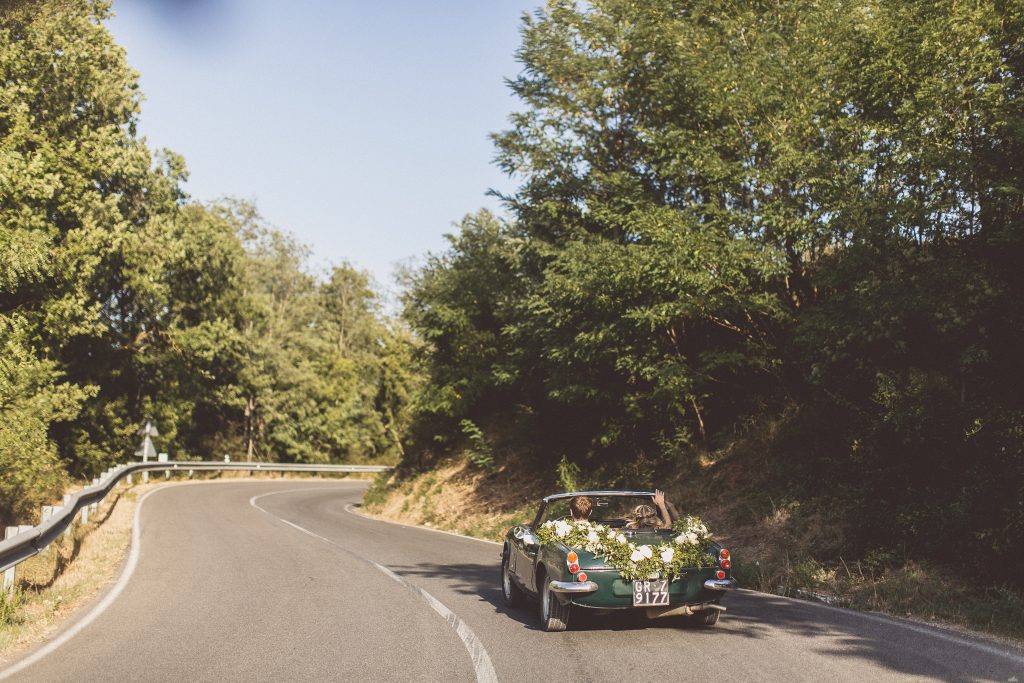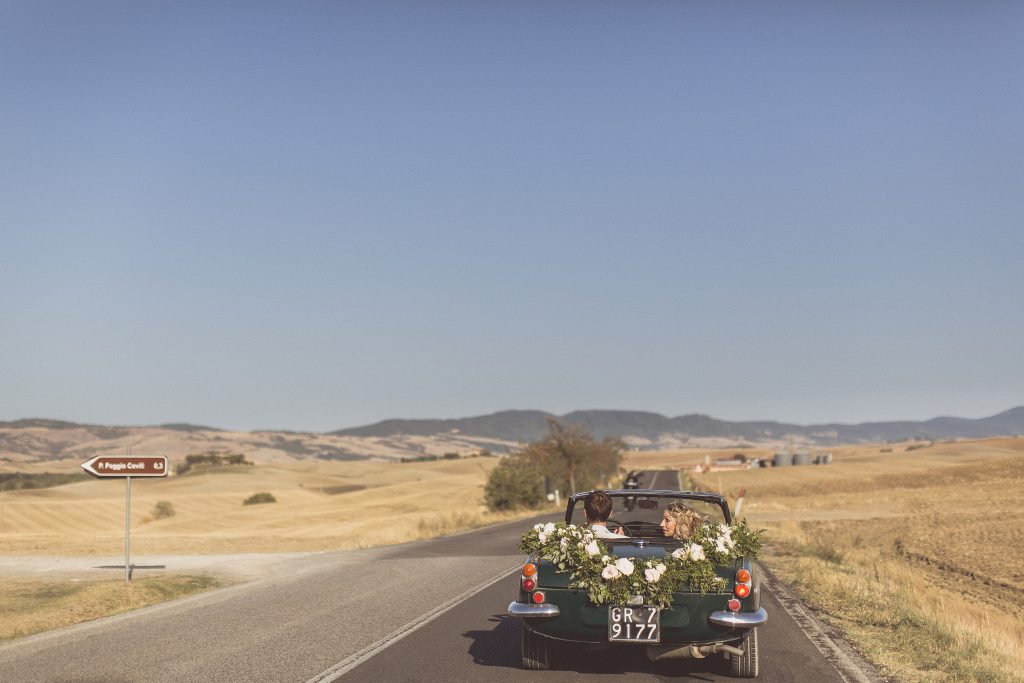 Credits: Photographers: WE ARE THE CLARKES // Venue, Location: Bagno Vignoni, All decor: The Wedding of my Dreams // Flowers: Passion for Flowers // Wedding Dress: Anna Campbell from Coco & Kate // Groom's Jacket: Reiss // Car: Zephyrus
Like Gemma's Style