ROCK MY WEDDING BOOK: WEDDING DECOR IDEAS
Wedding Decor Ideas from The Wedding of my Dreams as seen in Your Day Your Way
Are you planning your wedding? Have you got a copy of Rock My Wedding Book: Your Day Your Way, by Charlotte O'Shea yet? If the answer is no I would suggest adding it to your wish list, it is filled with unique ideas and excellent advice for planing your wedding.
Here at The Wedding of my Dreams we worked with the Rock My Wedding team and supplied lots of wedding decorations and props to be used throughout the book. If you have found us because you saw us in the book this post is to help make it easy for you to find the products featured within the book.
If you haven't got your copy yet, be inspired by theses styling ideas from Team Rock My Wedding, there are so many more amazing ideas in the book.
All photography by WE ARE THE CLARKES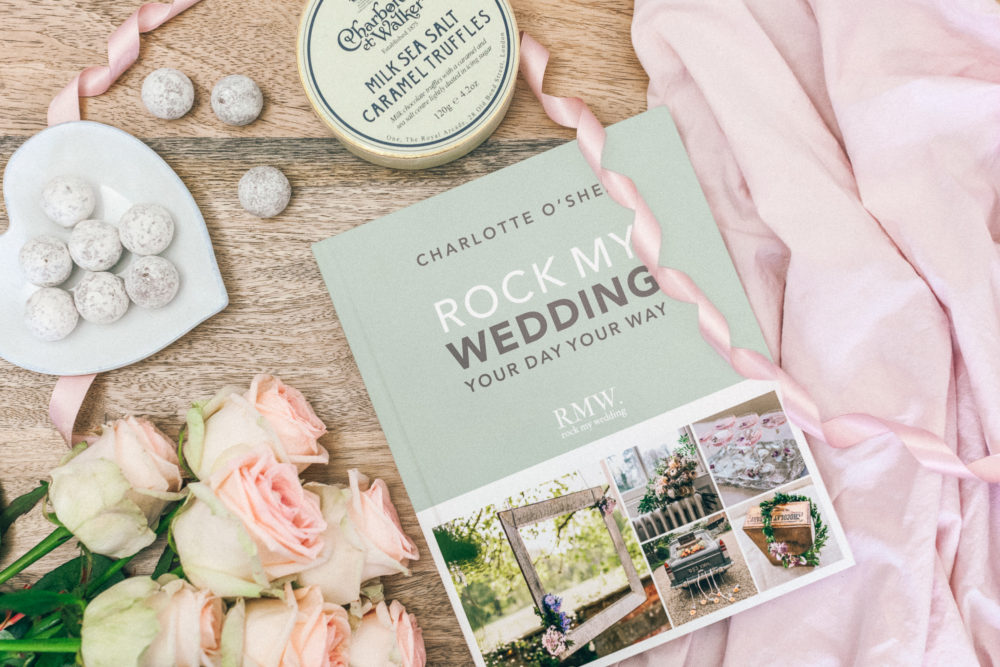 PRETTY WEDDING DECOR IDEAS
For a summer wedding where you hope to be outside how about setting up some furniture for your guest to relax in the shade of a tree, add open frames, hanging chandeliers and florals. This could double up as your photo backdrop, add some fun props a polaroid camera and pretty blooms in jugs. Our grey jug was used here.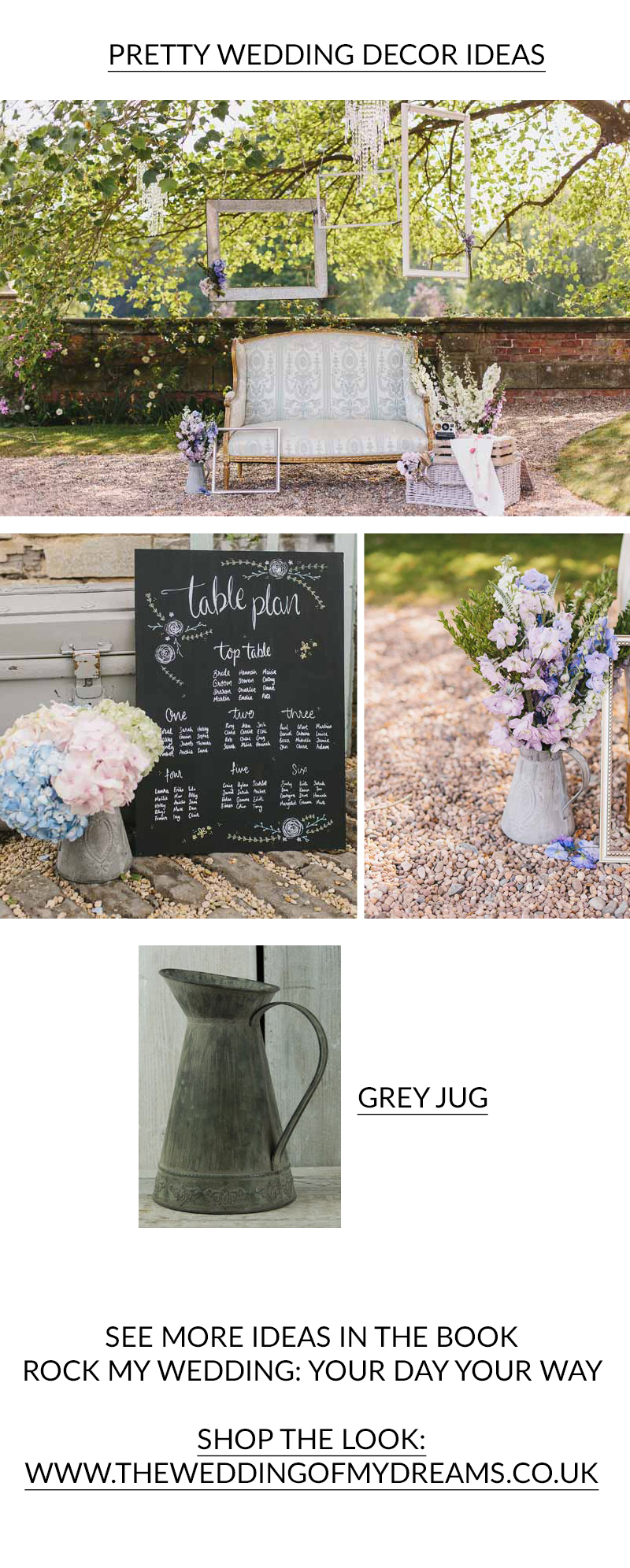 DRINKS RECEPTION IDEAS
How will you be serving your drinks during your drinks reception, or cocktail hour, a term used over in America but I think it sounds great! How about serving juices or cocktails from a drinks station. This could be set up indoors or outdoors depending on your venue and time of year of your wedding. Add pieces of fruit for guests to enjoy with their drinks. Create this look with our drinks dispensers, cake plates (for height!) and glass bowls.
For a more elegant style our gold trays make lovely serving platters for champagne glasses, position a few of these on the table at your venue where guests can help themselves to a glass of fizz

WEDDING PLACE SETTING IDEAS
There are so many ways you can personalise your guests place settings, a couple of my favourites: Slate luggage tags handwritten on in a chalk pen and a touch of foliage or wax flowers (as used here). Of course you can tie in your table numbers by also writing your table numbers on a slate tag, either the same size or larger.
Alternatively pick a lovely ribbon and tie cutlery for a laid back look. Our taupe linen ribbon was used here.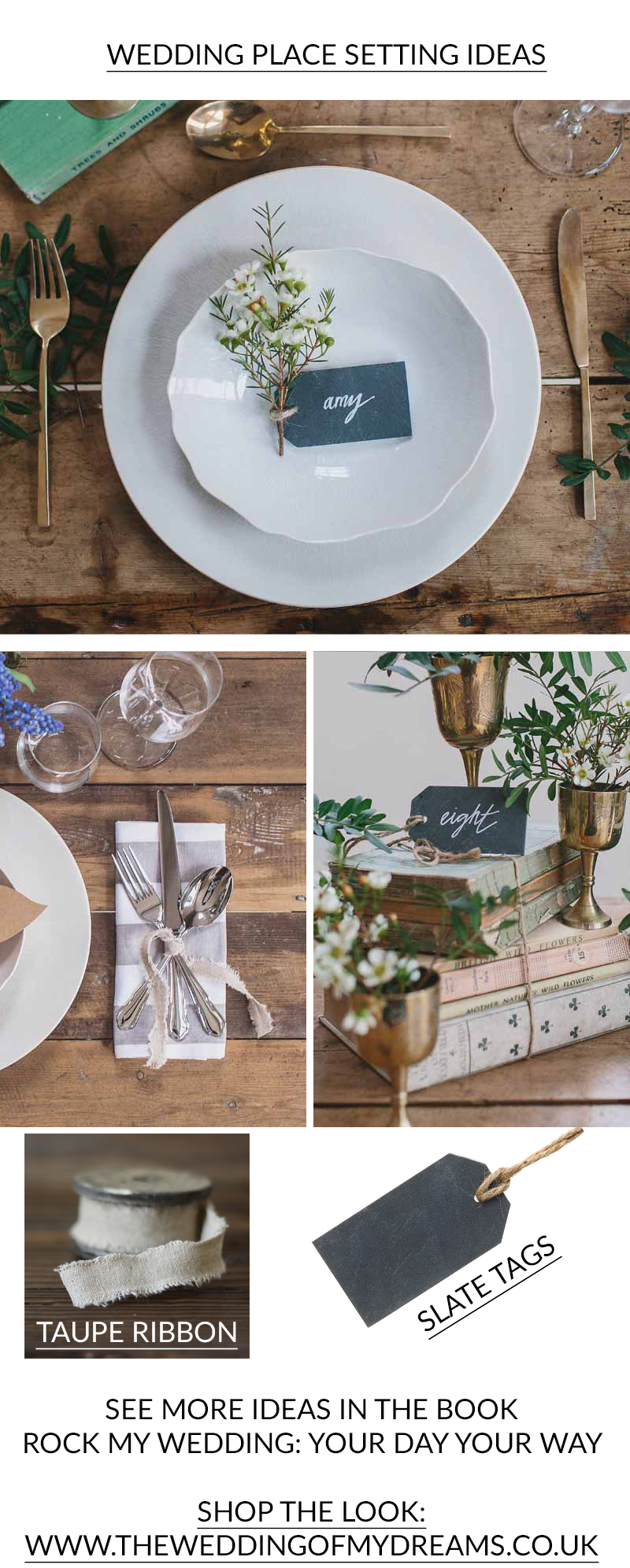 VENUE STYLING IDEAS
The book has endless pages of inspiration for styling your wedding venue. Large balloons are fab, whether you use them in your wedding photos or tie to the backs of your chairs or use them around your venue. Here our white 36″ balloons have a foliage trail, created by Passion for Flowers (ask your florist). Tiny bud vases dotted around your venue will make the venue feel more styled and look as though you have thought about everything. If there are fireplaces or windowsills use them, a vase of flowers in the ladies toilets is always a lovely touch. Here blush pink blooms have been added to our clear glass bud vases with a gold rim and tea lights with a gold rim.
If you are your partner love to travel a world map table plan could be a quirky choice. Name the tables after places you have visited and display on our world map in a wooden frame.

WEDDING BAR IDEAS
Set up your wedding bar for the after party in style. How about a gin bar at your wedding reception? I LOVE this idea. Choose a piece of furniture from your wedding venue to use as your bar cart or bar table. Get a sign made (our bespoke signs could be a god idea for this) Set out all kinds of gins and mixers for your guests to choose from, as well as some glasses, straws lemons and a few herbs in wooden crate boxes.
Alternatively a whisky and cigar corner might be more up your street. Have a choice of whiskeys on offer in glass decanters, place these on one of our gold trays for a touch of glamour. Whiskey glasses lined up on the table for guests to pour themselves. Add some styling details including vintage suitcases, a globe and vintage sets of drawers in flowers and foliage pouring out.

SHOP OUR WEDDING DECORATIONS BELOW
Or browse our entire shop here www.theweddingofmydreams.co.uk