Alternative Wedding Guest Book Idea: Suggestions For Our Bucket List
Ask guests for bucket list suggestions at your wedding, for sale: wooden signs and bucket list cards
Are you looking for an alternative wedding guest book idea? An idea that's different to all the other weddings you've been to and will get guests involved and talking at your wedding. How about asking your guests to write you suggestions for your bucket list, they can comes up with their own suggestions, write them on a card and pop them in a bucket or mailbox. You can read these after the wedding and add them to your bucket list. We think this is a great idea.
Alternative Wedding Guest Book Idea: Suggestions For Our Bucket List
Here at The Wedding of my Dreams we bucket list coasters / cards which you can leave under your signs and guests can fill in their suggestions for your list and their names. Behind the little cards you can prop up a sign which says ' A Bucket List for the Bride and Groom' Leave a note, an idea, a plan but most importantly an adventure! We promise to complete this list in a lifetime, Mr & Mrs Smith. We sell bespoke wooden signs in varying sizes just order the size sign you prefer, we suggest at least A3 or A2 for this much text and let us know the exact wording you would like painted on it.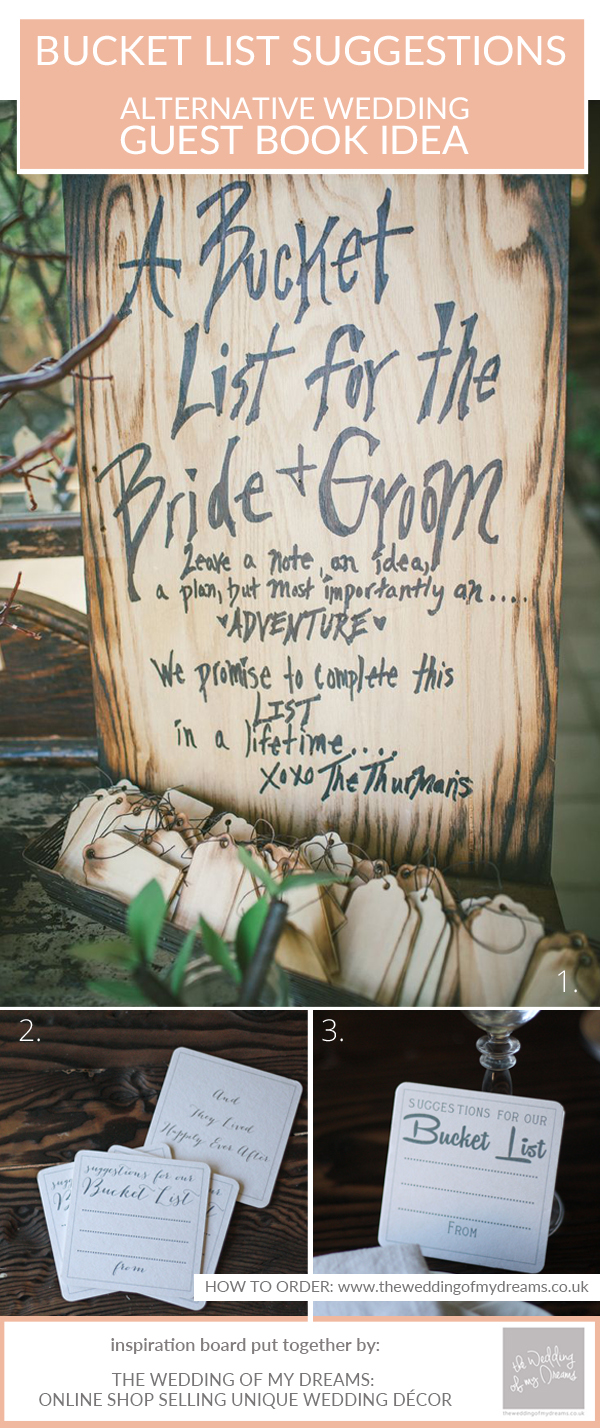 Source: 1. Photography credit, Vis Photography 2. Suggestions For Our Bucket List Coaster, Shop Here 3. Suggestions For Our Bucket List Coaster, Shop Here
CREATE THIS YOURSELF: