Cream Jug Wedding Centrepiece
This week our wedding decoration of the week is our cream jug wedding centrepiece. Cream jugs make lovely centerpieces for Spring and Summer weddings. Depending on the flowers you choose to fill them with they can work for equally well for English country garden weddings in marquees as they do for rustic weddings in barn venues.
Although the jugs make lovely centrepieces you may have decided you want something taller for your tables. If that's the case you can still use jugs to decorate your wedding venue, how about a jug of flowers on your guest book table or next to your table plan. If you are getting married in the summer it is always worth having a vase of water for your bouquet to sit in to keep it fresh, these jugs can work well for this and could add extra decoration to your wedding cake table, or display all the bouquets in jugs along the front of your top table. For more ideas you may like our blog post – Wedding Jugs Ways To Use Jugs At Weddings.
Cream Jug Wedding Centrepiece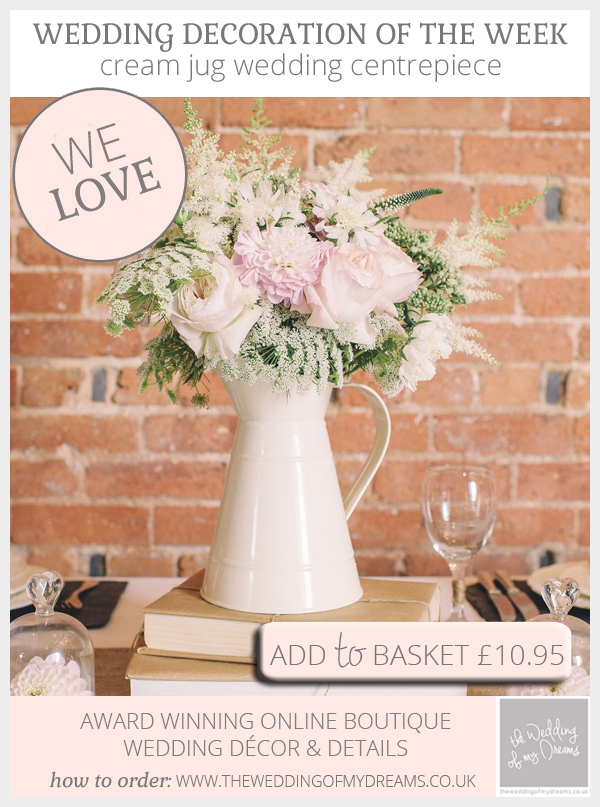 View our cream jug wedding centrepieces for sale in our shop
Product Details
Looking for something simple on your wedding tables? We love this cream metal jug. It will look perfect sitting in the centre of your wedding tables, perhaps on a square of hessian, on a tree slice or lace table cloth filled with large blooms.
These shabby chic cream metal jugs are great for a vintage chic or country styled English country garden weddings.
Whether your wedding reception is in a marquee, barn, on a farm, in a teepee or country pub these jugs make a lovely centrepiece.
The cream jugs are great to give away to guests filled with flowers, perhaps bridesmaids, mums, grandparents or someone who has done a reading. Don't forget to keep a couple for yourselves and use them around your home as a reminder of your perfect day.
Each shabby chic jug measure 23cm high.
Price: £10.95 each